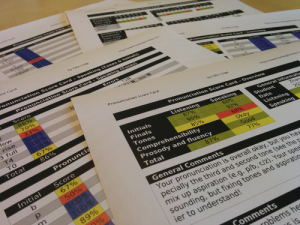 I've found that pronunciation is one of the most neglected areas in Chinese language teaching. Teachers don't have the time or don't know how to teach it properly. This means that students are left with bad pronunciation, often without knowing it. The course I'm about to offer in this post is meant to address this.
I have written quite a lot about pronunciation on Hacking Chinese, but here are some highlights:
Of all the students that have hired me over the years, about half have done so to improve pronunciation. Based on the experience I have gained through this and through related research I've done and courses I've taken, I have created a small pronunciation course. It consists of four parts:
 Identifying sounds and tones
 Producing sounds and tones
 Detailed and accurate feedback
 Live practice and corrections
The course covers the syllable, word and sentence levels and also includes a short talk. After doing the listening and speaking parts, you send your data to me for analysis. You will then receive a score card (see pictures above and below) with detailed information about your pronunciation. The course does currently not involve actual tutoring, but if you're interested in that as well, we can perhaps arrange something.
Only a handful of students have been through the course in its current form. For instance, this is what I used to help Scott Young improve his pronunciation. The first page of the scorecard looks like this (there are five pages in all):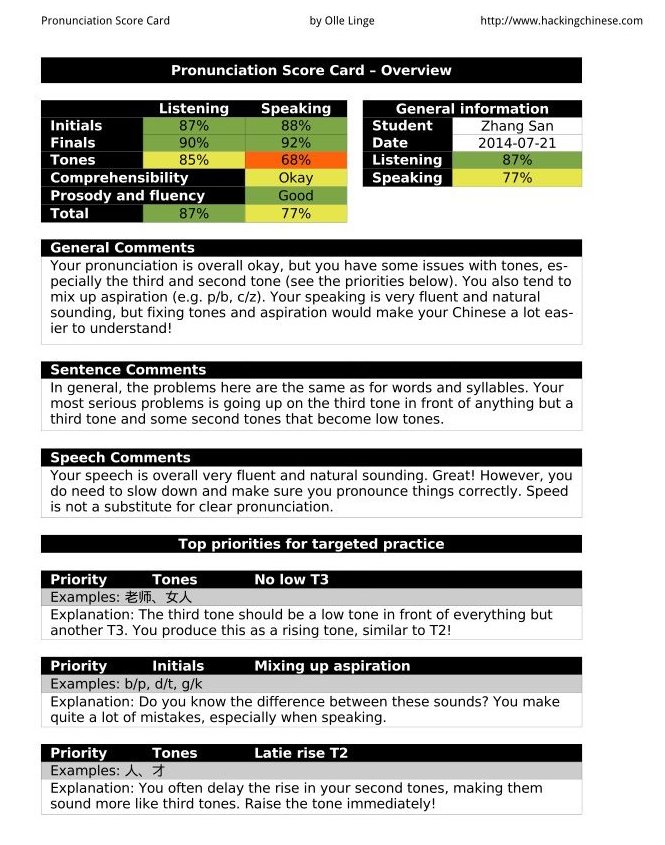 Why you should take the course
Almost every learner of Chinese I have met have had some basic pronunciation problem. This is true even for intermediate and advanced learners.
The reason I think this course is useful is that it will tell you what you're doing wrong, what you should be doing instead and highlight the difference between the two. Very few teachers have the ability or the time to do this for you. The first step in solving a problem is identifying it.
I have taken at least four master's degree courses in Chinese phonetics and pronunciation pedagogy, I also do my own research in the area of tone production and perception. I know what I'm talking about and I can explain it to you. I can also apply a systematic and scientific approach to pronunciation.
To make sure I don't miss anything, I also enlist the help of native speakers. Together, we are more than capable of identifying your pronunciation problems and help you to sound
Register in advance
I will offer this course to the first 20 students who sign up. It will take you about an hour to do the listening and speaking parts, and then it takes me about two hours to analyse your data. Remember, this is done by real people, not by a computer program. All 20 slots have now been filled, if you are interested, you can still contact me and I will get back to you later when it's time for the next incarnation of the course, probably later this autumn. Sign up by sending me an e-mail!
I will identify problems with perception and production of sounds in Mandarin. The feedback will be systematic, accurate and explained in English with examples. Since this is a preview and the course isn't perfect yet, the course costs only $45. In return for the low price, I only ask for feedback about the course so I can improve it.
If you don't get a chance this time around, the course will most likely be available again later, but I can't promise when. It all depends on how much time I have and what kind of response I receive in general. If you want my help to improve your pronunciation, send me an e-mail and I will contact you next time the course is open.
---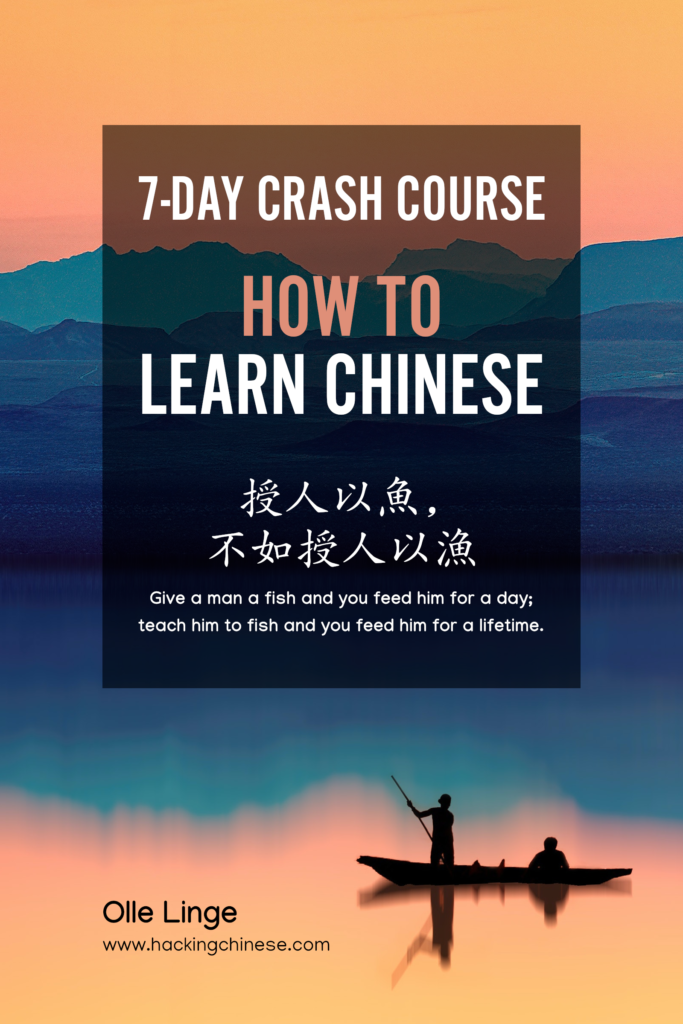 Tips and tricks for how to learn Chinese directly in your inbox
I've been learning and teaching Chinese for more than a decade. My goal is to help you find a way of learning that works for you. Sign up to my newsletter for a 7-day crash course in how to learn, as well as weekly ideas for how to improve your learning!