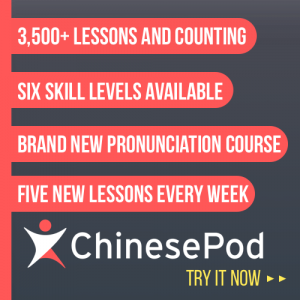 When I started learning Chinese, I understood early on that listening ability required more practice than my courses offered. A lot more. This is how I found ChinesePod. More than eight years have passed and I've used the service to varying degrees ever since, so this is the most overdue article on Hacking Chinese so far. Welcome to my ChinesePod review!
The problem: You don't listen enough
The main problem for most people who learn Chinese is that they don't listen nearly enough. Going to class and doing your homework will not prepare you for the onslaught of authentic, spoken Chinese. It will not even prepare you for basic dialogues using the words and grammar you have studied. If you live in a Chinese-speaking environment, you will get more listening of course, but most of it will not be suitable for your level.
Without listening enough, you will not achieve fluency. I'm not talking about spoken fluency here, I'm talking about your ability to understand what someone says without needing to think too much. If you need to think for three seconds what a word means, the speaker is already in the next sentence. The only way to get around this problem is to listen as much as you possibly can.
As far as possible, you should listen to things you can understand, although it might require effort and listening several times. Don't waste your time listen to things you don't understand at all, even after listening a few times. This creates a problem for students: How do you find enough listening material at your current level?
Enter: ChinesePod
There are many services out there that offer Chinese listening practice, but none comes close to ChinesePod when it comes to the abundance of material on offer. There are roughly 3,700 lessons available! This is across six difficulty levels, starting from complete newbie and ending with authentic media material for advanced learners. In this review, I will look in detail at the things ChinesePod can offer learners of Mandarin. Let's start with the lessons, which are the core of the service.
What is a lesson like? The easiest way is to check a few yourself. Here are a few freely available on YouTube:
Newbie:

Elementary:

Upper intermediate:

Qingwen:

If you sign up, you get access to 100 lessons for free, so you have plenty of opportunities to see if this is something for you. What you get in each lesson varies a bit depending on when the lesson was recorded, by whom and what level it's aimed at. Older lessons are audio only, but there is now also a lot of video content. In general, each lesson contains:
An introduction
A dialogue (audio and text)
Dialogue explanation
Vocabulary review (audio and text)
Vocabulary expansion
Grammar explanation
Exercises
The lessons can be accessed in a number of ways, either through a mobile app or on the website. A lot of the content, such as the full audio lesson, the dialogue, vocabulary review and grammar explanations can also be downloaded for offline or later use at your convenience. Other features are only available while logged in, including all kinds of exercises.
I will discuss these features later, but let's look at the content first. The best way to do that is to start with an overview of the levels.
ChinesePod review: From newbie to media
ChinesePod lessons are divided into six levels. Here's a quick overview of each:
Newbie – mostly in English (404 lessons): The newbie lessons focuses on very basic survival Chinese, introducing words and short phrases that may come in handy.
Elementary – still mostly in English (713 lessons): The elementary lessons become slightly more serious and focus on basic conversation, vocabulary and grammar building.
Intermediate – even mix of Chinese and English (685 lessons): The intermediate lessons assume you already know the basics and expands from there with more vocabulary, grammar and so on.
Upper intermediate, mostly in Chinese (494 lessons) – In the upper intermediate lessons, the amount of Chinese spoken increases a lot. The focus on introducing broader and more varied vocabulary remains.
Advanced – in Chinese only (354 lessons): This is the first level for which lessons are entirely in Chinese. This makes a huge difference in terms of how much Chinese you hear. The vocabulary becomes more advanced too, of course.
Media, in Chinese only (155 lessons) – As the name implies, this level focuses on authentic Chinese from various media sources. It's otherwise similar to the other levels, but will of course contain even more formal language since many lessons deal with news.
If you're not sure which level is suitable for you, there is a placement test, but I don't know if it's accurate or not. I would just check a few lessons from each level and see if it seems suitable to you or not.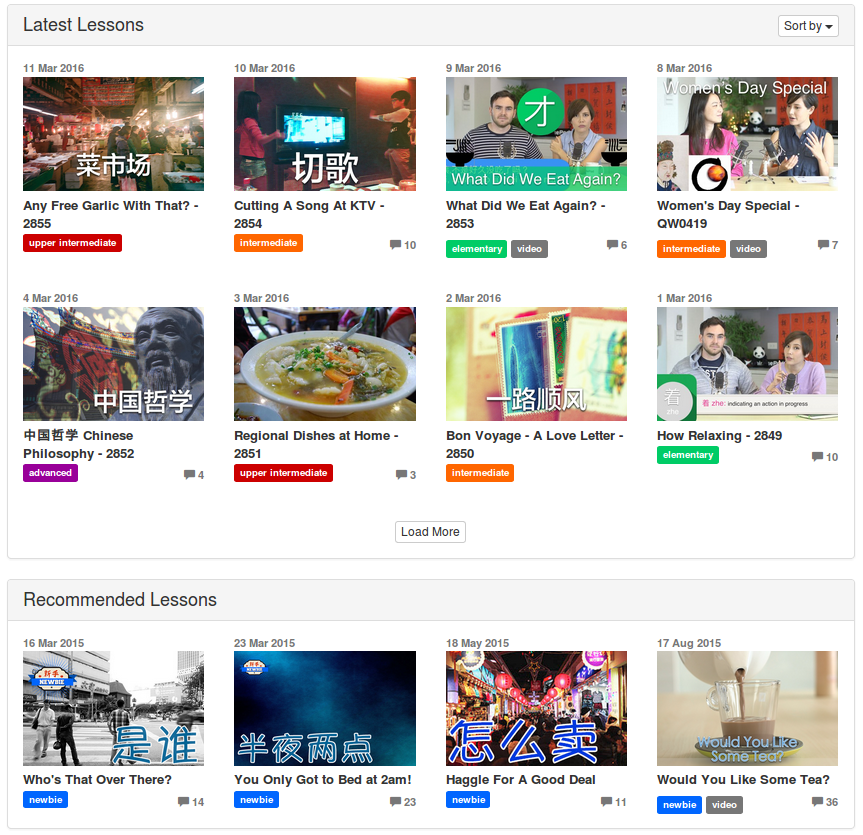 Apart from this, there are also hundreds of lessons ordered into courses of different kinds, also sorted by the same levels. These work much the same as lessons, except that they are connected to each other more directly. Many are series of lessons focusing on a particular story or theme, which makes it more thematically consistent (kind of like a textbook compared to random text from a textbook).
There are also other shows, such as one called 请问 which answers questions about specific aspects of Chinese, such as the difference between 能, 会 and 可以 or 使用, 利用 and just 用. Other shows include lessons in Shanghainese, KTV and Pinyin.
How to use ChinesePod's level system
Having this amount of content at your fingertips is extremely useful, but what do you do with it? There's of course a lot to say about listening ability in general, but below, I have highlighted some important aspects and how they relate to ChinesePod:
Avoid English as much as possible – While it's impossible to fill your days with comprehensible input entirely in Chinese at a beginner level, you should try to avoid English as much as possible. At lower levels, go for the dialogue only. Listen to the whole lesson once, then just save or download the dialogue itself. It will be entirely in Chinese. It's only a few minutes long, so you need lots of them.
Advance as quickly as you can – Do not try to finish all the lessons on one level before moving on. Don't even try to finish the recommended number of lessons. The reason is that the lower levels of newbie and elementary are little more than Chinese words and phrases explained in English. While that can be helpful, you do not want to fill your days with that!
Don't listen in chronological order – Even though the episodes within a level is produced in a certain order, you don't have to listen in that order. If you prefer the style/people/content of the episodes from 2008, 2010 or 2016, by all means just listen to those. However, be aware that diversity is important for listening ability, so jumping around a bit in the library is a good idea.
The talk between the hosts is useful on higher levels – From upper intermediate and above, listening to the hosts talking about the dialogue in Chinese is very useful. It's also somewhat easier than the dialogues themselves, at least from advanced and upwards. This means that it can be beneficial to jump to these levels if you can mostly follow what they are talking about, even if you don't understand the dialogues or think they contain too many new words.
Make sure you can listen anywhere and any time – Improving listening ability is mostly a matter of practice. It takes time getting used to a new level and you need to hear Chinese constantly. Make sure you have material available even when you're offline. I have a separate mp3 player with listening material on, so I can listen even if my phone runs out of batteries. I also find this less distracting since I have nothing else on the mp3 player.
More about listening ability – I have written a lot about how to improve listening ability, partly because I think it's interesting, but also because it really is the most important skill. If you want more advice, head over to the listening category, which contains an introduction and a summary of the most important articles.
ChinesePod review: Features
So, what do you get apart from the lessons? First, you get a dialogue transcript which is easy to go through and has a built-in pop-up dictionary. Then you also get a separate vocabulary list that has a nifty function where you can see that particular word as it appears in other sentences in other lessons. This is great! There are also a few selected expansions where you can learn more about words or patterns used in the lesson, as well as grammar explanations.
Then, finally, there are also exercises. As you might imagine, these are fairly basic since it's all automatic. There are matching exercises (e.g. characters to meaning), sentence ordering (based on the dialogue), dictation (to characters or Pinyin) and fill-in-the-gap (multiple choice). This is useful if you want to make sure that you actually understood the lesson, but since they are so basic, they don't work for more than just that: checking that you've got it. You won't learn to actually use things just by doing this. I haven't used them much myself and find them a bit too simple, but to each his own.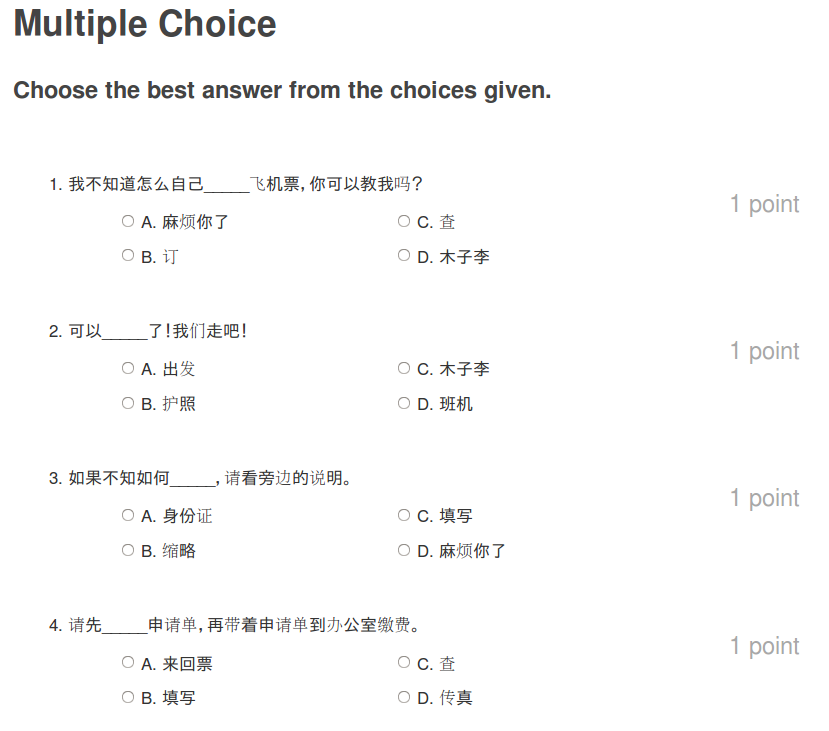 Resources (freely available)
ChinesePod provides some features for free (you don't even need to be logged in). Some of these are very useful and I have listed a few here:
Glossary – This is a tool you can use to find in which context certain words appear in ChinesePod lessons. Doesn't sound very useful until you realise that there are thousands of lessons and the word bank is quite extensive. If you want to find an example sentence for a word, you can probably find it here. Compared to real word banks, these sentences are all aimed towards learners on different levels! If that's not enough for you, please refer to my article about dictionaries and sentence banks in Chinese.
Pronunciation – Here you can learn about the basic sounds in Mandarin. including the tones. The explanations are systematic and mostly accurate, presented in a gradually increasing difficulty. There are also plenty of audio examples. ChinesePod also offers a Pinyin chart with audio, but it's not directly accessible on their website, but through an app you can download for free (iOS or Android).
Say It Right and virtual classrooms
Apart from the lessons and other tools I have discussed here, there is also a new pronunciation series called "Say It Right", which focuses on basic pronunciation (tones, Pinyin and so on). The pronunciation expert in the course is actually a classmate of mine who studied for a doctorate at 國立臺灣師範大學 when I studied for my master's degree. We are both interested in phonetics, so we ended up taking several classes together. He knows what he's talking about, although I'm not sure it all comes across fully in the videos of this course. I might return to this pronunciation course later.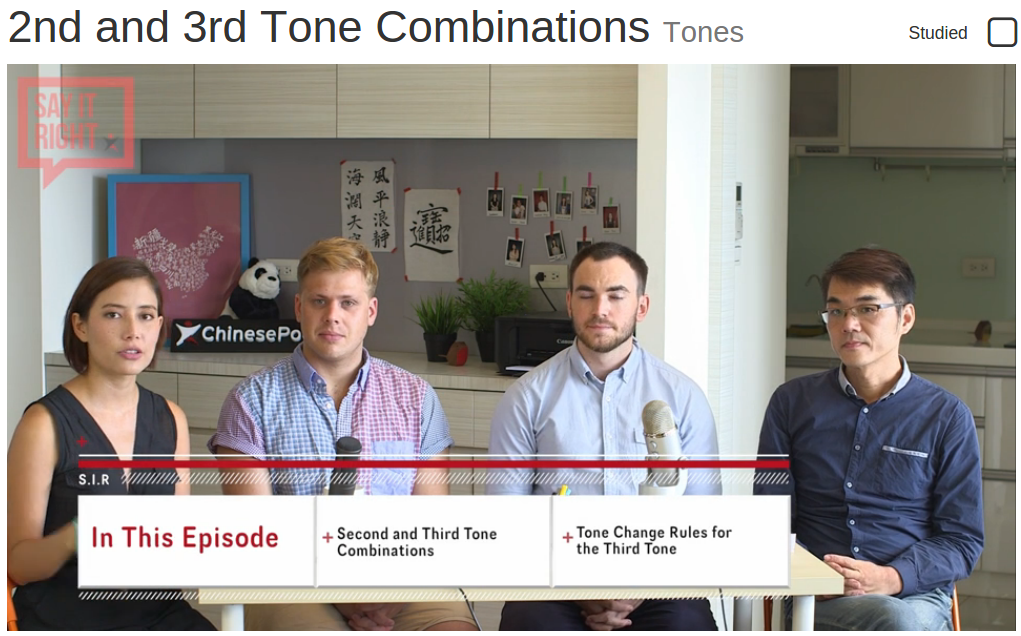 Furthermore, there is a virtual classroom I haven't checked out at all, so I won't talk about it in this ChinesePod review. This also feels detached from the rest of the service. Of course, you need to pay extra for this (see below) and I think most people could probably find teaching at a similar level elsewhere a lot cheaper. Since this is not unique or special in anyway to ChinesePod, I don't think I need to include it in this review.
Fitting ChinesePod into your study routine
The primary use for ChinesePod is as a listening resource. This is the minimum everybody needs, although you could of course get it somewhere else. All the other features are extras that might come in handy depending on your situation and what your goals for learning Chinese are, but they are not essential. Here are two example cases of how I would use ChinesePod:
As a listening resource – As discussed in the introduction, you need to listen more. ChinesePod is probably the best resource for doing this. Just go for the audio. Make sure you download as much as you can and have it easily available on your phone or mp3 player. When you listen, you don't really need to actively study things. Just listen. A lot. If you do this for months or even years, your listening ability will increase rapidly. This is how I have used ChinesePod myself and I recommend it because it's extremely good from a time quality perspective. Put briefly, this means that you can squeeze in hours of passive listening into almost any schedule, but you can't do that with active studying, such as reading transcripts, doing exercises and so on. You can listen anywhere you are, whenever you want to and it's not too demanding, especially if you re-listen to old material.
As a way to expand vocabulary – What most of the lessons on ChinesePod boils down to is explaining vocabulary (and sometimes grammar). Naturally, a significant part of learning a language is learning the words, so this isn't as bad as it sounds. If you don't have a tutor or teacher, this is a good way of being introduced to new words, seeing how they're used in context and also practising with them through the exercises for each lesson. While you can find words and explanations elsewhere, it's not so easy to find this large an amount of learner-targeted explanations with exercises. This becomes more useful the more advanced  you are, because then the discussions about the vocabulary is in Chinese too. Words and grammar explained in Chinese at a suitable level is very hard to find online, especially in so high quantities.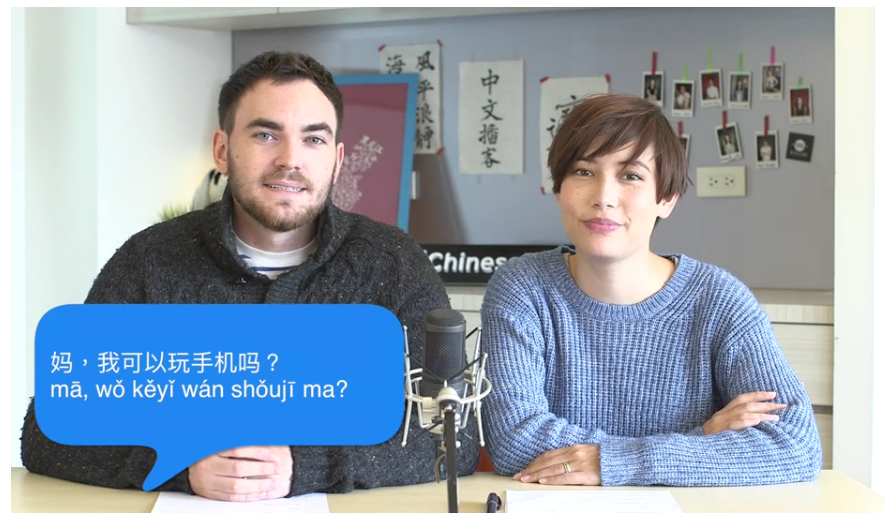 ChinesePod review: Pricing
Naturally, a resource like this isn't free. However, as mentioned above, there are 100 free lessons you gain access to just by signing up. That sounds like as mall number, but only if you compare it with 3,700 lessons in total. A hundred lessons is still more than enough to figure out if you like the service or not.
After that, you have three alternatives (check their official page for up-to-date pricing):
Basic ($10.33/month on annual plans) – This is the standard subscription that gives you access to the complete library of lessons (video and audio). including printable notes. If you plan on using ChinesePod mostly as a listening resource this option should be enough since you do have access to all lessons. You do miss some things, though, but they may or may not be important for you. Also, make sure you read my general buying advice below.
Premium ($20.75/month on annual plans) – Apart from the above, you get a few more things already discussed in this article, such as vocabulary and grammar expansions and full access to the app. However, the reason you might want to go with this plan at least for a short time is that you can also download only the dialogues! Remember, this is important especially on the lower levels. You can of course edit the audio yourself for free, but that's extremely tedious.
Premium+ ($99-299/month) – This option is the same as the premium option, but also includes personal 1-on-1 tutoring. I don't really see why you would want or need that in your subscription, but if you have the money to spend and want to try it out, go ahead (and do let me know what you think about it). I have not tried this option myself and therefore I won't recommend it. I include it here for the sake of completeness.
That's really expensive! What should I do?
Paying $249 for a one year subscription is quite a lot. If you're a serious student and not particularly cash-strapped, then it's certainly worth that to have access to all the material and cover your listening needs, but if you study on and off, part-time or don't have that much money to throw around, it certainly is expensive and also an ongoing payment. There are a few things you can do:
First, if you do go for the annual subscription, apply the code "OLLEPOD" in the purchasing process and you get $50 off.
Second, and perhaps more importantly, ChinesePod is presented as a subscription service and some things really are provided continuously (five new lessons per week, for instance), but most of the value comes from the huge library of resources on offer! This means that you don't really need to stay subscribed, even though that is of course the most convenient way of accessing the material.
Instead, sign up for a premium account for just a short period of time, download as much material as you need, including full audio lessons, dialogue-only audio and transcripts. When you have used up that material or want to try something new, you can subscribe again and get a new batch. While this will still cost you money, it's a lot cheaper to sign up for a month once a semester than paying for full year subscriptions.
Isn't this cheating? I don't think so. You're downloading content that is accessible at that time. If you want a continuous service including all the new lessons, exercises, app and online features, then of course you need to pay. If you think you can do without them, then there's no reason to.
Other problems
Apart from the price, there aren't that many problems with ChinesePod. I have seen some strange behaviour with exercises, such as the point calculation being completely off, but these things are all very minor. The user interface is great and usually works without hitches. Some lessons aren't as interesting as others, but most of the recent content is good.
The only major complaint I have about the lessons is that they use way too much English early on and seem to do little else than explaining Chinese words in English. While I realise that many learners might actually want this (it's much less demanding to listen to), I think it would be far more useful with more Chinese being spoken. As I said above though, you can get around this by just using the dialogues and ignoring the lessons.
As I have written in this ChinesePod review already, I think that this is mainly a listening resource that can also be used to actively build your passive vocabulary. It's not a complete program for learning Chinese and don't think for a second that you will master the language just by using these lessons. This review is written with that in mind. Regarded as a listening companion, it's awesome; but as a complete solution for learning a language? Of course not.
One thing I've heard other people complain about is that the company is now produced in Taiwan, but I this is mostly a good thing. It means that among the huge number of lessons, there's lots of variation. Nothing says you have to listen to the lessons in a particular order! Jump around in the archive and have a look at episodes from different periods. Thus, this only becomes a problem if you've finished all of the material in a specific category. Even divided into several parts, there are still more lessons on offer in each category compared to most other services, though, so I personally don't think this is a problem. Also, diversity is good in and of itself when it comes to listening ability.
Conclusion of my ChinesePod review
Overall, ChinesePod is one of the most valuable resources out there. The huge number of lessons targeted at various levels is unique and well worth checking out. While not perfect (too much English, for instance), there are few other listening resources that beats ChinesePod. I have used it to improve my own Chinese since 2007 and I still occasionally listen to it to expand vocabulary about specific topics. If you haven't already, check it out now!
---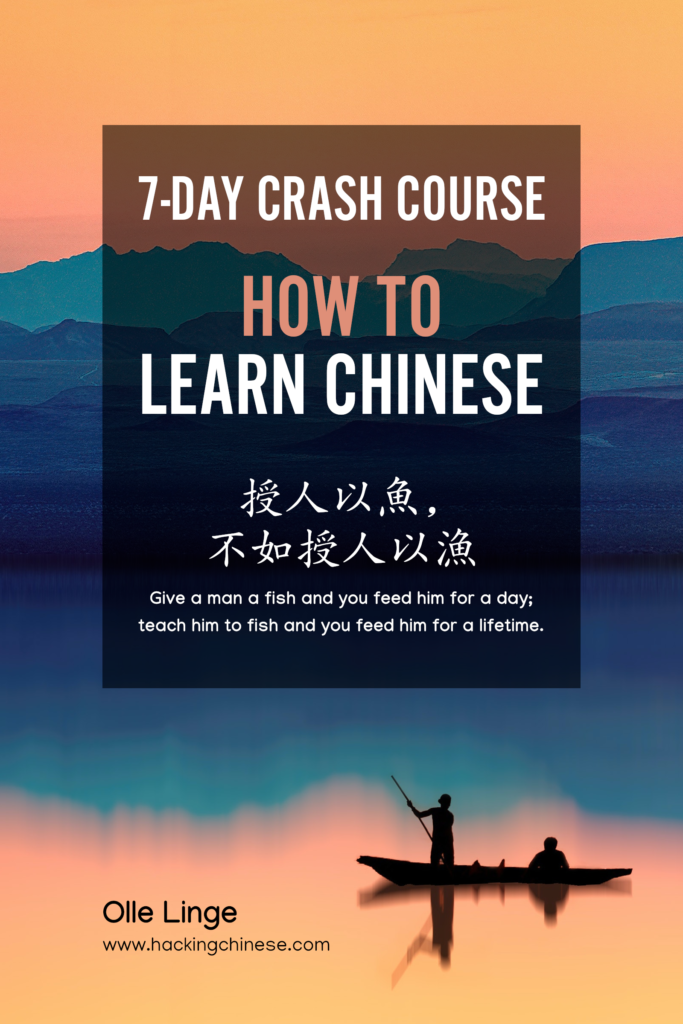 Tips and tricks for how to learn Chinese directly in your inbox
I've been learning and teaching Chinese for more than a decade. My goal is to help you find a way of learning that works for you. Sign up to my newsletter for a 7-day crash course in how to learn, as well as weekly ideas for how to improve your learning!