Over the years, I've built up a simple but yet powerful cycle of listening activities that provides most of what I need. This series of exercises contains everything from test-like listening comprehension to very active (and demanding) listening for details, as well as long-term retention, vocabulary building and sentence mining.
Enter: The Grand Listening Cycle
Let's go through the steps quickly to give you the general idea:
Benchmarking – Find something interesting to listen to (this is of course highly individual, but exactly what to listen to is beyond the scope of this article). If it's longer than a few minutes, break it down into several parts (you can do this on the fly). Pretend that you're taking an exam and listen through the audio material once and note the results. This works as a kind of benchmark. Don't worry if you don't understand everything, but if you understand nothing, you should choose something easier. If possible, choose something that comes with a transcript.
Grinding – Put the audio on your preferred audio device and listen to it as much as you can. Put it in a folder called "new" or similar. I usually don't stress it and sometimes leave the audio file on my phone for weeks before I do anything else with it, listening to it perhaps a dozen times. Gradually, you will start understanding the recording in detail, even though there will of course be gaps.
Transcribing – Now that you are familiar with the audio. Do your best to produce a transcript. The best way to do this is using Audacity, because you can pause, easily find where you were last time and loop the same section of the audio file over and over (hold shift and then click play). You can also reduce the rate of speech, which is awesome. If you encounter a new word you really don't know, write Pinyin. Check your transcript against the official version (or ask a native speaker to help you if you don't have a transcript). Checking a complete transcript for errors is relatively easy for native speakers.
Studying – Go through the transcript you have produced just as if it were a normal textbook. Look up key vocabulary, extract cool sentences and learn useful sentence patterns. Do not try to learn everything you don't know. Use SRS for anything interesting you find.
Reviewing – Move the audio file to a new folder ("review" or something else that contrasts with "new" above). Depending on your energy level at any particular time, you can now choose to 1) listen to something in the "new" folder (demanding) or something in the "review" folder (much easier). The more  you listen, the better, but since you should have a pretty good grasp of the audio already, you don't need to listen all that often. When you do, it functions as review of everything you've learnt from that clip.
If you're not really clear about what background, passive and active listening are and why they are all essential, you might want to read these articles, describing each concept in detail:
Applying the grand listening cycle
You can use this cycle for any kind of audio material, including songs, news broadcasts, films, TV shows, lecture recordings, interviews or anything else you can think of. Naturally, you can and should have many cycles going at the same time. A while ago, I focused a lot on news broadcasts, typically only a few minutes long. I usually downloaded around four of them and took them all to the grinding phase at the same time, transcribing them one at a time whenever I felt ready.
Learning to understand spoken Chinese is mostly a matter of practice and I've found that having fixed and regular routines helps a lot. You could set a quota for each week or commit to a certain number of minutes of completed material, but you should be aware that this cycle takes a lot of time to complete for any audio above your current comfort level. The reason that it takes time and is demanding is that you're constantly pushing yourself, the best way to improve quickly!
---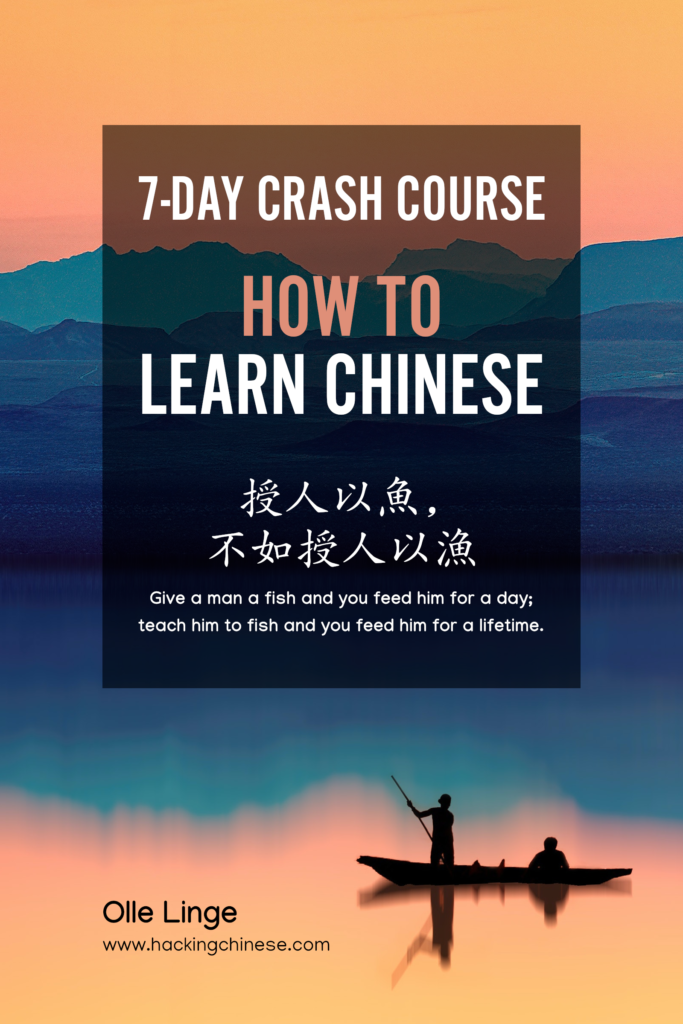 Tips and tricks for how to learn Chinese directly in your inbox
I've been learning and teaching Chinese for more than a decade. My goal is to help you find a way of learning that works for you. Sign up to my newsletter for a 7-day crash course in how to learn, as well as weekly ideas for how to improve your learning!