Many people see the coming of a new year not only as an opportunity to look back at the year that was, but also to look forward to the year ahead. Just like with birthdays, the first day of 2016 isn't really any different than the last day of 2015, but sometimes what you need to get started with a project is a clear line between the old and new. This is where New Year's resolutions come in.
Do you have any project you really should have finished last year? Is there any area of learning Chinese you really should focus more on? Perhaps you already have a New Year's resolution related to learning Chinese, perhaps not. Regardless, the first month of the year is an excellent time to set good habits and get off to a good start. A good way to do so is through the Hacking Chinese New Year challenge!
The Hacking Chinese New Year challenge
Since launching Hacking Chinese Challenges more than a year ago, I've run more than a dozen different challenges focusing on different aspects of learning. This time, it's your turn to decide what you should do. Choose among the following:
Something you should have done last year – This could be as simple as reviewing things you learnt during the autumn semester, enrol in my tone course or read that comic book you bought but never read. It could also be a combination of tasks left over from last year. If you choose this option, be sure to specify what your focus for the challenge will be.
Something you plan to do more of in 2016 – We all have areas of learning that we know we need to improve. Perhaps your character learning or reviewing routines need brushing up or you need to increase the amount of Chinese you read or listen to on a daily basis. Specify one habit you want to establish by the end of the month and get going! Whatever it is, make sure you do it every day, even if it's just a little bit. Anything is better than nothing.
Whichever option you choose, make sure you specify your goal and announce it on social media or to people you care about. Make yourself accountable! You can mention or ping me on Twitter or Facebook too, if you want. Let's use the hash tag #chinese2016.
Sign up now!
This how you sign up and join the challenge:
Sign up (using your e-mail, Facebook or Twitter)
View current and upcoming challenges on the front page
Set a reasonable goal (total time during the challenge)

Announce your goal on social media or to people you know

Report your progress on your computer or mobile device
Check the graph to see if you're on track to reaching your goal
Check the leader board to see how you compare to others
Share progress, tips and resources with fellow students
Please note: The challenge starts on January 10th (Sunday), so even if you can join now, you won't be able to report progress until then. I post this article today so you have a few days to prepare and find suitable reading material!
Setting a reasonable goal
If you chose the first option (finishing a project), you obviously need to allocate enough time to finish it. Make sure you limit your focus and aim at something which is actually realistic.
If you chose the second option (establishing a habit), the main point is not how much you spend in total, but that you spend time everyday. The goal will still need to be set in terms of total time until the end of the month, but it's better to set a total time which is too low rather than too high.
Challenges in 2016
I have not yet decided on a challenge schedule for 2016, but it's likely to contain roughly the same topics as last year, with some new challenges added to the mix. That means a lot of listening and reading, but also more specific challenges about learning characters, mimicking native speakers and so on. If you have any suggestions, please contact me!
---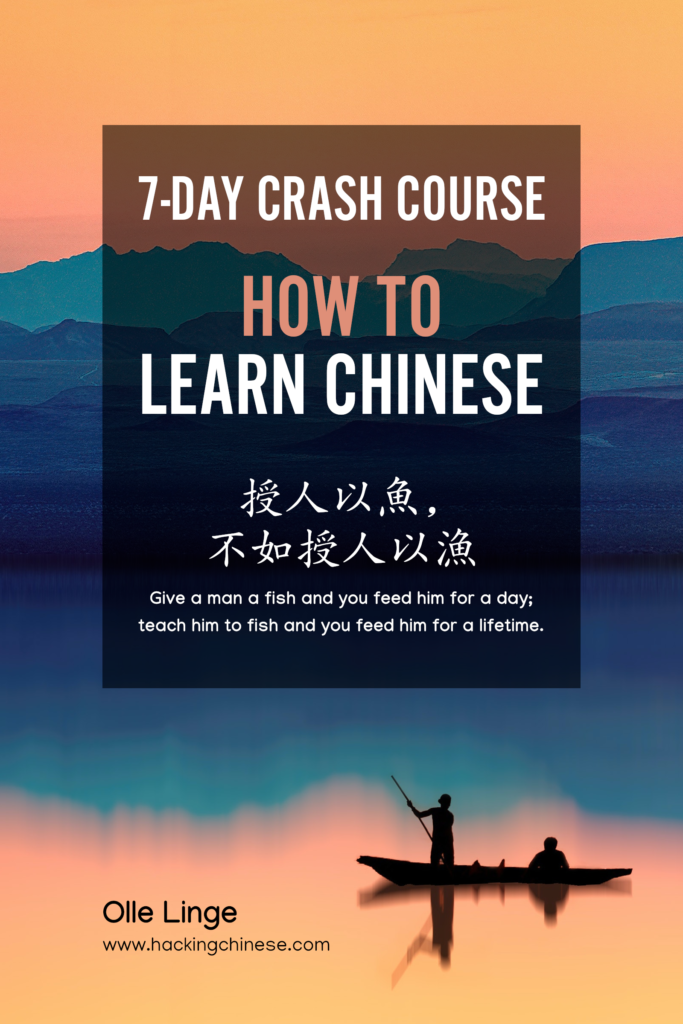 Tips and tricks for how to learn Chinese directly in your inbox
I've been learning and teaching Chinese for more than a decade. My goal is to help you find a way of learning that works for you. Sign up to my newsletter for a 7-day crash course in how to learn, as well as weekly ideas for how to improve your learning!