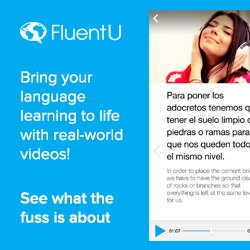 I remember what it was like starting to learn Chinese and I have since seen the same thing in students. When first starting out, everybody's very enthusiastic and even though some parts of the language feel difficult, these challenges are there to be overcome and even repeated setbacks can't really dent our ambition to learn more.
But it's with language as it is with everything else in life, the sheen wears off, the dust settles and studying stops being the most exciting part of the day and turns into a part of normal life instead. That doesn't necessarily mean that it becomes boring, but it means that for most of us, we have to make an effort to make it interesting.
The obvious way of making learning interesting is to make sure that the content in interesting, but as anyone who has tried knows, immersion in Chinese isn't as easy as it sounds. Reaching a level where you can read and listen to interesting content takes a long time.
This week's article is an in-depth review of FluentU in general, with an obvious focus on Chinese. I think this new service can help you solve both the problem of finding interesting material and the problem of making it accessible.
In a nutshell, FluentU is a service that uses video and audio to teach you Chinese. While doing so, you have access to a lot of scaffolding, such as subtitles, translations, pop-up definitions, useful player features such as looping and pausing. Added to this, there is a learning and review section if you want to actually learn the content of the media you watch and listen to. Overall, I think FluentU has come a long way towards solving the problems of boredom and inaccessibility of Chinese learning materials.
If you've never hard of FluentU before, I suggest you check out my brief video review below. I will discuss the service in more detail below in both text and images, but since this service is mostly about video content, I feel that a video review is in place:
Let's dig deeper and see what FluentU has to offer learners of Chinese.
Using video to learn Chinese
The videos are the core of FluentU and what sets it apart from many other services, including most podcasts. Using video to learn has obvious advantages, such as being more interesting, engaging more senses and offering more information in general. The problem is of course that video is harder and more expensive to produce, so what FluentU has done is very clever: Turn existing videos into Chinese learning material. They also offer a growing library of videos created by the FluentU team, but more about that later.
At the moment, there are 2441 video and audio clips distributed over six difficulty levels, eight types of content and nine formats. Something to note here is that for each video, you can see how many words it contains, and, more importantly, how many of these words you already know. That means that the more you use the service, the better it will be at showing you clips where you know most of the content already.
You can also view or download a transcript of the dialogue and the vocabulary found in it.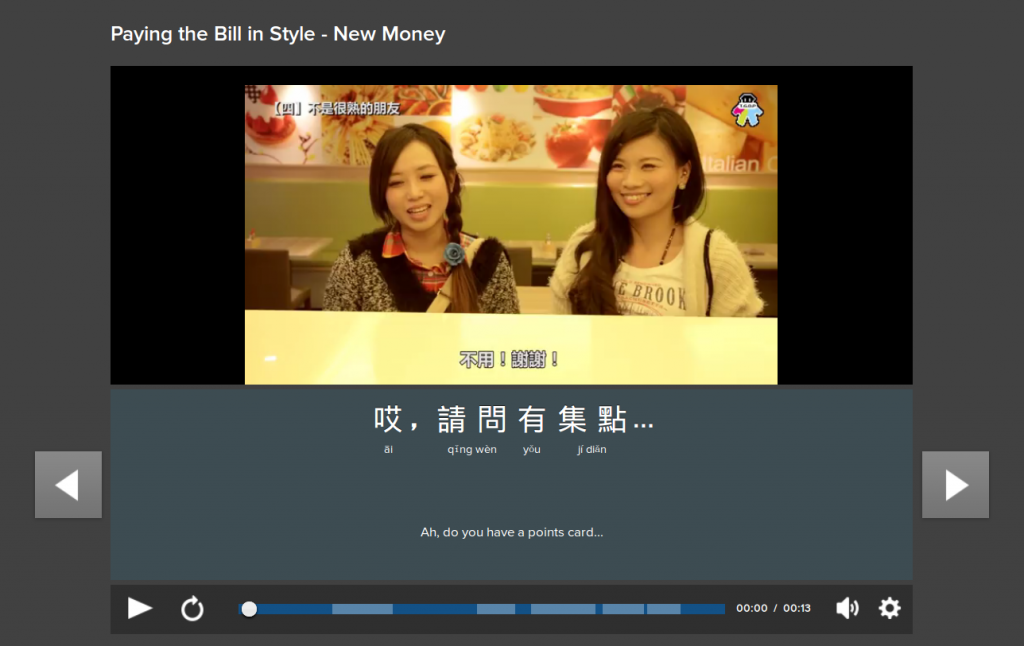 This is what the main interface looks like. You can play the entire clip, loop selected sections or pause the video simply by hovering over the subtitles. The video interface works well and allows you to drill-down into any part of the content you didn't understand. There are also some extra features that increase the usefulness a lot:
Coloured time panel based on the subtitle content so you can easily find what you're looking for
A loop function that allows you to play the same section over and over
The option to toggle Pinyin and translations on and off
Choose between simplified and traditional characters
Another great feature is the pop-up dictionary. This is not your average browser pop-up dictionary that simply gives you the CDICT definition and pronunciation of the character or word you hover over, it gives you much more than that. As the screenshot on the right shows, you also get a picture and the part of speech. The pictures are surprisingly well chosen to illustrate the specific words, although not always perfect. Still, this is as far as I know the largest dictionary that includes images
While we're at it, let's look closer at the vocabulary, because this is one of the areas where I think FluentU is outstanding. If you click the character or word, it brings up more information about it, like so: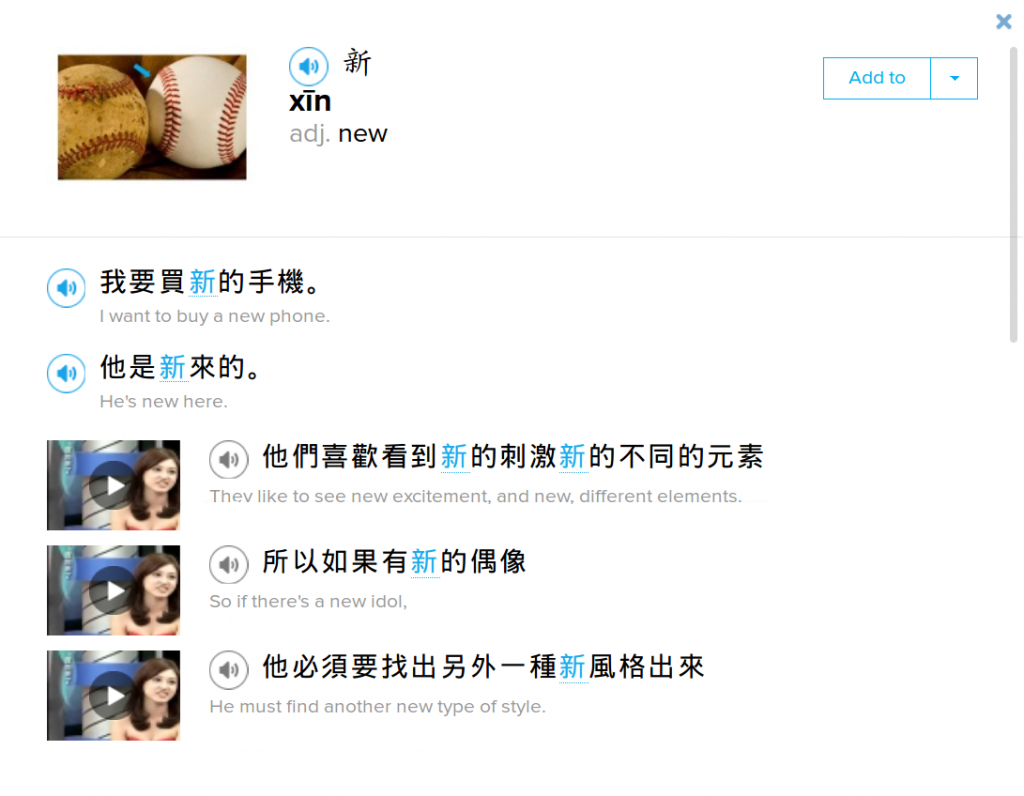 There are a couple of really cool things here. First, there are numerous example sentences with translation and audio. Second, some of these sentences have video, which is surely unprecedented in other Chinese learning materials. This means that you can actually watch how that specific word is used in other videos on FluentU! The only drawback here is that if there is no specifically recorded audio, a TTS (text-to-speech) function takes over, but more about this later.
A closer look at the content
As mentioned above, the content is partly from YouTube and partly created by FluentU. The former is very diverse and everybody should be able to find something. Most of the videos are very short, many of them less than a minute. This is good for bite-sized learning, but can also be quite annoying if you want something longer and more coherent. To address this problem, videos are also organised into courses, which focus on a specific topic.
The videos created by the FluentU team are of decent quality, both in terms of scripts, acting and recording quality. Of course, lower-level videos are a bit awkward at times, partly because the speed is reduced and partly because there's only so much you can say with a limited vocabulary. Considering that it's almost impossible to create natural-sounding material for beginners, I'm perfectly fine with this.
There is also an audio section, which works very much like the video section, except there is no video. The interface works the same way, you can look up words and toggle subtitles the same way. I do think the audio is useful, but it still feels much less unique than the video content.
Learning vs. just watching
If FluentU was just a service which added subtitles to YouTube clips in a neat way, I think it would have been very useful, but it would be very far from a comprehensive solution for learning Chinese. One step in that direction is the learning mode, where you can study the content of a video rather than just watch it. You can do it in any order, but I would strongly suggest you do the following:
Select a video where you already understand a lot
Watch it without subtitles a few times
Watch it with subtitles in Pinyin or characters
Turn on translations and check your understanding
Study the vocabulary you find interesting or useful
If you're a big fan of bottom-up learning, you can of course but the last step first, but I strongly advice against it since that is far removed from real-world listening. You learn to understand spoken Chinese by really trying to understand spoken Chinese.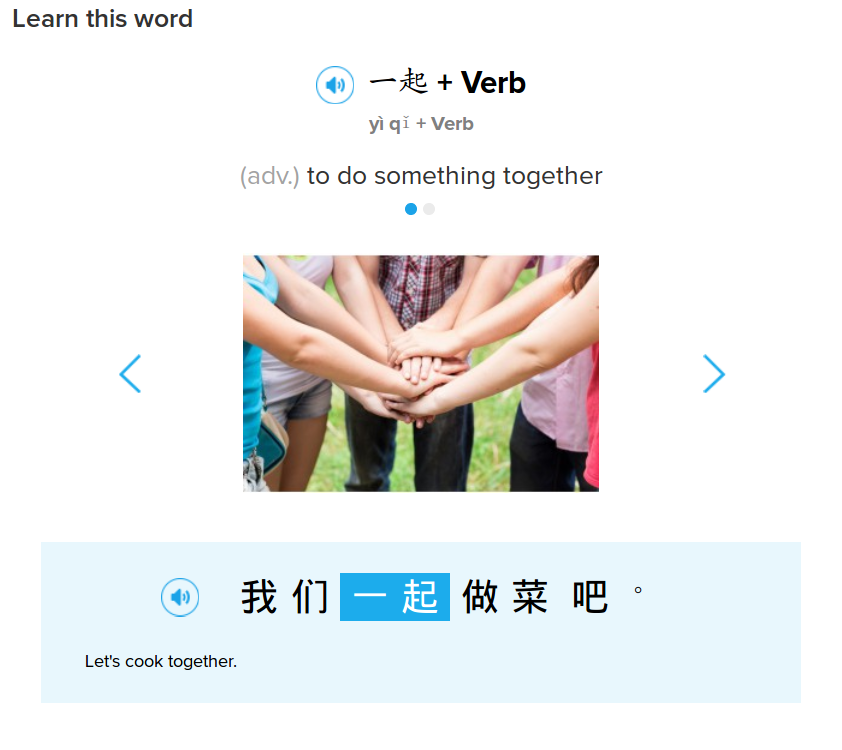 The learning mode consists of a series of questions where you're supposed to pick the right translation, fill in the gap, type characters (with a built-in input method) and so on. You can also view the word in different contexts, just as you could with the pop-up dictionary in the video player. In general, this section of the site makes sure you're actively processing the content, rather than just watching it. If you want that depends on your reasons for using FluentU, of course.
Flashcards, reviewing and spaced repetition
If you want to learn something, you have review it. FluentU has a built-in flashcard system based on a spaced repetition algorithm. They don't disclose much about it, except that it's based on Supermemo. In any case, it's all integrated into the system so you can review words from the videos you have watched and so on.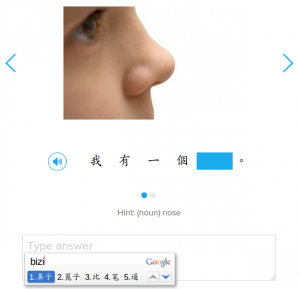 What I like most about the flashcard system is that it keeps everything in context. I have mentioned this several times already, but it's truly awesome to be able to see the word used in different sentences and the videos in which they appear.
I haven't used FluentU for long enough to be able to say how well the flashcard system works. If you have used the service for a longer period of time and have anything to say about it, please leave a comment! I'm a big fan of SRS in general, though, and it's something I use daily myself, although not in this form.
The FluentU iPhone app was launched earlier today, so that should take care of the mobility issues, at least for iOS users.
Pricing
Considering that FluentU creates their own learning materials and really adds value to other people's videos, it's definitely something you should expect to pay for. A lot of manual work has also been done with the dictionary (pictures, for instance) and the overall experience is completely different from just watching videos with subtitles on YouTube.
Prices are subject to change, so please refer to the official site. There are several price tiers currently starting with Basic for $15/month  (May 2016). This gives you full access to video and audio, but not learning modes and exercises. For that, you need the Plus plan at $30/month.
Is it worth it? Which plan should you go for? Only you can answer the first question, preferably by first checking it out and then choosing which plan to go for. The basic plan works well if you want this as a source of extra material for watching, listening and reading. The plus plan comes closer to a complete solution, which might be suitable for students learning on their own.
Room for improvement
No review would be complete without bringing up a few points of concern. It should be clear from the above discussion that I think FluentU is great, so the following list is not meant to discourage you from trying it out, but if you think something I mention here is extremely important for you, you should take that into consideration:
Text-to-speech inadequate – The single biggest issue I have with FluentU is the text-to-speech (TTS). It doesn't work. TTS is far from good enough to teach Chinese, especially beginners. Pronunciation is sometimes completely off, clipped, garbled or just wrong. This is not a problem when you watch videos, of course, but it is when you learn vocabulary. For more advanced learners, this might be okay, but beginners should never have to hear this. Here are some examples: 就是 (jiùshì), 想不到 (xiǎngbùdào), also note the missing tone sandhi), 還 (hái).
Doesn't work in China – This should be fairly obvious since the service is mainly based on YouTube videos. You should be able to get around this by using a VPN, but from what I gather, that creates delays that are so serious that it's not worth it. If you know more about this, please leave a comment.
Difficult to integrate – Some learners don't want or don't need a complete solution, especially if it isn't complete (and no solution ever is). That means that being able to integrate FluentU with other ways of studying is important, but it's not easy. For example, there is no way to export vocabulary. I don't want to be tied to a web interface to review vocabulary. The iOS app is launched today, but I don't have an iPhone.
Lack of structure and guidance – This comment is only relevant if you want to use FluentU as your main source of learning. Where should you begin? Should you learn all the words? No, you most definitely shouldn't, but how do you know which to learn? If FluentU wants to become a complete solution for learning Chinese, it needs to guide learners more. Yes, being able to choose interesting content is great, but too much choice has its own problems.
As I said, none of these issues are serious enough to stop me from recommending FluentU, but for now, I can only fully endorse the basic plan, since I think the learning mode still needs work, especially with the audio. If you want it to activate the language you learn, then go for the plus plan, but be aware that the audio is far from ideal.
Conclusion
I think FluentU is a unique and valuable addition to the different paths to Chinese fluency. It has come very far since the early days and I'm sure most of the issues I mentioned above will be addressed in due time. In the meantime, I think anyone who is interested in learning Chinese through video content should check it out. Exactly what you think about the service and if it's worth the money will depend on your current situation and what you need, but I think the basic plan should be attractive for most students who takes immersion seriously.
Have you tried FluentU Chinese? What do you think? Please leave a comment!
---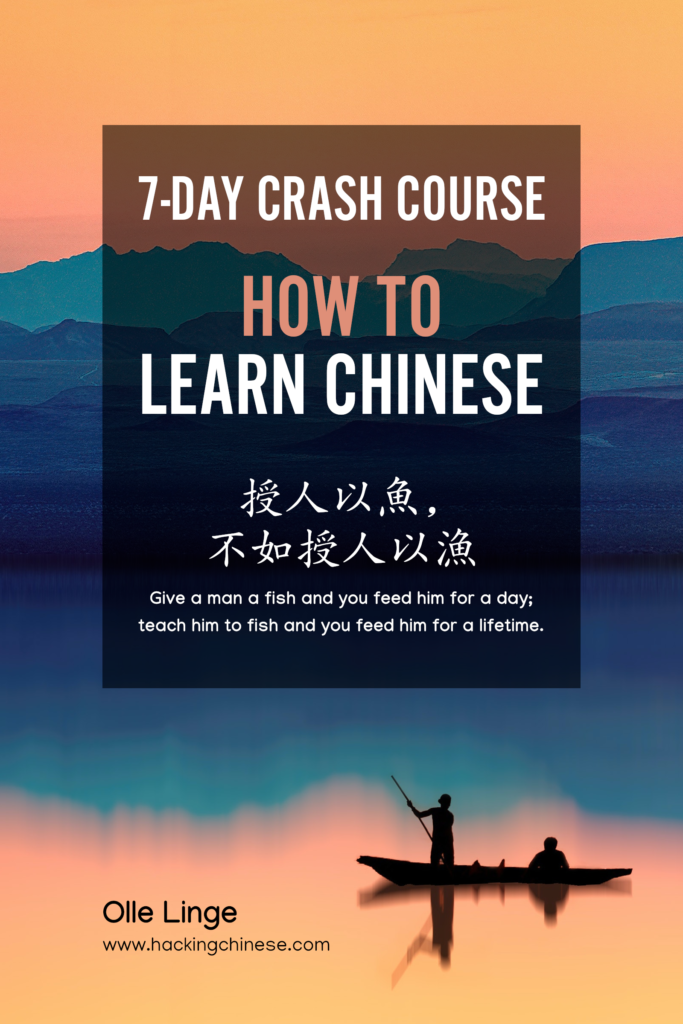 Tips and tricks for how to learn Chinese directly in your inbox
I've been learning and teaching Chinese for more than a decade. My goal is to help you find a way of learning that works for you. Sign up to my newsletter for a 7-day crash course in how to learn, as well as weekly ideas for how to improve your learning!