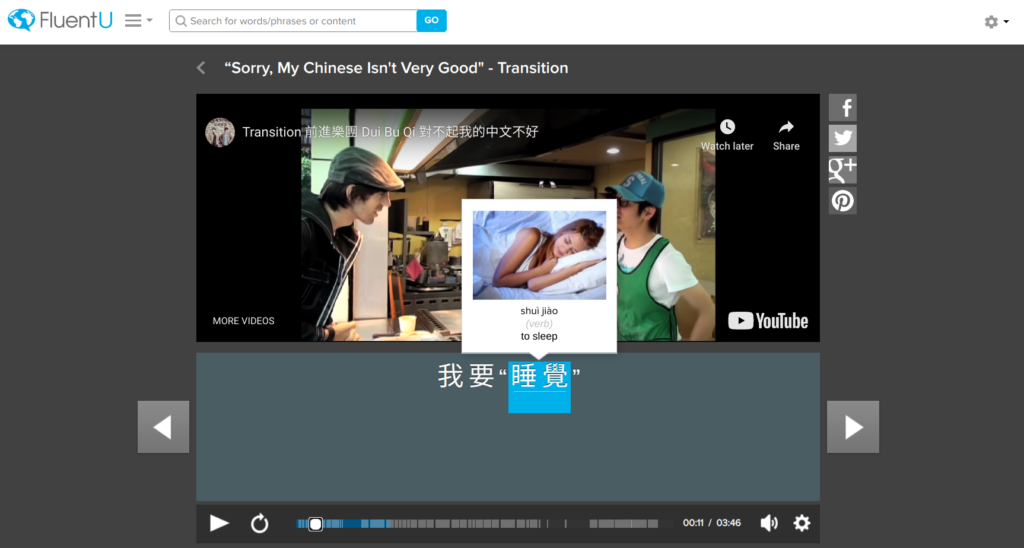 When starting to learn Chinese, most students are driven by a strong motivation to learn. But it is with language learning as it is with most long-term endeavours: the sheen wears off and studying the language is no longer the most exciting part each day. That doesn't necessarily mean that it becomes boring, but it does mean that most of us need to make an effort to make it more interesting and enjoyable.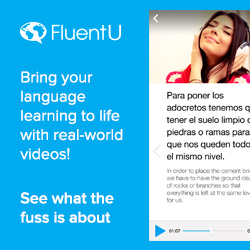 One way of making learning more enjoyable is to focus on video content. Video is great because it contains the spoken language in context-rich and engaging environment, making it easier to learn. But finding videos you can just watch and understand in Chinese is a struggle for most learners; most clips are simply too hard!
This is where FluentU comes in. In a nutshell, FluentU serves you video and audio content through an interface that makes the language easy to interact with. It also offer ample support for the language you're learning, including flashcards reviews, exercises and much more. While this review focuses on Chinese, it's worth noting that FluentU offers ten other languages, including Spanish, French, German, Korean and Japanese.
If you prefer to watch a video review, I have created one here:
Let's dig deeper and see what FluentU has to offer learners of Chinese!
Immersing yourself in 2261 Chinese video and audio clips
The videos are the core of FluentU and what sets it apart from many other services, including most podcasts. Using video to learn has obvious advantages, such as being more interesting, engaging more senses and offering more scaffolding.
The problem is of course that video is harder and more expensive to produce, so what FluentU has done is very clever: Turn existing videos into Chinese learning material. They also offer a growing library of videos created by the FluentU team, but more about that later.
At the moment, there are 2261 video and audio clips distributed over six difficulty levels, twelve types of content and eleven formats.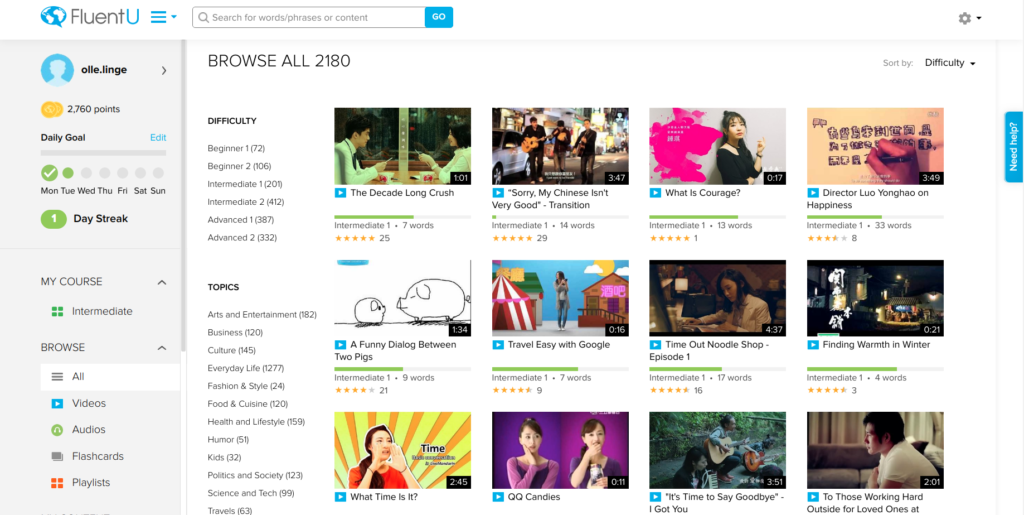 FluentU helps you find suitable content on your level…
One of the key features of FluentU is that it ranks all this content by difficulty, meaning how many unfamiliar words it contains. After you have used the service for a while, it will have a good idea of which words you know and can recommend content that is as easy as possible.
Naturally, you can sort the content in other ways, but the ability to suggest content that is as easy as possible is very important. Chinese learners tend to spend too much time on content that is too hard, not because they want to, but because they can't find easier content! FluentU helps you out here by sorting clips based on what it knows about your Chinese level.
…and makes it more accessible!
The core of FluentU is the interface that lets you interact with the language in the videos. Without such an interface, it would be just like watching videos on any other platform that hosts video content. These features are very useful and go far beyond merely having subtitles. This is what it looks like.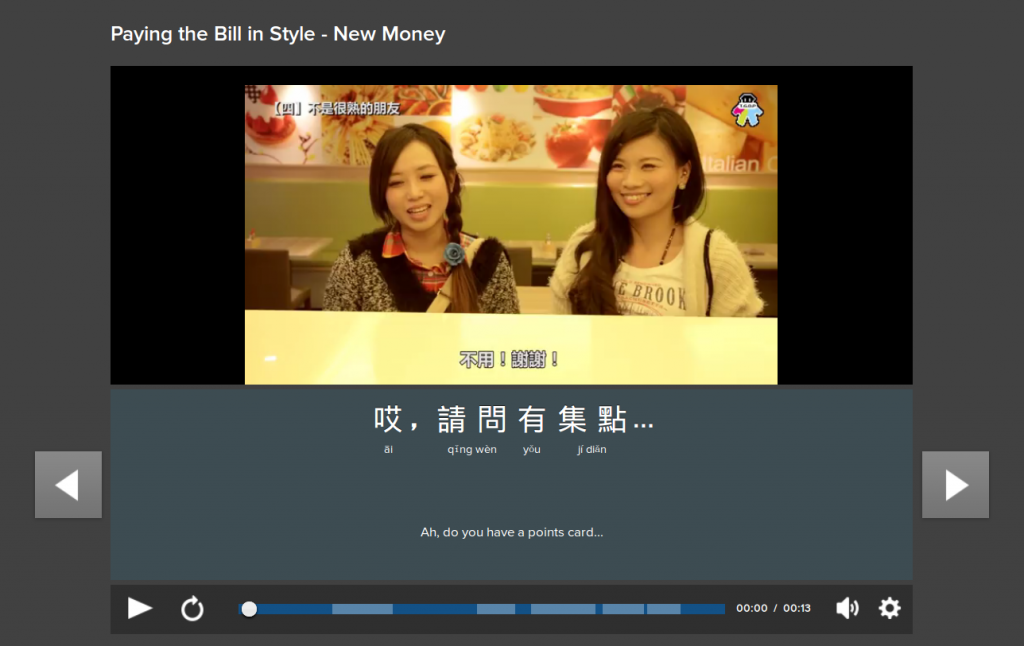 You can play the entire clip, loop selected sections or pause the video simply by hovering over the subtitles. The video interface works well and allows you to drill-down into any part of the content you didn't understand. There are also some extra features:
Coloured time panel based on the subtitle content so you can easily find what you're looking for or skip sections that has no spoken language in them.
A loop function that allows you to play the same section over and over. This is very useful as listening more than once is much better than peeking at the subtitles.
The option to toggle Pinyin and translations on and off, which is truly essential, but more about this later.
Choose between simplified and traditional characters, regardless of the subtitles in the original clip.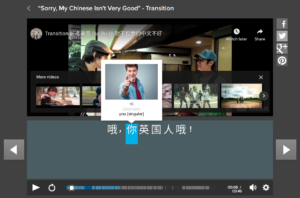 Pop-up picture dictionary
Another great feature is the pop-up dictionary. This is not your average browser pop-up dictionary that simply gives you a standard definition and the pronunciation of the character or word you hover over, it gives you much more than that.
As the screenshot on the right shows, you also get a picture and the part of speech. The pictures are surprisingly well chosen to illustrate the specific words, although not always perfect. Still, this is as far as I know the largest dictionary that includes images like this.
While we're at it, let's look closer at the vocabulary, because this is one of the areas where I think FluentU really stands out. If you click on a word, it brings up more information about it: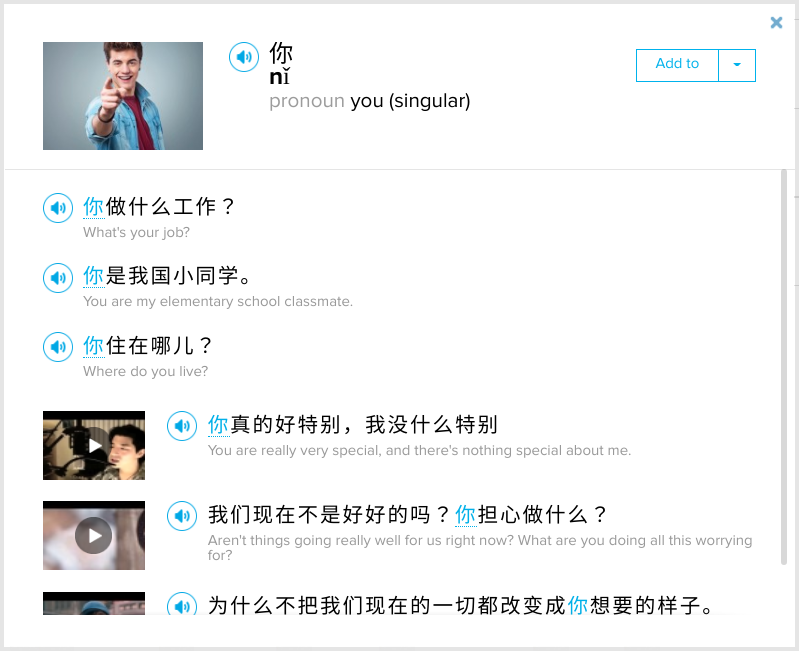 There are a couple of really cool things here. First, there are numerous example sentences with translation and audio. Most of these are actually quite good, although there are exceptions where the example sentence contains vocabulary that is much harder than the word itself.
Second, some of these sentences have video, which is surely unprecedented in other Chinese learning materials. This means that you can actually watch how that specific word is used in other videos on FluentU! If you want to hear how real people say a certain word, you can quickly get an idea by click on the videos, which takes you to the segment where that word is used.
You can of course add vocabulary to study and review later. The only drawback with the vocabulary screen is that the audio is synthesised, which is better than nothing, but not recommend for pronunciation practice in general or beginners in particular.
A review of FluentU's Chinese content
As mentioned above, the content is partly from YouTube and partly created by FluentU. The former is very diverse and everybody should be able to find something they like. Most of the videos are short, often less than a minute.
This is good for bite-sized learning, but can also be quite annoying if you want something longer and more coherent. To address this problem, videos are also organised into courses, which focus on a specific topic.
The videos created by FluentU are of varying quality, both in terms of scripts, acting and recording quality. Some videos for beginners come across as very unnatural and are, to be honest, quite bad. Here's an example:
Compare with this one, which is better in every way imaginable:
These videos are available on YouTube, so if you're just after this kind of content, you can access it for free. However, note that much of the content on their channel is just still images with audio, not actual video production like the two above.
Naturally, the point of FluentU is not the videos themselves, but what you do with them, so let's have a look at that.
Learning Chinese vs. just watching videos
Just sitting back and watching videos with subtitles in English and Chinese isn't very effective for learning Chinese. You need to be more active than that, which is supported by FluentU, but not mandatory.
Her'es how I suggest you watch videos:
Select a video where you already understand almost everything
Watch it without subtitles a few times; make a serious effort to understand
Watch it with subtitles in Pinyin or characters, depending on your goals
Turn on translations and check your understanding
Study the vocabulary you find interesting or useful
If you're a big fan of bottom-up learning, you can of course reverse the process and look up vocabulary before you dive in, but I strongly advice against it since that is far removed from real-world listening. One of the strengths of FluentU is the authenticity of the listening practice available. You learn to understand spoken Chinese by really trying to understand spoken Chinese, not by studying a transcript in advance.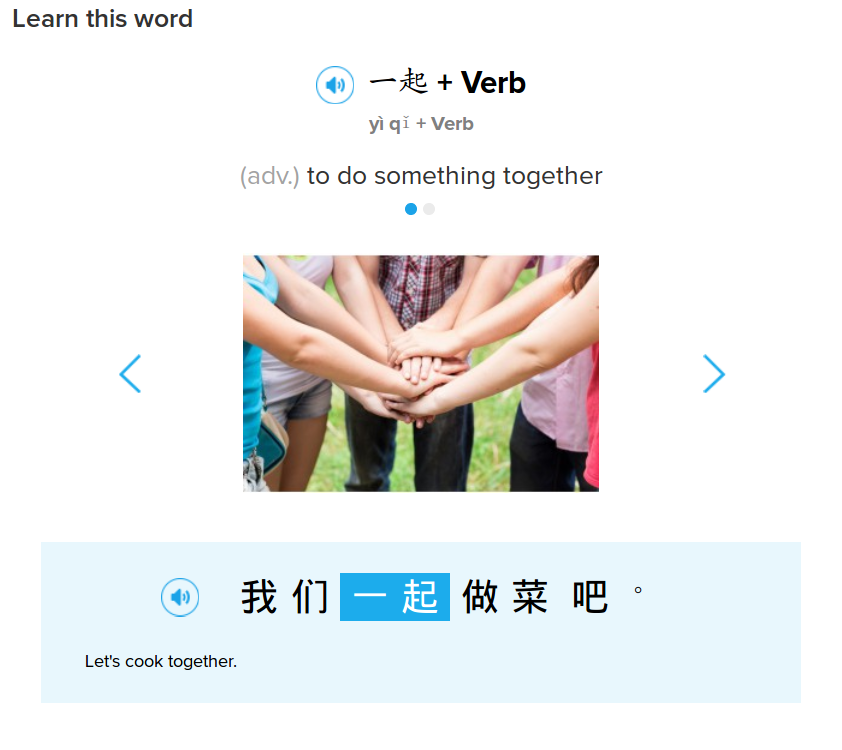 The learning mode consists of a series of questions where you pick the right translation, select Pinyin, fill in the gap, type characters and so on. You can also view the word in different contexts, just as you could with the pop-up dictionary in the video player. In general, this section of the site makes sure you're actively processing the content, rather than just watching it.
Flashcards and vocabulary reviewing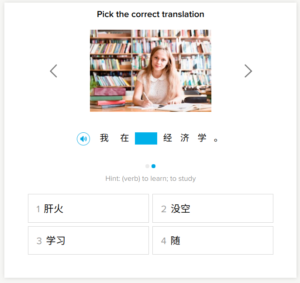 If you want to learn something, you have to review it. FluentU has a built-in flashcard system based on a spaced repetition algorithm. They don't disclose much about it, except that it's based on Supermemo. In any case, it's all integrated into the system so you can review words from the videos you have watched FluentU will try to direct your attention to words you might be about to forget.
What I like most about the flashcard system is that it keeps everything in context. I have mentioned this several times already, but it's truly awesome to be able to see the word used in different sentences and the videos in which they appear.
There are also apps available for both iOS and Android. I've only tried them out briefly and found that they didn't work as well as the website, but having a mobile solution is essential for efficient vocabulary reviewing.
Subscriptions and pricing
FluentU adds value to other people's videos through a smooth interface, and they help you engage with the language found in the videos. They also offer their own videos, so it's definitely something you should expect to pay for. A lot of work has gone into both the interface and the content, particularly the dictionary parts (all the pictures, for instance). Yes, you are watching content that is free, but what you're paying for is the structure and functionality to make it accessible and learnable.
Prices are subject to change, so please refer to the official site for up-to-date information. At the time of writing (October, 2020), there is only one type of subscription, which you pay for monthly ($30/month) or annually ($20/month). You can also downgrade to a free, limited plan.
You can make use of a free trial, of course, but they ask you for your payment details up-front, just so you know. This is not popular with the mobile apps, that have horrible ratings on both iOS and Android. However, if you take the time to browse through the reviews, you will find that almost all who complain do so because you have to enter payment details up front, not because the apps themselves are bad.
Is FluentU worth the price? That's hard to say, as it depends on both how much value you get out of the service and how much value each dollar has for you. If you'er a cash-strapped student looking for some extra listening content, there are many other services that are cheaper or even free. But if you want the whole solution in one package centred around videos and you regard $20 a month as the cost of a single tutoring lesson, then it could very well be worth it for you.
Room for improvement
No review would be complete without bringing up a few points of concern. It should be clear from the above discussion that I think FluentU is well worth checking out, but that doesn't mean that it's perfect. Far from it. In fact, I have a few fairly serious concerns about FluentU, especially for beginners.
Pinyin exercises are a travesty – In FluentU, you can choose if you want to learn characters and/or Pinyin. That's great, as I think people should be able to focus on the spoken language first, and this is a good way to do so (good luck finding Pinyin subtitles for videos elsewhere with all the functions I've introduced above). However, the Pinyin exercises require you to type Pinyin, but doesn't require you to type tones. That's already bad, but what makes it a travesty is that you can even enter the wrong tones, and it will still say that you're correct! A small popup where it show the correct tones is not an acceptable solution. My criticism here might sound very harsh, but I can't tolerate Pinyin without tones in a learning situation. Tones are not optional!
Text-to-speech inadequate – While the text-to-speech engine used in the current version of FluentU is orders of magnitude better than the one included when I first reviewed FluentU in 2015, it still sounds robotic. It's reached a level where it's certainly better to have it than to do away with it completely, but this is still an issue. As a beginner, you will rely on the dictionary for help and you should not learn pronunciation from a synthesised voice. This becomes less of a problem the more you focus on the videos themselves. A good example of the shortcomings of the text-to-speech engine is that it really can't handle neutral tones, which sometimes has hilarious and embarrassing effects. Take a look at the video on the right, for example.
Difficult to integrate – Some learners don't want or don't need a complete solution, especially if it isn't complete (and no solution ever is). That means that being able to integrate FluentU with other ways of studying is important, but they really don't want you to do that. For example, there was no vocabulary export function five years ago and there still isn't one. If you want to use Skritter to write the characters or look something up in Outlier's Dictionary of Chinese Characters, your only option is to do it manually.
Inadequate support for traditional characters – As is the case with many services, traditional characters aren't handled very well. If you search for a word in traditional Chinese, you find the vocabulary in simplified, with no mention of the traditional variant. For example, 遊戲 is incorrectly written as 游戏i, including in sentences. This would be truly frustrating if you want to learn traditional, as I've from several students who use FluentU (see the comment section for one example). I know from my work over at Skritter that maintaining neat relationships between simplified and traditional Chinese takes a lot of effort, and I'm reasonably sure everything in FluentU is automatic in this regard, and hence, not very reliable.
Lack of structure and guidance – This comment is only relevant if you want to use FluentU as your main source of learning. Where should you begin? Some videos are linked together into courses, but it's still haphazard. There's nothing like a golden path that you can stick to if you don't want to make too many choices yourself. Should you learn all the words? No, you most definitely should not, but how do you know which to learn? If FluentU wants to become a complete solution for learning Chinese, it needs to guide learners more. Yes, being able to choose interesting content is great, but too much choice has its own problems, especially for beginners.
Doesn't work in China – This should be obvious since the service is mainly based on YouTube videos and those are blocked in China. You might be able to get around this, but from what I gather, that creates delays that are so serious that it's not worth it. If you know more about this, please leave a comment!
That being said, FluentU is really good at the core concept: making engaging content more accessible. I have discussed FluentU with many learners who are very happy with the service and have used for years. If you check the comment section below, which includes comments from my old review, you will see that for some people, FluentU offers a great way to stay motivated and learn more!
Impressive blog for learning Chinese
While this is not part of the core features or even the paid version of FluentU, I would like to mention that FluentU has a very impressive blog for Chinese learners. While I personally don't like click-bait titles, the content is often very good (and I don't only say that because I used to write articles for them many, many years ago). There are plenty of articles about all sorts of things related to learning Chinese, and while it's natural to expect some promotion of their services, I can recommend the blog even if you're not interested in learning Chinese through videos.
Conclusion of my FluentU Chinese review
I think FluentU is a valuable resource for learners of Chinese. It's largely the same service that I reviewed five years ago, but some things have improved greatly. If you like video content, but feel that just watching random videos doesn't work for you and you need more support, you should check it out. While you do need to enter payment details on sign-up, there is a trial which is free as long as you cancel in time.
The big question is if it's worth the money. As I've already said, the answer will vary. For some, paying $20/month for this services is exorbitant, but for others, it's an investment that gives them access to enjoyable learning, which could be worth more than that.
What do you think about FluentU? Do you agree with my overall review? I'm not really in the target group of learners, so I would love to hear what beginners and intermediate learners think about FluentU. Please leave a comment below!
Disclaimer: This article contains affiliate links. That means that if you try FluentU using one of the links in the article and end up subscribing, part of your payment goes towards supporting Hacking Chinese. I always review services as fairly as I can, affiliate or not, as can be clearly seen in the "room for improvement" section above!
---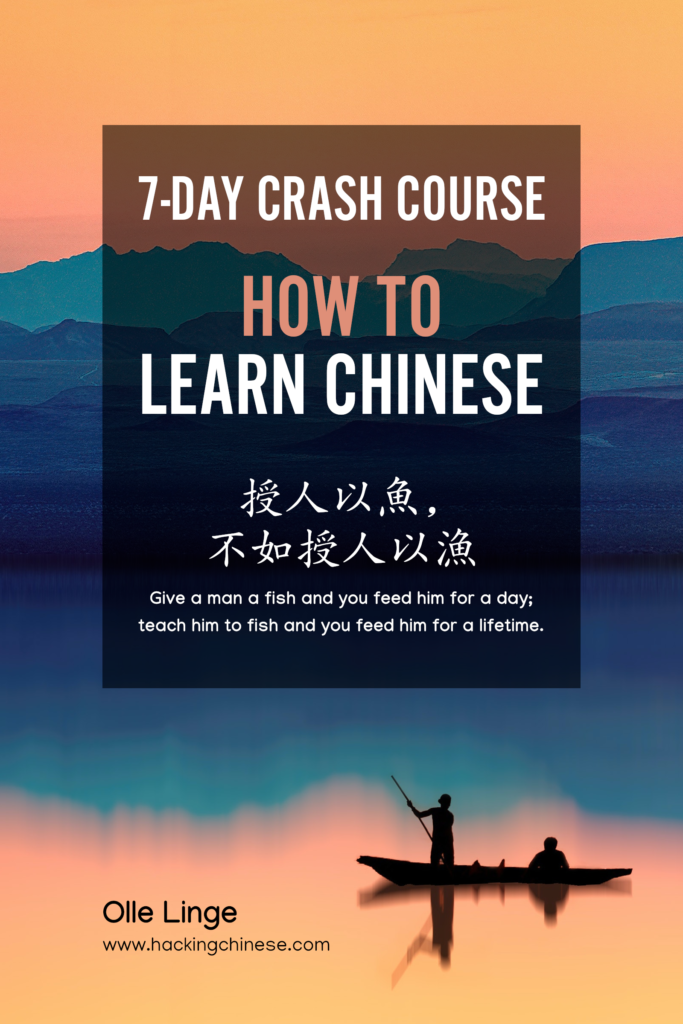 Tips and tricks for how to learn Chinese directly in your inbox
I've been learning and teaching Chinese for more than a decade. My goal is to help you find a way of learning that works for you. Sign up to my newsletter for a 7-day crash course in how to learn, as well as weekly ideas for how to improve your learning!