If you enjoy playing computer games, why don't enjoy them in Chinese? I've played a lot of StarCraft 2 in Chinese and even if I don't play any longer, I still watch several matches online each week, with live commentary in Chinese. I have learnt and still learn tons of Chinese from this and enjoy every minute. As the title implies, this article is about playing or watching StarCraft in Chinese and improve your Chinese at the same time.
Note: This article is not only for those of you who like StarCraft. In fact, you can read the entire article as inspiration and as an example of how you can turn a hobby into a learning opportunity. You can also read it as a personal insight into how I learn Chinese.
Among other things, I will talk about:
As frequent readers will remember, I have already written an article about playing computer games in Chinese, in which I summarised the benefits as follows:
It's fun – I put this at the top because it's the most important factor. Learning languages should be fun and this makes computer games an excellent way of learning. Naturally, the benefits will vary according to what kind of game we're talking about, but reviewing vocabulary has never been this fun (some in-game words occur very frequently).
It's instrumental – When playing computer games in a foreign language, we don't simply learn because we want to learn, we have another purpose: we want to beat the game (or our opponents). This means that we need to use the language to succeed and reach the next level, a great motivational boost.
It's social – Depending on what games you play (preferably some major game like StarCraft or Diablo), you will find that many native speakers are hugely interested in these games as well. This is an opportunity to interact with other people, not only while playing the game, but also elsewhere online and in real life.
It's interesting – Playing a game, we typically want to know more about it or how to improve our game play. Popular games like StarCraft and Diablo spawn thousands of websites dedicated to the games, some of which will be in Chinese. This gives you lots of reading material which you are truly interested in reading. Participating in online discussions might require a relatively advanced level, but reading is easier.
It's about more than gaming – Some people might wonder if it's really useful to know how to say Dark Templar, Infestor, Demon Hunter or Witch Doctor in Chinese, but this question misses the point. These words might be commonly occurring in these games, but the language use is much richer than that. These are the words uninitiated people will notice, but the bulk of language use is still normal.
How to install StarCraft 2 in Chinese
Update: The below information about how to play the game in Chinese is now obsolete. It's now much easier to change language, something you can now do from within your account. Pleas check the comments by Murray and Lucas for more details.
If you live in Asia where the Chinese version is the norm, you can skip this section. For the rest of us, installing StarCraft in Chinese ought to be relatively simple, but unfortunately it isn't. This is because Blizzard has (for some reason) decided that language packs are limited to specific regions, so someone living in Europe (like me) and who buys the game, cannot just download the Chinese version. This is unforgivable and I can see no reason why it's like this.
It used to be possible to change the entire game into Chinese, but if you're not prepared to use a real Chinese or Taiwanese client and play on their servers (or you could ignore multiplayer and just play campaign mode), you can only convert the voice packs. This is still pretty good, because there are lots of talking going on in this game. There are many ways of doing this, but I used this. However, if you do this, some cool things I bring up below will not be relevant. I'm very sorry for this, but blame Blizzard, not me!
In case you haven't noticed, Blizzard is a company that really doesn't skimp on details. The translated versions of the game aren't slipshod products to sell a few more copies of the game, they are actually good. Not only do they contain all dialogues and sounds rewritten and rerecorded in the specific language, but all in-game text is also changed. This includes graphics in movie sequences and even details on the maps!
This game contains huge amounts of dialogue
In between missions (and sometimes in them), Starcraft 2 features long dialogues and interaction with the characters in the story. This audio can be replayed again and again (which is excellent for language practice). Even better, you can turn on subtitles and read what the characters are saying if you're listening ability is not up to the task! As if this weren't enough, you can pause the game at any time and spend as much time as you like reading the dialogue.
Playing through the game on any difficulty will expose you to huge volumes of Chinese. If you play on a very easy difficulty setting, you will mostly have dialogues and story-related sequences, which might be very hard for beginner and intermediate Chinese learners. However, it's probably still enjoyable, especially if you've played the campaign in English before. The language used is quite good and not just hastily translated. Voice actors are competent and leave little room for complaining (although there are exceptions; I hate the Chinese Kerrigan).
Here's an example of what a cut scene looks (and sounds) like. Note that the text on the ground is also in Chinese:
Here is a normal dialogue, note the subtitles (there are hours and hours of these):
Gampeplay and multiplayer
One of the great advantages of playing RTS (real-time strategy) games in Chinese is the huge number of times you will hear the same things. Each unit has a respectable number of things to say when you click on them and order them about, so playing through a campaign or playing online, you'll hear these words and phrases a lot. For instance, here's what the marines say when you click on them.
Apart from this, true to tradition, Blizzard has expanded the "annoyed unit" dialogues. This means that if you click the same unit a lot, it will start saying entertaining things. In Starcraft 2, these dialogues are quite long and are occasionally quite good. Here's an example of what the Banshee says in the Taiwanese version of the game:
Starting to play and watch StarCraft in Chinese isn't easy and parts of it would have been difficult for native speakers as well, even though they would get used to it much quicker. Here's what I did and recommend other people doing as well:
Install the game
Play through the campaign on casual or easy
Check vocabulary only if you want to (see word list below)
Start watching commented matches (again, see the word list)
Discuss StarCraft in Chinese, either online or with native geeks
You might also want to read the article about StarCraft 2 on Wikipedia (in Chinese), not to learn more about the game, but because it contains some key vocabulary if you want to be able to follow dialogues in the story.
Watching StarCraft matches online
An even better way of learning Chinese from StarCraft is watching commented games online with live commentary in Chinese. I realise that the threshold is quite high, but I still want to share my experience. Before you try this, you need some basic understanding of the game and I also suggest you watch some matches in English first, otherwise this will be very, very hard to understand.
The first time I watched a commented match in Chinese, I understood almost nothing. I mean literally below 10%. This isn't because I suck, but rather because this is a very narrow and specialised area with some specific terms not used anywhere else. If I show a commented match in English to a native speaker with no exposure to computer games, they will understand almost nothing. Thus, we need vocabulary to survive through a StarCraft match in Chinese. This includes unit names, names of common map features, tactics, strategy and much more. The point is, don't feel disappointed if you can't understand anything at first, that's only natural.
The benefits of watching broadcasts don't end with geeky discussions about tactics, however. Usually, there are more than one person commenting, especially for bigger events or TV-shows. I usually watch the Taiwanese professional league, and they always have one host and one expert commentator. This means that the host doesn't really understand the game (which is of help to new viewers) and continuously asks questions that the expert can answer. Apart from actually discussing the current match, however, they also banter, chat and discuss other things, so watching broadcasts isn't really limited to StarCraft. I think over half of what is said during a broadcast is actually about other things than the game.
Here are two examples of what it looks like:

Taiwanese commentary on a match between Taiwan and the Mainland in Asia StarCraft 2 Invitational Tournament.

Mainland commentary on a match from GSL (Korea). NeoTV is quite good, but most clips are on YouKu.
Websites and channels to check out if you like StarCraft 2, sorted in the order I think they are good or useful:
Damla (Taiwan) – Casting from the Taiwan eSports League
NeoTV (Mainland) – Casting of lots of matches, mostly from China and major competitions
Starcraft 2 Mandarin – Speech from all (?) units in the game (some with subtitles!)
These lists have taken me a while to compile. They aren't meant to be complete in any way, but I hope that they will help other people to enjoy StarCraft and learn Chinese at the same time. All vocabulary is tagged according to race, function, etc. There are also tags for words which doesn't appear in the game itself, but which are essential if you want to make sense of live commentary in Chinese.
If you feel that something is missing or if you find a mistake, let me know and I'll see what I can do. In other words, I can't guarantee that everything I've written is correct (especially the simplified Chinese). I'll keep these lists updated and they are also available for Anki, my favourite spaced repetition program. Download the deck here. If you don't use Anki 2, you can use one of the following:
Chinese StarCraft 2 vocabulary in tab-delimited .csv (this file is using UTF-8, so if your program displays only weird symbols, you need to change the character encoding to UTF-8)
Chinese StarCraft 2 vocabulary in .anki format (old Anki 1 format, for Anki 2, use this link)
A note on differences between Mainland and Taiwanese versions of the game
The game has actually been translated twice, so it's not just a matter of using different character sets. The voice acting has also been made separately for the two versions. However, most of the vocabulary is the same (or very similar). In the vocabulary list, I have provided both Mainland and Taiwanese versions of the words. This might be slightly inaccurate in some cases where I'm not sure about exactly what something is called in the Mainland version. Please let me know if you find any mistakes!
---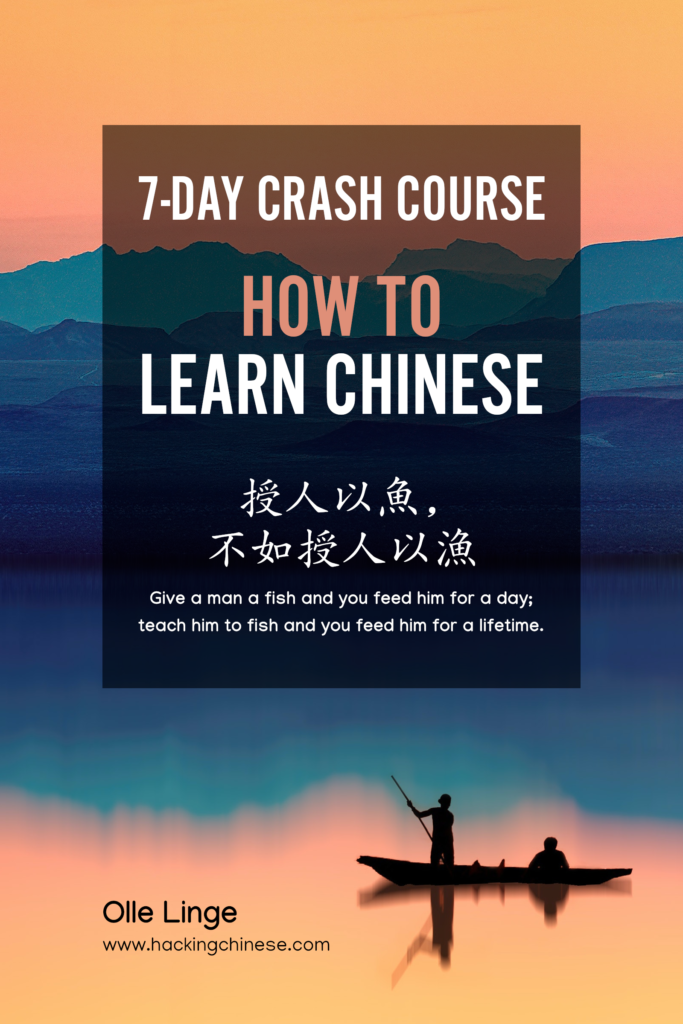 Tips and tricks for how to learn Chinese directly in your inbox
I've been learning and teaching Chinese for more than a decade. My goal is to help you find a way of learning that works for you. Sign up to my newsletter for a 7-day crash course in how to learn, as well as weekly ideas for how to improve your learning!