Editor's note: This article is eight years old, but Hacking Chinese Resources is still going strong! In March 2022, we reached 500 resources, which I commemorated with an article you can read here. This article is kept here mostly as an historical record.
Wouldn't it be great if there was a place where you could find Chinese learning resources, blogs, tools and apps, all suitable to your level and preferences? I think that sounds great, so I today I'm proud to announce the launch of a new section of the site, simply called Hacking Chinese Resources.

The idea is very straightforward: You select what kind of resources you're interested in and the site will generate a list of most popular resources that match your criteria. Below, I have provided a brief demo:
Chinese learning resources at your fingertips
Here are the ways in which you define what type of resource you're looking for (you don't have to care about all of them):
What's your proficiency level? (e.g. beginner, intermediate, advance)
What topic are you interested in? (e.g. listening, speaking, vocabulary)
What type of resource do you want to find? (see below)
The site is very broad in scope and includes five main types of resources:
Here are some examples of how Hacking Chinese Resources can be used:
You are a beginner who wants to learn vocabulary and want to find tools and apps that can help you achieve this. There are currently 15 resources matching your request.
You are an intermediate learner who wants to find listening material suitable for you level. You can check either resource collections or resource highlights. The first tag is for sites that collect lots of material and the second is for individual files, clips, videos and so on.
You are an advanced learner who wants to improve your speaking ability (pronunciation, perhaps), but you're not sure how to go about it. The information and advice category is for you!
If you want to get updates on Twitter, I have set up a new account that posts new update regularly: @ChineseLinks.
Think this sounds cool? Want to participate?

Hacking Chinese Resources is run on an invite-only basis at the moment, so even if everybody can use the site like I have described above, you need to be invited if you want to post resources, discuss or vote. The reason is that I want to expand this section gradually and deal with potential problems as they appear. If you want to join the fun, please leave a comment to this post and tell me why you want to be invited (don't forget to fill in your e-mail address).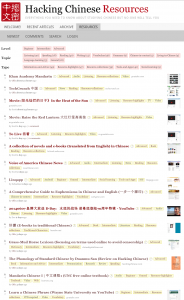 Why Hacking Chinese Resources?

The motivation to create this section of Hacking Chinese sprung from a genuine need. Even though there are many sites where you can share learning resources, they are all mostly focused on the short term, usually in the form of discussion forums, social news sites or feed aggregators. I will continue using these sites myself and my aim is not to supplant them. Indeed, you can find all of them listed as resources already.
Even though Hacking Chinese Resources have similar functions, that's not the main point. Instead, a carefully thought-out tag structure, filters and a search function are intended to create a permanent archive of useful resources that are easy to find whenever they are needed.
Still under development
Hacking Chinese Resources is still under development, but most things should work relatively well. If you have comments or feedback of any kind, you can just leave a comment here or contact me in any other way.Also, I don't know about all cool resources out there, I need your help! If you want to participate in this project, contact me in some way and tell me why you want to join. I also need your e-mail address. If you want to read more about the tag structure, please check this document.
The future

Hacking Chinese Resources is still under development. There are lots of problems we know about that we want to fix in the near future, but please report any bugs or other things you would like to see on the site. When I say "we", I mean myself and Stefan Wienert, who has helped me with the coding and is also hosting the new section (read more about the design process on his blog). I'm also grateful to Julien Leyre, who offered invaluable feedback on the tag structure, as well as to all the people on the Hacking Chinese feedback list who helped me with the site before today's release.
I hope Hacking Chinese Resources can be a valuable asset to students and teachers of Chinese all over the world. In order to make that come true, I need your help. If you don't want to participate yourself, then at least help me spread the word by sharing this article or Hacking Chinese Resources on social media or telling your friends about it!
---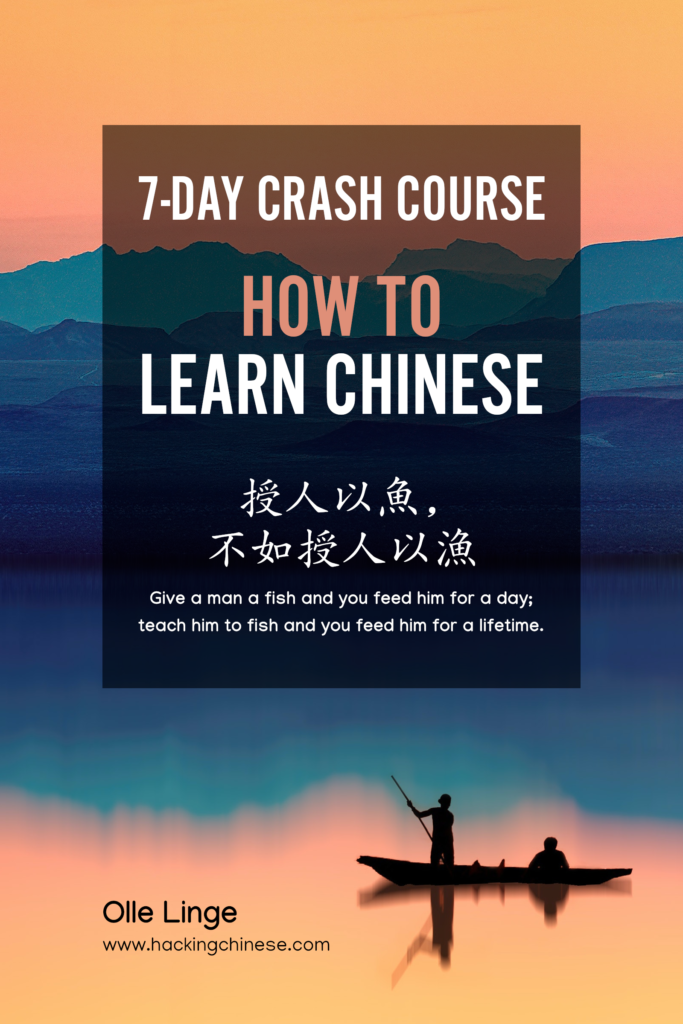 Tips and tricks for how to learn Chinese directly in your inbox
I've been learning and teaching Chinese for more than a decade. My goal is to help you find a way of learning that works for you. Sign up to my newsletter for a 7-day crash course in how to learn, as well as weekly ideas for how to improve your learning!