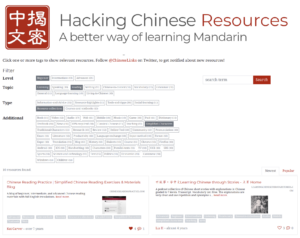 Before the digital age, it was hard to find resources for learning Chinese; nowadays, the problem is instead that there are too many resources to navigate! Having too much of something good is a better problem to have than having nothing, but finding the right resources can be difficult. This is why I started Hacking Chinese Resources, which now catalogues more than 500 resources for learning and teaching Chinese, all tagged and sorted by level, topic and type.
Tune in to the Hacking Chinese Podcast to listen to the related episode:

Available on Apple Podcasts, Google Podcast, Overcast, Spotify and many other platforms!
The project started in 2014 with help from Stefan Wienert (development) and Julien Leyre (feedback and brainstorming) Even though I have added a majority of the resources myself, this is still a crowd-sourced project with many contributions from students and teachers. While Hacking Chinese Resources isn't perfect, it is, as far as I know, the most comprehensive list of learning resources available online. I have seen other, similar projects in the past decade, but most fall by the wayside after a few years. Hacking Chinese Resources is here to stay!
What can I find on Hacking Chinese Resources? How do I use it?
To find the right resources, you need to answer at least one of three questions; simply click the word corresponding to your answer. You can click more than one if more than one apply, or you can select none and skip to the next question if you don't want to sort by proficiency level, for example. Here are the questions:
What's your proficiency level?
What topic are you interested in?
What type of resource do you want to find?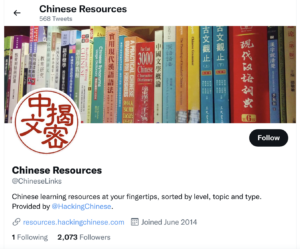 You can also search for resources, so if you want to find resources about Pinyin (58 resources) or Classical Chinese (22 resources), just search for those terms!
If you're on Twitter, please follow the dedicated account @ChineseLinks, which only tweets about resources for learning and teaching Chinese!
Three examples of user profiles
Here are some examples of how Hacking Chinese Resources can be used:
You are a beginner who wants to learn vocabulary and want to find tools and apps that can help you achieve this. There are currently 68 resources matching your request.
You are an intermediate learner who wants to find listening material suitable for you level. You can check either resource collections or resource highlights. The first tag is for sites that collect lots of material and the second is for individual files, clips, videos and so on. There are currently 46 resources matching your search.
You are an advanced learner who wants to improve your speaking ability (pronunciation, perhaps), but you're not sure how to go about it. The information and advice category is for you! There are 5 resources matching all your criteria.
I need your help!
I have kept this project going for eight years and with my track record for Hacking Chinese in general, I think it's likely that Hacking Chinese Resources will be around eight years from now as well. At the very least, I will keep updating it, adding resources as I find them or when I have time to go through resources people recommend.
However, I'm only one person. Over the years, other people have also submitted resources. Sometimes it's something I knew about, but often it's a resources I have never heard about. There are so many resources out there for learning and teaching Chinese that not even a full-time job would be enough! If we want to catch them all, we need to cooperate!
To help out, you need an account. The accounts for Hacking Chinese Resources are the same as for Hacking Chinese Challenges, so if you have participated in any of those, you can use that account. If you haven't, the easiest way to sign up is to do so here, then head over to the resource page. Here are a few things you can do:
Post your own favourite resources for learning Chinese – If you're unsure how to categorise them, don't worry, I manually check all resources that are posted anyway. Remember to be as objective as possible when describing resources; this is not meant to be advertisement for apps and services!
Vote for or comment on already existing resources – If you have tried any of the resources listed, give them a like and leave a comment, telling the rust of us what you think about it!
Report obsolete resources and broken links – If you see a link to a resource that's no longer there or a link that doesn't work, please let me know and I will either update or delete the resource.
Spread the word to your classmates, friends and teacher – The more people use Hacking Chinese Resources, the better it becomes. Also, the whole point of the project is to help people find what they're looking for, and that only works if they find the site in the first place.
Thank you!

Chinese language learning in the twenty-first century: Towards a digital ecosystem?
Julien actually went on to get a PhD focusing on digital resources for learning Chinese, and Hacking Chinese is mentioned dozens of time in his thesis. I also invited him to talk about digital resources with me on the podcast, and you can check out the relevant episode here, along with links to more information about all this: Chinese language learning in the twenty-first century: Towards a digital ecosystem?
https://www.hackingchinese.com/chinese-language-learning-in-the-twenty-first-century-towards-a-digital-ecosystem/
---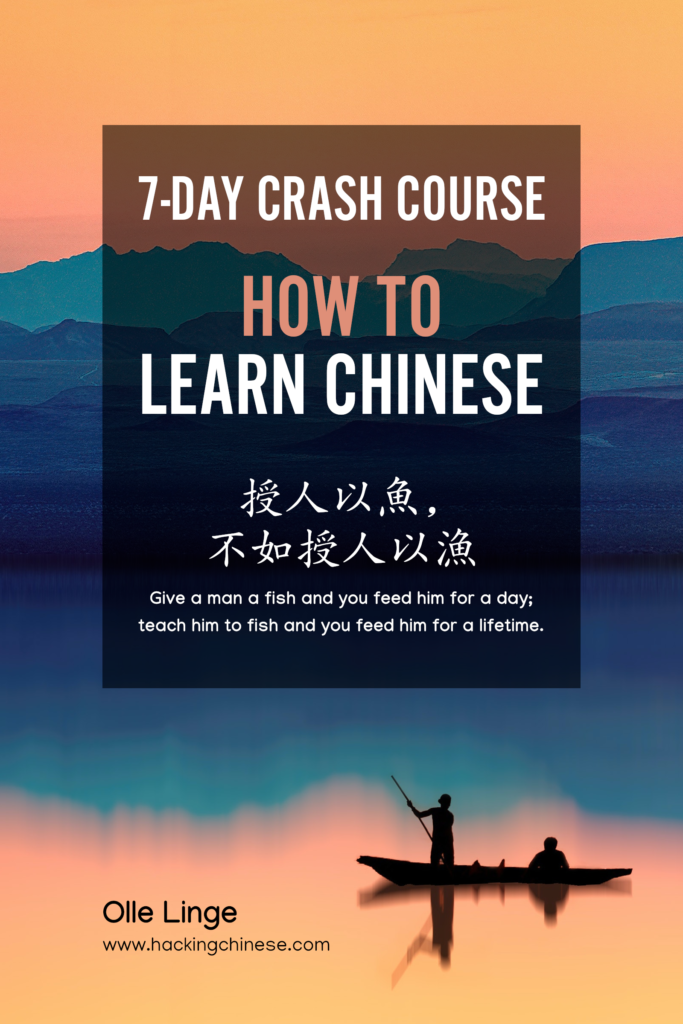 Tips and tricks for how to learn Chinese directly in your inbox
I've been learning and teaching Chinese for more than a decade. My goal is to help you find a way of learning that works for you. Sign up to my newsletter for a 7-day crash course in how to learn, as well as weekly ideas for how to improve your learning!