Immersion comes with certain problems, which I'm sure that everyone who has tried it has experienced at some point. If you immerse yourself without knowing how to swim, you'd better learn how to stay afloat quickly or you'll surely drown.
Fortunately, most of the time we can control what kind of immersion we do and to what extent; we don't go swimming with the piranhas the first time. However, being in control is also a problem, because it gives you an excuse to stay at a level which is too easy for you.
The input hypothesis or i+1
According to linguist Stephen Krashen, in order to learn a language, we should expose ourselves to material at a level which is i+1, where i is our previously accumulated knowledge. Put simply, we should listen to or read Chinese which is comprehensible, but at a slightly higher level than our own.
The theory is that if we only expose ourselves to Chinese equal to our own (i.e. just i) we won't learn very much. The same is true if the input is too difficult and we don't understand anything (i.e. i+2).
This approach is easy to understand and intuitive for most people, but it's also dangerous in that it will give us an excuse to avoid material we consider to be too hard. This is because it's notoriously difficult to  pinpoint what this +1 really means. I'm convinced that it's higher than most people think.
"It's too hard, I don't understand anything!"
I've said this to myself at least four times since I started studying Chinese. In other words, I've felt that I'm immersing myself in Chinese which is at an i+2 level or higher. This is because I've consistently picked difficult courses, courses that are actually on a level slightly too high for me (see Is taking a Chinese course that's too hard good for your learning?).
The important thing is that each time I've entered a more challenging environment, I've had the feeling that I will drown and that there is no way I can understand Chinese being spoken that quickly and with that amount of difficult words.
However, each time I've adapted and learnt how to handle the situation. Sure, it requires hard work and some time, but it's not that difficult! The thing is that if you don't expose yourself to something difficult, you will never learn how to handle it. Using running as an allegory, if you only run five kilometres each time, how can you ever hope to be able to run a full Marathon? Of course, it will be hard every time you increase the distance, but it's obvious that you have to do so in order to reach your goal!
Adapting takes time
If you increase the difficulty of what you're listening to, either in class or somewhere else, it will take some time for you to adapt. Don't be scared by the fact that it might feel like you don't understand anything in the beginning. Listening ability is a lot about piecing together information stored in your brain fast enough to be able to understand what is said around you. Doing that requires practise. The most important thing of all is that if you don't expose yourself to difficult Chinese, you will never be able to understand difficult Chinese. It's that simple.
The crux of the matter is that it only feels like you're at an i+2 level, whereas you're in fact well within what you can handle, provided that you give yourself enough time to adapt. Listening for a few hours and saying that it's too hard is not enough! Be patient, do your best and it will pay off.
A personal example
To illustrate what I'm talking about I'll share a personal example. When I first arrived in Taiwan, I had studied Chinese for one year in Sweden. Most of my classmates had studied Chinese for about the same time, but in Taiwan, meaning that they were far ahead of me when it came to listening and speaking (but not necessarily reading and writing). I remember that my first day in class was horrible; how could I ever hope to understand what the teacher was saying? I understood only perhaps 50%!
Then, slowly, that number started to rise. It approached 100% well before the end of the semester. This was of course partly a result of studying, but just being exposed to language at a more advanced level was certainly an important part of it. The same thing happened in the subsequent semester (see Is taking a Chinese course that's too hard good for your learning?).

I+3 and a warning
It might be possible to learn Chinese by exposing yourself to huge amounts of naturally produced Chinese by native speakers for native speakers, but I doubt that that is the most efficient method. It certainly requires more determination than most students can muster. I say this because if you really don't understand anything, you're probably listening to something which is really too difficult. However, if you understand lots of words without necessarily being able to understand the sentences, you should be okay.
A quantum leap forward
The reason I say that this is a quantum leap is of course that development usually occurs in big steps, not a gradual transition. If you always listen to things that are too difficult for you and keep making it more difficult as you learn more, it will be very hard to advance, but if you feel that you are comfortable with a certain level and then take a big step to another, more difficult level, then you will be able to adapt to that, master it and then you have the foundation to take another leap. This also enables you to rest and consolidate what you have learnt before moving on.
This progression also tallies well with courses, since most language schools and courses aren't really structured for flexible changes between different courses within a single semester. Thus, try to find something which is a bit too difficult, stick with it for one semester, feel that you've taken a big step towards better listening ability and then repeat the same process again next semester (or the next semester after that if you don't feel ready). Just don't stay in the shallow end of the pool too long.
Conclusion
In summary, I think that it's always worth experimenting with material which at first seems to be too difficult. More often than not, you will find that if you just give it some time, you will adapt to the new level. Don't be dispirited by the fact that you only understand fragments of what is being said, if you persist, you will make progress. It takes some practise to know what really is too difficult, but until you know that, don't be afraid of reaching a little bit higher than what feels comfortable.

---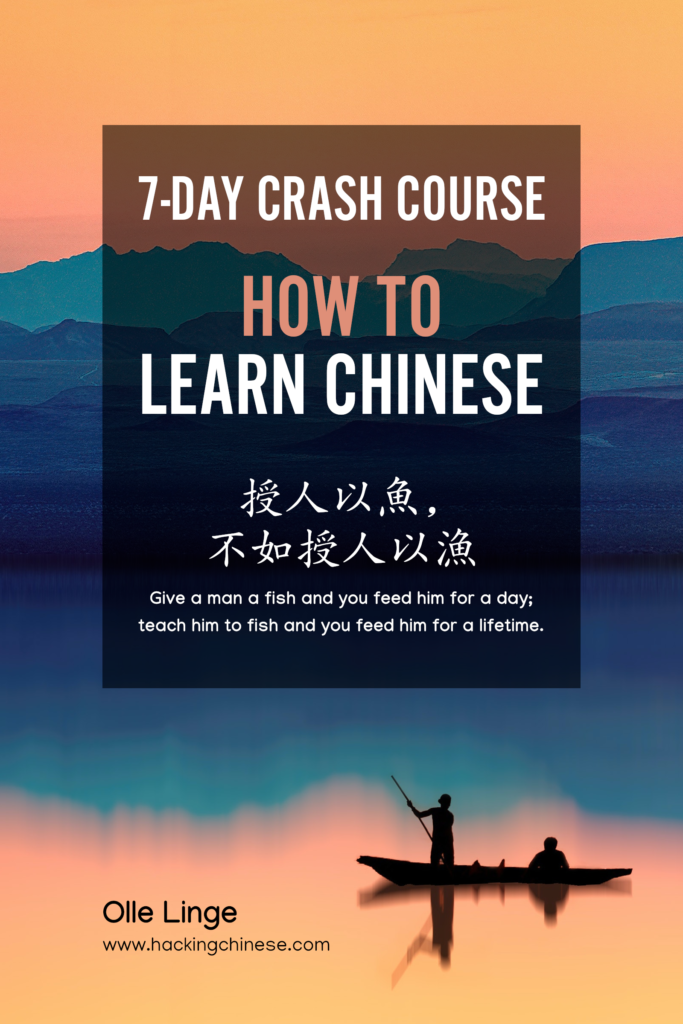 Tips and tricks for how to learn Chinese directly in your inbox
I've been learning and teaching Chinese for more than a decade. My goal is to help you find a way of learning that works for you. Sign up to my newsletter for a 7-day crash course in how to learn, as well as weekly ideas for how to improve your learning!