Hi everybody!
Since I started studying Chinese, I've realised that there are many things to learn that no textbook and few teachers will tell you. I'm not talking about things in ordinary books here, but on how to study Chinese. As you probably know, I've written extensively about this on my website for many years, but I've now decided that it's time to write something more serious about it. To start with, I'm going to launch a new website called Hacking Chinese, but my goal is ultimately to write a book about learning Chinese.
This is something I can't and won't do alone, I need your help! You don't need to do much, in fact you don't need to do anything at all. However, if you think that you might be able to help me (you don't have to promise!) with any of the following, please let me know!
• Cheer me on
• Read updates
• Comment on ideas
• Ask questions
• Answer questions
• Discuss learning
• Suggest resources
• Tell me I'm wrong
• Tell me I'm right
• Provide other perspectives
• Proof read texts
• Edit texts
You don't need to be interested in all these things! The only thing that will happen if you tell me that you're interested is that I will write down your e-mail address and what you're interested in, so you will be able to see what's going on with this project. Here are some examples of what I will write about:
• How to organise your studying
• How to learn lots of words really fast
• How to polish pronunciation beyond the basics
• How to improve reading ability
• What tools and resources are available
• What research exists concerning learning Chinese
I hope you're willing to share you experiences and help me writing this book. It will be written in English and anybody is welcome to help, even if you don't speak a single word of Chinese!
Sincerely,
Olle Linge
olle [at] linge [dot] se
http://www.snigel.nu
https://www.hackingchinese.com
大家好!
從我開始學中文以來,我發現有很多跟中文學習有關的東西是許多課本與大多數老師不會提到的。我是說,這些概念是跟一般課本的內容無關,比較偏重在如何學中文上。也許您知道,這幾年以來,我在我網站上已經發表過一些關於學中文的文章,不過現在我想要擴大這些概念,將內容合起來,寫成一本書。
我一個人的確不能完成寫書這項任務,所以我需要您的幫忙!您不需要幫我做很多事,其實您什麼都不需要做。但是,如果您覺得底下的一些項目您可以幫得上忙(您不必承諾;說有興趣就夠了),就請您協助我:
跟我說加油
觀察我寫的更新
對我寫的文章作評論
問問題
回答我的問題
和我討論如何學中文
推薦教材,資料等等
跟我說我的想法是錯的
跟我說我的想法是對的
提供其他的看法
校對文章
編織編輯內容
別以為您得對以上所有的話題都感興趣喔!如果您告訴我您有興趣,我只會將您的電子郵件地址與您對哪一個部分有興趣寫下來,之後您就能看到整個任務的進度、過程、以及我需不需要任何幫助。如果您只想要看到這些更新,也可以,您並不需要幫我,可是我希望有一些人願意幫我完成這本書!在這本書裡我會提到很多不同的題目,例如:
怎麼安排您的學習
怎麼很快地擴充詞彙
怎麼加強發音
怎麼加強閱讀
有哪些有用的工具
有哪些對學中文的研究
我希望您願意分享您的學習經驗以及協助我完成這本書。歡迎任何人協助我,即使您連簡單的英文都不會講,我還是會很高興地跟您用中文討論您提供寶貴的意見!
凌雲龍
olle [小老鼠] linge [點] se
http://www.snigel.nu
https://www.hackingchinese.com
---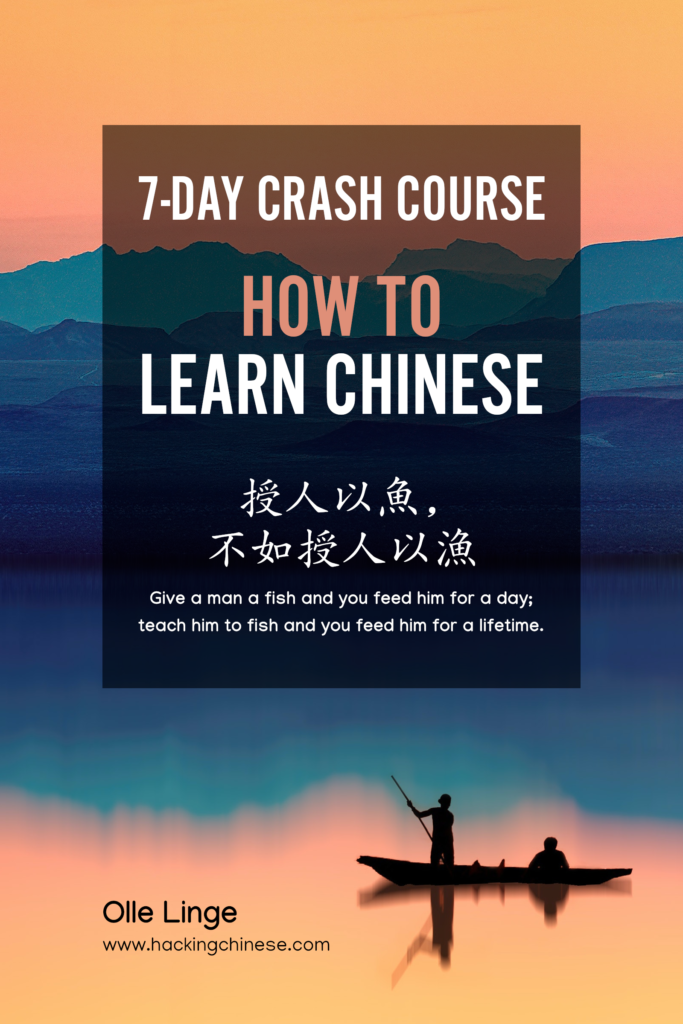 Tips and tricks for how to learn Chinese directly in your inbox
I've been learning and teaching Chinese for more than a decade. My goal is to help you find a way of learning that works for you. Sign up to my newsletter for a 7-day crash course in how to learn, as well as weekly ideas for how to improve your learning!