In previous articles we have already looked at two kinds of passive listening (the first article was about background listening, the second about passive listening in general).
Now, the time has come to look at active listening, which is what I think at least traditionally is what people mean when they say that they're practising listening ability.
Active listening simply means that you actively engage all your faculties to try to understand and process the language you hear. To make sure that the processing is as complete as possible, we typically perform some activity which is not listening in itself, such as answering questions about the audio we just heard, taking notes while listening or translating the sentences we heard.
In this article, I will do two things. First, I will discuss the importance of active listening. I will argue that both passive and active listening are essential and that they should in no way be regarded as different methods where you should use only one.Second, I will discuss various strategies you can use along with some tips and tricks on how to vary your active listening practice.
If you want to skip the discussion about active listening and dive straight into some real exercises, click here to scroll down.
This article is part of a series of articles focusing on listening ability, please read the introduction here.
Articles in this series:
Introduction
Problem analysis
Background listening
Passive listening
Active listening (this article)
Listening speed
Deliberate practice and i+2
Diversify your listening practice
Listening resources
Active listening and the 10,000 hour rule

I think most readers will be at least a little bit familiar with the 10,000 hour rule, which basically says that in order to become expert in any given field, you need to invest 10,000 hours. For now, the number is not important, but to me, it's quite obvious that the amount of time you practise is the main factor determining how much you learn. The number 10,000 is often misinterpreted and people think that simply engaging in whatever activity you want to get good at is enough.
Deliberate practice
That isn't the case. The original concept refers to 10,000 hours of deliberate practice, which in essence means that you're actively trying to become better, challenging yourself and doing your very best to improve. For instance, simply going to class is not necessarily deliberate practice (depending on what you do in class of course). Background listening is definitely not deliberate practice and probably not passive listening either, although that depends on how passive it is and what you're listening to. In general, difficult tasks forces you to be very active, so the more challenging a task is the, more likely it is to be considered deliberate practice.
Language learning isn't like learning to play the violin
In my understanding, language learning is slightly different from, say, learning to play the violin. Languages has an input factor which is extremely important, but which simply isn't there when we learn to play in instrument. Sure, we might become slightly more proficient at playing the violin by listening to other violinists or even music in general, but the determining factor is still how much we play ourselves, how many hours of deliberate practice we put in.
Not so with language learning. When we learn Chinese, listening and reading are more important than speaking and writing, depending a little bit on our goals and where we are at the moment in our Chinese learning lives. Still, deliberate practice is the quickest and most efficient way of improving, so if possible, we should strive to be as active as we can.
If deliberate, active practice is so great, why do I sing the praise of background and passive listening at the same time? Why don't we invest all our time into deliberate practice?  Because we can't. Various studies into deliberate practice have found that a few hours per day is all we can manage, after that we simply can't concentrate and maintain the high level of mental processing required. In other words, deliberate practice is very demanding and leaves one exhausted. This is where passive listening enters the picture, because being passive is much less taxing and can be kept up for hours and hours. Thus, there is no opposing relationship between passive and active listening. You do active listening when you can and have the energy to do so. If not, then background or passive listening should be on the menu.
Exercises for active listening
The thing that turns passive into active is that we actively engage with the audio we hear. The easiest way to make sure that we're doing this is to transform what we hear in some way. We're not simply receiving information, we're changing it and using it for something else. It doesn't really matter exactly what we do, but here are some examples:
Participate in a challenging conversation – Having a conversation slightly above your normal level is definitely active listening. The transformation involved occurs when you're supposed to take what you hear (input) and transform it to some kind of meaning in your head and then give it back to the the other person in an engaging manner (output). I think conversing with people on a level slightly above your current is the best way of learning, but since this is sometimes not practically possible, I have lots of other ways of achieving similar results.
Transcribe audio – This is something I've done a lot myself recently. Simply choose something which is reasonably difficult and do your best to transcribe what you hear, either using characters or Pinyin (I type, which I consider to be the golden middle way). Try to choose a source which has transcripts, because otherwise you'll have to ask people for help if you fail to transcribe a certain section. I suggest using a program that allows you to see the audio file, which will enable you to select specific passages to play again. I use Audacity, which is free and available on most platforms. In Audacity, simply select a passage and hit shift+play, which will loop the selected audio.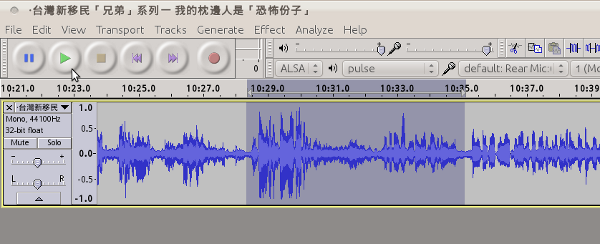 Expanding transcription – This is really the same thing as above, but I want to point out that you don't need to transcribe boring newsreels, you can transcribe anything you want, including films, cartoons, TV shows, music, podcasts and what you hear people say around you if you live in a Chinese-speaking environment. Again, TV, film and music work very well, because they are almost always transcribed already (find karaoke versions of songs). Cover up the subtitles, create your own and compare!
Take notes and/or write a summary – Pretend that you're attending a lecture and that there's going to be a quiz or test after it has finished. Take notes that cover the main points of what you hear (even if the content isn't lecture-like at all). After you've finished listening (listen more than once if you want to), take you're notes and write a summary. Post the summary on Lang-8 and have someone correct it for you.
Translate what you hear – You can either try to write it down, in which case you'll need to listen a few times unless you have mad typing skills, or you can translate orally (try this and you know why interpreters typically work very short shifts). If you want to benchmark this or at least judge the outcome, try recording what you're saying as well. You need earphones to do this, of course, otherwise you will hear the audio you listen to on the recording (you still have the original audio for reference).
As you can see, it doesn't really matter what you do, but transforming the audio you hear into some other medium is excellent. There are many more ways of doing this than I have listed here. Do you have any methods or tips that you'd like to share? Please leave a comment!
But active listening is hard!
Yeah, that's the whole idea.
If you try any of the above exercises with sufficiently hard audio, you will find that it's exhausting. This is the whole point. Since you're engaging every faculty you can to succeed with the task you've set for yourself, of course you're going to feel tired after a while. Do you remember what it felt like to speak Chinese in the very beginning or have you just started learning? Then you know what deliberate practice feels like.
Gradually, studying will become easier. Deliberate practice means that you should keep doing hard things that require you to invest lots of energy, because that's when you learn the most. Active listening is about challenging yourself, of pushing your limits. I will talk more about this in future articles, so stay tuned!
---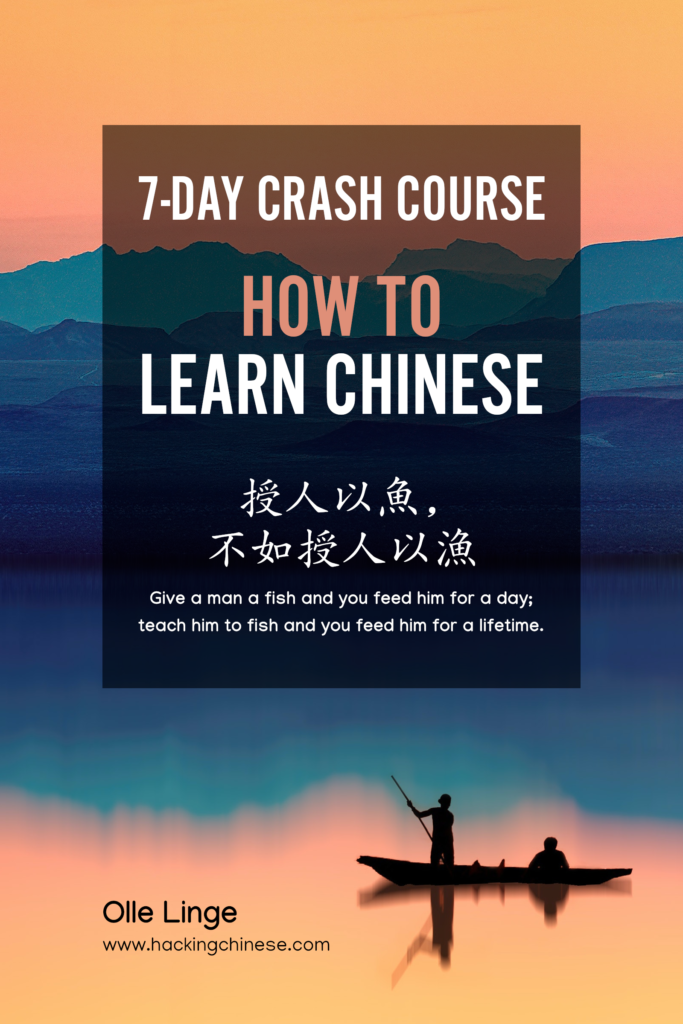 Tips and tricks for how to learn Chinese directly in your inbox
I've been learning and teaching Chinese for more than a decade. My goal is to help you find a way of learning that works for you. Sign up to my newsletter for a 7-day crash course in how to learn, as well as weekly ideas for how to improve your learning!