When I tell people that I study Chinese, the reactions usually involve equal amounts of awe and curiosity.
"I've heard Chinese is the hardest language in the world!"
"Can you really pronounce all those weird sounds?"
"There are tones you can't learn as an adult!"
"Do you really have to learn one character for every word?"
"Chinese is definitely too hard for me!"
Most of the above ideas are misconceptions, spread by native speakers and foreigners alike. Native speakers like to think that their own language is particularly hard and foreigners who have learnt the language are also interested in boosting their own accomplishments. The result is that most people I meet think that it's almost impossible to learn Chinese and that only language prodigies can do it. This is nonsense. It all depends on perspective and attitude, which is what I'm going to talk about in this post.
Why the question of difficulty is bunk
Whether you think something is difficult or not depends on what you already know, so saying that Chinese is harder than French is not a meaningful statement in general. Saying that Chinese is harder to learn for an English-speaking person than French is more meaningful. For a more detailed discussion about the difficulty of learning Chinese, check this article: Can you become fluent in Chinese in three months? and Is Chinese difficult to learn? This article will focus on aspects that make Chinese easier than you think.
Learning Chinese is easier than you think
Every language has its own unique features that might be regarded as difficult or troublesome in some way, but I believe that focusing on these problems is counterproductive for language learning. If you want to learn something, you want to become friends with it, you don't want to regard it as an unbeatable enemy! I won't deny that Chinese has unique challenges that are difficult to overcome, but try to look at them as being fascinating and exciting, rather than difficult or, even worse, impossible. That's a self-fulfilling prophecy right there.
9 things that makes Chinese easier than you think

Here are a few things that make Chinese easier to learn:
No grammatical cases – Chinese words don't change according to function. Police is written the same way regardless if it's the subject of the clause or it's the object. Whatever function a word has in a sentence, it generally looks the same.
Flexible parts of speech – For non-natives, a difficult part of learning English is to figure out how to make a noun out of a verb or an adjective out of a verb. In Chinese, it's not obvious what's an adjective and what's a verb, they merge and float into each other, which generally means it's easier to understand and also easier to guess how to use.
Particles instead of inflections – Although it's not true that Chinese is entirely free from inflections (such as "rain-ed" or "fox-es"), particles are used to represent such things. A particle might indicate that an action is completed or that there is a collection of something, but these particles are always the same and not dependent on the word preceding it!
No gender – Most people who learn languages where gender is important whine about it. German has three genders you have to learn, Swedish and French have two, and there are few rules to help you here! In Chinese, you don't need to bother, because there is no such thing as grammatical gender.
No tenses – Chinese doesn't distinguish between yesterday, today and tomorrow in the same way as we do in English. Most of the time, it's simply indicated by a word describing when something happens, rather than changing the structure of the sentence. Verbs do not change their form based on when they took place.
Neat use of numbers – Chinese is sometimes ridiculously logical. Monday is "week one", Tuesday is "week two", Wednesday "week three" and so on. Same for the months! The number 1 is simply "one", 11 is "ten, one", 99 is "nine ten, nine", 945 is "nine hundred, four ten, five".
Logical character creation – Chinese characters aren't random brush strokes, there is reason behind these mysterious and beautiful symbols. It's usually not enough to let you guess what it means, but it is a powerful tool to help you remember.
Logical word creation – Words, i.e. characters put together, contain a lot more meaning than characters. They are created in a way which is often obvious or at least understandable for a student. Train is "fire vehicle", train station is "fire vehicle station". Few words are completely arbitrary, even on the surface!
Straightforward word order – Sentence structure is easy to learn, and even though there are exceptions, a simple formula can be followed most of the time and the result will be, if not entirely correct, then at least comprehensible.
A question of perspective
Now imagine trying to learn English if your native language has the above characteristics. This means you suddenly have to deal with a wide variety of problems you didn't even know existed! I've helped many Chinese speakers learn English and I feel that their quest is at least as challenging as ours, coming from the other direction. If you look at the English written by native Chinese speakers, you can see what I mean.
Before it's time to end this article, I should point out that learning any language unrelated to your own will take a lot of time, especially if you plan to learn it to an advanced level (and to be honest, Chinese becomes much more difficult when you go from trying to be understood to being idiomatically correct). Learning to read and write Chinese takes a lot longer than learning to speak, but that doesn't mean that it can't be done.
Learning Chinese is not impossible
If you think that it's almost impossible to learn Chinese to a level where you can chat freely with Chinese people, you are mistaken. If you don't spend all your time writing characters, I know for a fact that you can be conversant in Chinese fairly quickly (Scott Young came pretty far in 100 days). Mastering the language takes a very long time, but conversational fluency is another matter. For a continued discussion of the difficult of learning Chinese, see this article linked to above!
---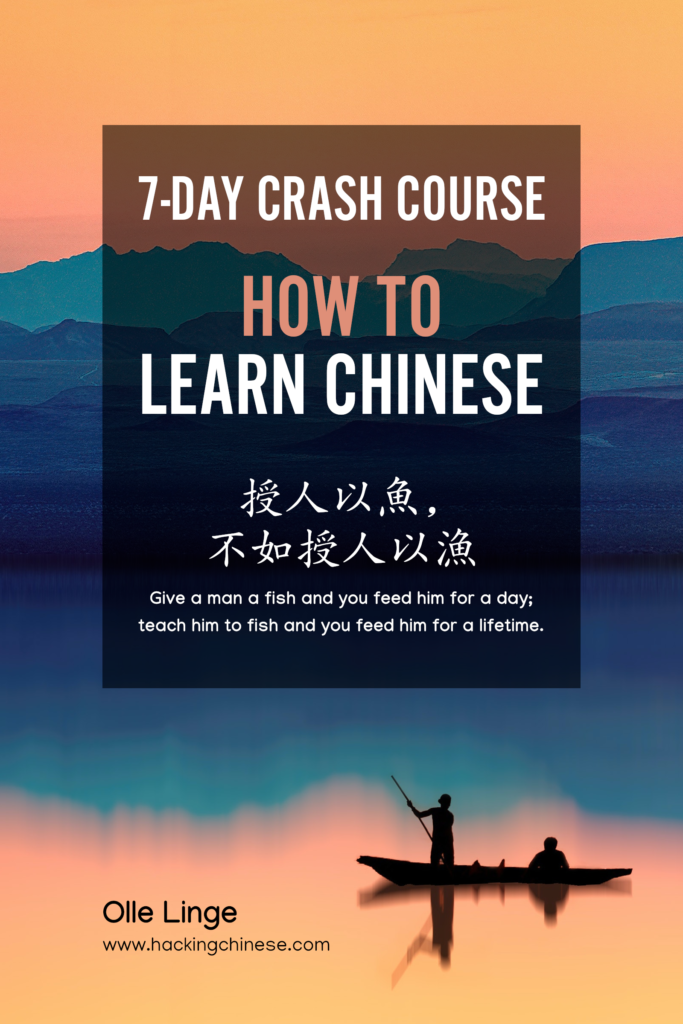 Tips and tricks for how to learn Chinese directly in your inbox
I've been learning and teaching Chinese for more than a decade. My goal is to help you find a way of learning that works for you. Sign up to my newsletter for a 7-day crash course in how to learn, as well as weekly ideas for how to improve your learning!