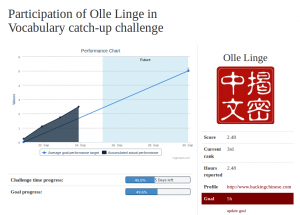 Today I'm proud to launch a new section of the website:
Welcome to Hacking Chinese Challenges!
"Build your language skills through daily practice and friendly competition!"
The concept is simple. Each month, there will be a challenge focusing on one particular area of learning Chinese, where you strive to reach your goal and/or beat your friends. The challenges are very straightforward: set a goal, study as much as you can, log your activity and make sure you reach your goal before the end of the month.
To make sure we diversify our studying, I have worked out a schedule and will cycle different types of challenges. You can join all the challenges and get a lot of everything or just join those that happen to be aligned with your current plans, it's up to you.
If you join all the challenges, I will make sure that the proportions make sense, so even if there will be some special/unique/interesting challenges, most will just be very useful.

Once you have registered, you can join challenges, set goals and report progress. Please note that this month's challenge will start on Friday, so even if you can enrol now, you can't start reporting progress before Friday. I will write more about this month's challenge on Thursday and will also post some suggested resources early next week.
I have included more specific instructions on how to use Hacking Chinese Challenges below, but let's look at the schedule first. I will update this as I come up with new challenges or if I decide to include reader suggestions. Leave a comment if you have ideas for challenges!
I have sorted the challenges into three different categories:
Essential: Areas that will recur 3-4 times each year
Extensive listening
Extensive reading
Important: Areas that will recur 1-2 times each year
Speaking and pronunciation
Writing and composition
Characters and vocabulary
Interesting: Challenges that will occur sporadically
Translation
Grammar and sentence patterns
Culture related
Music and lyrics
Films, TV series and programs
There will be one challenge each month that will last for roughly three weeks, always starting on a weekday and ending on the last day of the month. Three weeks is enough to stay focused and achieve a lot, but not so long that you tire and get distracted. You also get one week breathing space between each challenge.
Challenge schedule for 2014 (subject to change)

Extensive listening (October 10th to October 31st)
Extensive reading (November 10th to November 30th)
Translation (December 10th to December 31st)
You can enrol in any available challenge in advance (just follow the links above) and it's also perfectly fine to join late, just adjust your goals, because the end date is the same for everyone! The page "your statistics" will help you keep track of how much time there's left, how you have performed so far and how that compares with your goal. This is a bigger version of the image above: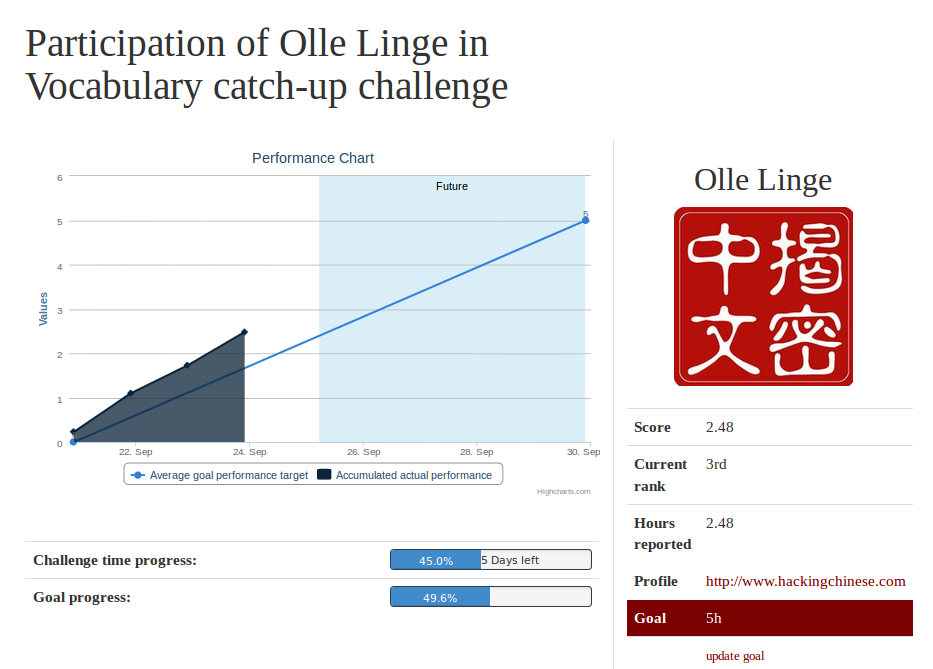 Each challenge will be preceded by a post on Hacking Chinese where I introduce the challenge and share some relevant articles and resources (you can always go to Hacking Chinese Resources). Let's help each other out and share tips, information and resources for each challenge!
Why do we need challenges?
I like challenges a lot and I think it's an excellent way to stay focused, especially for learners who aren't taking courses but still want to improve. My hope is that if you commit to these challenges, you'll get more done.
I have participated in several reading challenges (this project is inspired by Read More or Die) and I typically read more than twice as much when I'm in a challenge compared to when I'm not! I want to use this power not only for reading, but for all areas of language learning. And I want you to join me. I plan to enrol in all challenges myself and I came up with the idea partly because I need this badly myself.
How to use Hacking Chinese Challenges
Most of the functions should be self-explanatory, but here's how it works for new users:
Sign-up (using your e-mail, Facebook or Twitter)
View current and upcoming challenges on the front page
Join either the current or an upcoming challenge
Read the related article for tips, information and resources
Study and learn as much Chinese as you can
Report your progress on your computer or mobile device
Check the graph to see if you're on track to reaching your goal
Check the leader board to see how you compare to others
Share progress, tips and resources with fellow students
This is a beta version
This is a beta version. It has been through some testing before this (I ran a listening challenge with volunteers from the e-mail list as well as a short vocabulary challenge with people from Facebook). However, there are likely still occasional quirks and bugs. This is a work in progress and if you have any feedback or comments, please let me know!
Just as for Hacking Chinese Resources, I'm not responsible for the coding on this project. Instead I have relied on the invaluable help of Stefan Wienert, thank you! I have also received a lot of help from Julien Leyre of the Marco Polo Project.
Get ready
I'm going to tell you more about the October challenge this Thursday, but if you want to start now, you could prepare yourself by enrolling in the challenge and finding as much listening material as you can. I'm going to talk much more about this later, but try to find audio that is at or below your level. See you again on Thursday!
---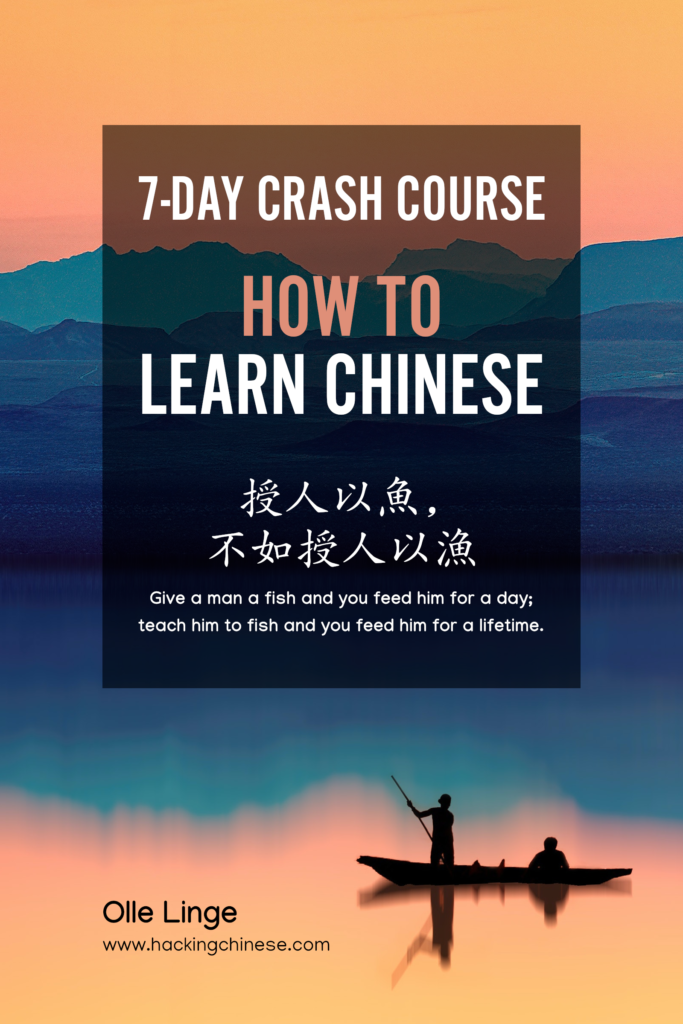 Tips and tricks for how to learn Chinese directly in your inbox
I've been learning and teaching Chinese for more than a decade. My goal is to help you find a way of learning that works for you. Sign up to my newsletter for a 7-day crash course in how to learn, as well as weekly ideas for how to improve your learning!