People who know nothing about Chinese sometimes ask me how to write their names in Chinese characters. The answer is that you can't. What you can do is find a good Chinese name for yourself or choose characters that are read in a way similar to the name you want to write.
Finding a good Chinese name

Chinese has very few syllables (about 400), so choosing suitable sounds is sometimes impossible. Sometimes it is possible, but Chinese people prefer other choices for non-obvious reasons (sometimes related to complicated historical interactions between Chinese dialects).
When I teach beginner courses in Chinese, I usually play a small guessing game with the students where I say a few names of famous people in Chinese and they are supposed to guess whom they are referring to. This is easy for cases like 貝多芬 (Bèiduōfēn) Ludwig van Beethoven, but impossible for cases like 福爾摩斯 (Fúěrmósī) Sherlock Holmes.
Bend Over Hedge Master Ruffian Foetus
Now, the meaning of the characters have nothing to do with the name. At best, auspicious or neutral characters are chosen over those with decidedly negative connotations, but only in rare cases are the meaning of the characters related to the name.
This leads to a lot of nonsense, so if you translate the meaning of some common English names written in Chinese, all you get is slightly amusing gibberish:
喬納森 (Qiáonàsēn) Jonathan = tall admit forest
伊麗莎白 (Yī​lì​shā​bái) Elizabeth = that beautiful kind of sedge grass white
克利斯朵夫 (Kè​lì​sī​duǒ​fū) Christopher = gram advantage thus earlobe man
Or you can see what Stephen Fry makes of his and his fellows' Chinese names on the BBC show Qi:
While this might be slightly inaccurate, it still illustrates the point: foreign names directly transcribed with Chinese characters don't make much sense and don't really work well as names in Chinese at all. Chinese personal names often have two characters, sometimes one, but it's exceedingly rare to have more. Family names often have just one character, but sometimes two. The average length of English names is much longer.
Finding a good Chinese name for yourself
If you think all of this is just slightly amusing and you're okay with being called That Beautiful Kind of Sedge Grass White, then that's perfectly okay, that's what's going to happen if you don't take action and allow someone to just find a good Chinese name for you (perhaps a bored official when you apply for something in China or your overloaded, poor Chinese teacher).
I certainly wasn't okay with this and if you feel the same, you need to find a suitable name for yourself. There are at least three ways you can do this:
Try to find a good Chinese name yourself by selecting characters you like and/or sound like your name, sticking only to characters with good meaning. You might have to be quite flexible on the "sound like your name" part, but that's okay.
Steal the name or parts of it from a real Chinese person. If you've seen a name that you like for some reason (after checking what it means), combine this with your own family name. It might be a good idea to avoid very famous people though.
Ask a Chinese person who knows you for help, finding a name that both sounds good and matches your personality. This isn't easy, so if you ask someone who doesn't know you well, you might get a half-hearted response.
Whatever you do, you have to check your name with several native speakers!
This is especially true if you use the first two methods as it is very likely that you will pick names that don't work very well or have unintended effects. If you're okay with having a name that you think is cool but just sounds really weird for Chinese people, that's fine, but you should at least know about it.
After you have listened to suggestions and opinions from a few native speakers, you should be okay. Also note that it's absolutely crucial that you ask native speakers rather than advanced second language learners like myself! A good Chinese name has to take into account connotations and emotions, something which is very, very hard to grasp for us foreigners, regardless of how long we've studied Chinese.
My Chinese name
To make this article slightly more concrete and personal, I'd like to share with you the story behind my name, which I adopted before moving to Taiwan in 2008. My Chinese name is 凌雲龍/凌云龙 (Líng Yún-lóng). The personal name is taken from a movement, Cloud Dragon Playing in Water (雲龍戲水), in the sabre form in the style of Tai Chi Chuan I used to practise. I've always liked both the movement and the name, the contrast between a high-flying creature and the low-lying water.
The family name matches the personal name quite well since it means "soaring". It also happens to sound like my surname in Swedish, but that's mostly an accident. Finally, part of my name forms the part of some ambitious idioms, like 凌雲壯志, which means to have lofty aspirations.
I decided to get my own Chinese name when I received a scholarship to study Mandarin in Taiwan for a year. On the form, there was a separate field for the applicant's Chinese name, and I figured that if I don't get one myself, I will end up being called Bend Over Hedge Master Ruffian Foetus. No thank you. Instead, I spent a couple of hours generating names I thought okay (I had studied Chinese for about 9 months at the time) and then asked my teacher about some of the ideas. Thus, I came up with my name myself, but I obviously received help along the way.
That was almost seven years ago. I have been called by my Chinese name more than my Swedish name during that time, and today both names are part of who I am. I think it's a good Chinese name, although the three consecutive second tones are a bit annoying. Some native speakers think it sounds a bit like a wuxia character, but there are also real Chinese people with the same personal name. Thinking about my Chinese name, it's hard to imagine what it would be like to have another name, just like it is for my Swedish name.
Your Chinese name
What's your Chinese name and the story behind it? Are you happy with your Chinese name? Do you have any funny stories about other people's Chinese names? Please leave a comment!
---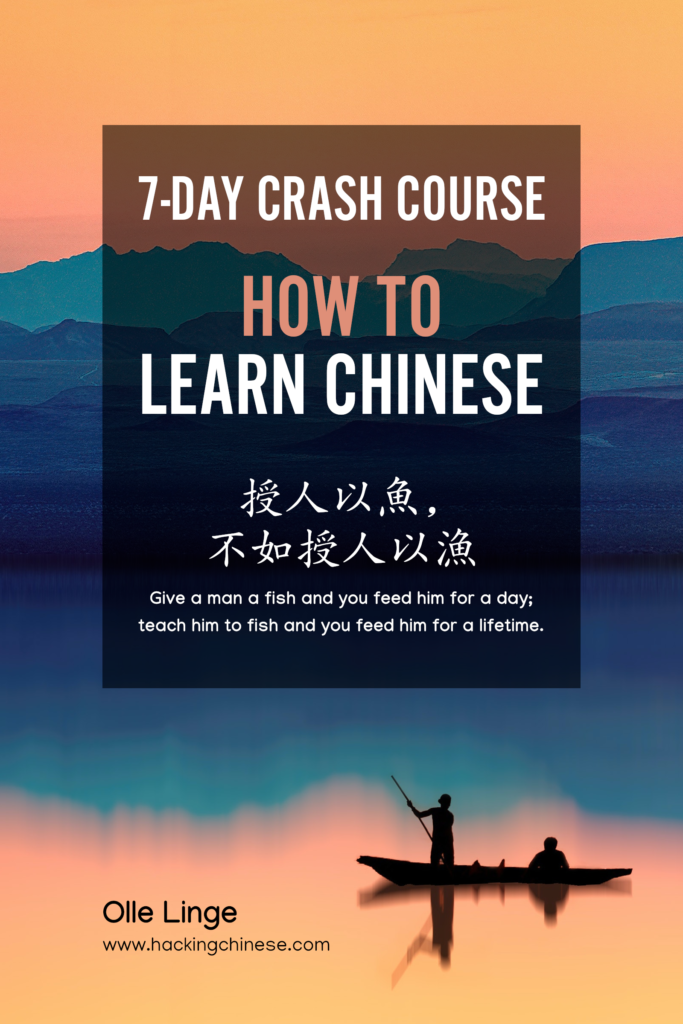 Tips and tricks for how to learn Chinese directly in your inbox
I've been learning and teaching Chinese for more than a decade. My goal is to help you find a way of learning that works for you. Sign up to my newsletter for a 7-day crash course in how to learn, as well as weekly ideas for how to improve your learning!