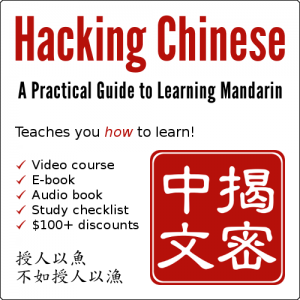 A new semester is approaching, or might indeed already have started for some. This is the right time to accelerate your learning with Hacking Chinese – A Practical Guide to Learning Mandarin. Spending some time and energy to scrutinise and upgrade the way you learn is well worth it, making sure you get the most out of your studying.
Back-to-school discount
Until the end of Saturday (that's four days from now) you will get $10 off the course. You will also get some additional content which is normally not part of the course package! To get the discount, please apply the following discount code in the cart:
2017kai1xue2
You can read more about the course by clicking the link below, but I have also summarised the most important things in this post, so reading here works too! New this year is the included three month subscription to the interactive text games for Chinese learners I've built with Kevin over at WordSwing. Read more about the games below.
This course is the result of thousands of hours of work and just like the Hacking Chinese website, it's about how to learn Chinese in a better way. Unlike the website, though, the course is comprehensive, structured and has a lot more to offer than scattered articles. It represents my most complete attempt at helping others to learn Mandarin so far.
The course contains:
15 video episodes highlighting the most important parts of the course, each with practical exercises and calls to action.
A 347-page e-book discussing all major aspects of learning Chinese in depth. This offers the structure the website doesn't really have.
Full audio version of the book allows you to listen to the book instead of reading, freeing up time you can use for learning Chinese instead.
A checklist for learning in a better way summarising the advice given throughout the rest of the course.
Discounts worth more than $100 for recommended learning tools and materials, including Pleco, Skritter and ChinesePod.
Interactive text games for Chinese learners
Reading and listening to Chinese at your level is an excellent way of learning. However, most graded readers are quite boring and don't encourage you to really engage with the content. In order to solve this problem, we have created several text games where you choose your own action based on the text you read. The story then develops differently depending on what choices you make, rewarding you for making good choices based on the information you have. Read more about the game Into the Haze or watch a video that shows how the game is played.
For a limited time, full access to all games for three months is included in the course package! This gives you plenty of time to explore the games and learn Chinese in a more interesting way. To use this offer, please register an account at WordSwing and send the e-mail address you used to sign up as a reply to the confirmation e-mail you received when buying the course.
Time limited back-to-school discount

If you get the course before the end of Saturday (August 19th), you get $10 off (use the discount code "2017kai1xue2" in the cart). You still get all the content, of course, including the $100+ in discounts and coupon codes for various useful services, such as Pleco, Skritter and ChinesePod.
What does this course offer that the free articles don't already offer?
Good question! Zachary Danz, one of the first students to finish the course, summed up the difference between the website and the course as follows:
As someone who has followed Hacking Chinese for a long time, I couldn't be happier – I feel like I have the full picture of the message Olle has for Chinese learners, whereas before it was scattered and incomplete.
This course helps you connect the dots and avoids not seeing the forest for the trees. There is also a big difference between reading fragmentary articles that were written over seven years without structure and using a comprehensive course containing video, text and audio.
---
Stuck at home? Want to learn Chinese or improve your learning? The code "jia1you2" will give you 50% off all courses!
Learn more about courses for beginners and more advanced students here.
---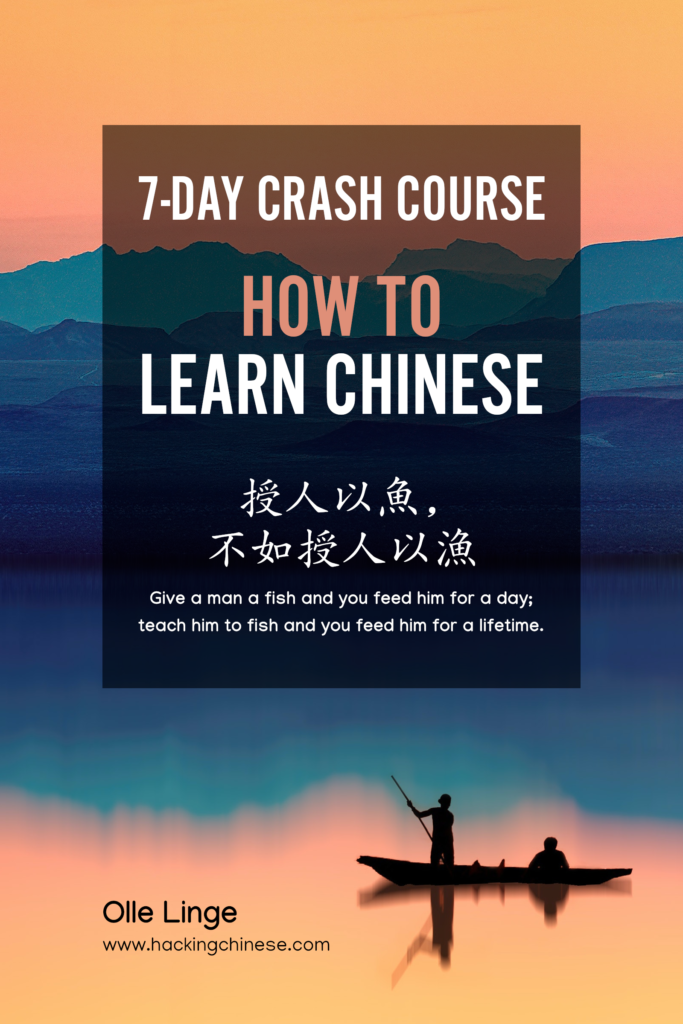 Tips and tricks for how to learn Chinese directly in your inbox
I've been learning and teaching Chinese for more than a decade. My goal is to help you find a way of learning that works for you. Sign up to my newsletter for a 7-day crash course in how to learn, as well as weekly ideas for how to improve your learning!