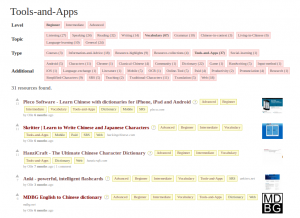 Three months have passed since I launched Hacking Chinese Resources, a new section on the website collecting resources for learning Chinese, sorted and tagged for easy access (click here to read the post that officially launched the section). With the help of some volunteers and continue help on the development side by Stefan Wienert, the number of resources has kept increasing and we now have over 250 resources.
I need your help both expanding the collection as well as rating and commenting on the current resources!
I think some readers might not be aware that Hacking Chinese Resources exists, so I want to highlight some reasons why you should check it out. Even if you have been there before, the large number of new resources make it well worth visiting again; I can promise you there are useful things you don't know about. The easiest way to keep track of new updates is to subscribe to the dedicated Twitter feed (@ChineseLinks) or the RSS feed.

Hacking Chinese Resources
Before I talk a little bit about why I think a resource site like this is really needed and how to use it, I want to give you a quick overview of what has been uploaded since the site was launched. Of course, the numbers below add up to more than 250, but that's because some resources are tagged with more than one tag.
Tagged according to proficiency level
Beginner (155 resources)
Intermediate (190 resources)
Advanced (195 resources)
Tagged according to topic
* Pragmatics, how to use Chinese in context
** Used for resources that should be tagged with more than three tags
Tagged according to type
What is Hacking Chinese Resources for?
The motivation to create this section of Hacking Chinese sprung from a genuine need. Even though there are many sites where you can share learning resources, they are all mostly focused on the short term, usually in the form of discussion forums, social news sites or feed aggregators. I will continue using such sites myself and my aim is not to supplant them.
Hacking Chinese Resources has similar functions, but that's not the main point. Instead, a carefully thought-out tag structure, filters and a search function are intended to create a permanent archive of useful resources that are easy to find whenever they are needed. This is the real goal of the new section.
How do I use Hacking Chinese Resources?
It's very easy. Check this video (it will automatically skip the introduction, feel free to start from the beginning if you want to hear my preamble):
If you have a specific goal for visiting the site, such as wanting to find listening material suitable to your level, a tool that creates stroke-order exercise sheets or apps to help you learn characters, you simply select which tags to display. In essence, you're answering these questions (but feel free to skip some if you don't think it's relevant):
What's your proficiency level? (e.g. beginner, intermediate, advance)
What topic are you interested in? (e.g. listening, speaking, vocabulary)
What type of resource do you want to find? (e.g. advice, collections, tools)
This should allow you to find whatever resource you're looking for! If not, searching might work.
I need your help!
I need your help with three things. For the first two, you need an account, which you can get by requesting one here.
Post your own favourite resources for learning Chinese
Vote for or comment on already existing resources
Spread the word to your classmates, friends and teacher
I think Hacking Chinese Resources has come off to a great start, but I need your help to keep it moving forward!
---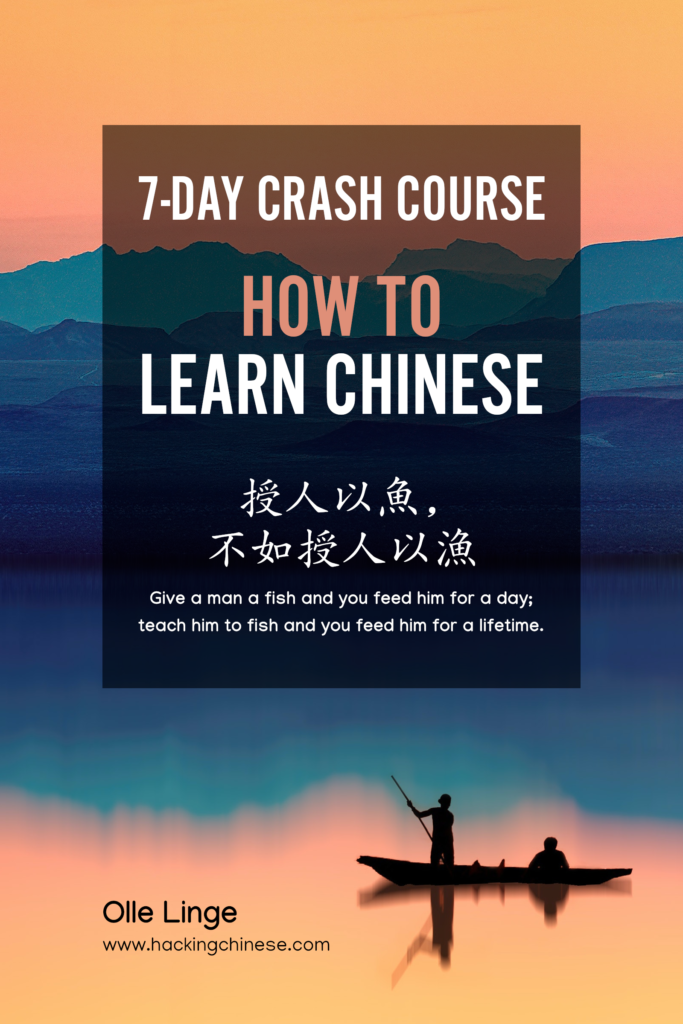 Tips and tricks for how to learn Chinese directly in your inbox
I've been learning and teaching Chinese for more than a decade. My goal is to help you find a way of learning that works for you. Sign up to my newsletter for a 7-day crash course in how to learn, as well as weekly ideas for how to improve your learning!