I think music is widely overlooked as a way of learning languages. I often hear people say that music is good to learn languages, but how many of them practise what they preach ? It's of course very hard to estimate how many songs I know in English, but I probably know several hundred (with lyrics). Listening to music is spaced repetition packaged in a way which makes it feel very much like playing (or singing or dancing) and not at all like studying. Learning those songs, I had no intention at all to improve my English, but considering how much language those songs contain, it would be very strange if they haven't helped me learning English.
In Chinese I know perhaps fifty songs. How many do you know?
In this article I intend to take you with me on my exploration of Chinese music. I will first talk about why I think listening to music is so good and then I will share some songs I like. In upcoming articles, I will share much more, this is just a warm-up.
I don't like Chinese music! Really? I mean, seriously?

This attitude is quite common and I thought like that for several years myself. All the Chinese songs I had ever heard sounded roughly the same and were slow ballads about love, relying heavily on the singers voice and the lyrics. If you don't understand the lyrics and don't particularly like this genre, it's easy to draw the conclusion that all Chinese music sucks. However, it wasn't Chinese music that sucked, it was my ability to look for alternatives that sucked.
If you say there is no good Chinese music, you're either ignorant or very, very narrow-minded.
How to find Chinese music you like
There are a few things you can do to find Chinese music you like:
Search for "[any genre you like]" + "Chinese" on YouTube. You're likely to find at least something, depending a little bit on what genre you search for. Here are some examples: reggae, hip-hop, trash metal, there's lots of stuff out there just waiting to be discovered.
Pick any of the songs you already like and check the related videos on YouTube, which is likely to give you similar  (or the same) artists. Note that you might dislike one song, but then love the next by the very same artist, so don't give up if you don't find anything immediately. You can also look for related artists by searching on forums and on the internet in general.
Check music sites such as 一听音乐, 独立音地, 新茶锋潮. Also check this article (in English) about QQ Music.
Check one of the songs below. I have more articles in the pipeline with over 30 additional songs, so stay tuned.
Some effort is needed
Naturally, using music to learn is not effortless, because most people can't just listen to music in Chinese and absorb the words automatically. Some studying is required. Still, if you pick music you like, this is excellent practice, because you will automatically review vocabulary and grammar every time you hear the songs, not because you think you ought to, but because you like it. I suggest learning the chorus of the song first and leave the verses until later, because they are usually more complicated and repeated less often, which means that they are harder to learn.
If music is difficult to learn (probably because you lack vocabulary), you have to balance the gains from music against those from normal listening practice (see this article series). I think the main reason music is useful is because it requires time of a different quality than active listening practice. Thus, if it's too hard, I would suggest focusing on really easy songs or wait with music for a while and focus on more important things.
Also, don't forget that liking music is sometimes a matter of exposure. I have several songs I didn't like at all at first, but that I have later started liking. Thus, don't listen to a promising song once and then dismiss it, take a dozen or so and put them on your phone. Listen to them a couple of times and then remove those you don't like.
Music helps you fit in: Karaoke/KTV

An added benefit of learning some songs in Mandarin is that you don't feel completely at a loss when karaoke is on the menu. This is much more widespread in East Asia than in any Western country I've been to, and I felt fairly awkward in the beginning simply because I had had almost no contact with Chinese music and definitely didn't know any song lyrics. In our native language, we can often learn songs simply by listening to them on the radio for a few times. This is much, much harder in Chinese. Focusing on music now and then not only makes learning more fun, it helps you fit in as well.
A word on pronunciation and grammar in songs
As you well know from your own language, songs don't always contain grammatically correct sentences perfectly pronounced. Indeed, some songs are more like poems and use the language creatively. Some singers deliberately sing in specific ways to make it sound better or achieve certain effects. However, most of what you hear will still be useful Chinese and if you can hear what the singer is singing after seeing the lyrics, I wouldn't worry too much. Obviously, you shouldn't use this as your primary tool to perfect pronunciation, but I'd be surprised if anyone thought so.
If you are a beginner, be careful with pronunciation. You should know that even if tones are sometimes present in songs, they are rarely pronounced as they are in normal, everyday speech. Thus, I would advice against listening to lots of music before you have the basics of Chinese pronunciation down. Music is a very poor teacher of intonation and tones, so you'd better find a real teacher to learn that first.
Not enough? Check the other articles in this series:
Enough talking, let's hear some singing instead!
Matzka – 情人的眼淚
This is raw emotion. I seldom like emotional music, but I can think of few voices that could convey this lyrics better than his. The lyrics is relatively simple and the pronunciation is clear. One of my favourites.
崔健 – 一無所有
A rock classic which is actually quite good. Pronunciation is not clear at all and therefore not very suitable if that's what you're after. The lyrics is relatively simple and has been translated by Hugh Grigg here.
弦子 – 逆風的薔薇
As far as I know, this isn't the kind of music she's typically associated with (I've checked some of the other albums and didn't like it at all). This song is quite good, even though her voice gets a bit annoying towards the end. The pronunciation is clear, but the language used is probably more suitable for intermediate students and above.
王若琳 – 有你的快乐
If you have a voice like this, you can't make bad music. The pronunciation is relatively clear, at least if you've read through it once or twice before. She's made several songs of similar quality, this is just one among many. You probably need to watch some ads before the song starts, sorry, couldn't find a better version.
王菲 – 再見螢火蟲
Well-known in China (or in the West as Faye Wong) who has a marvellous voice, here used to create something darker and leaning more towards rock. Very good indeed. The lyrics is more difficult than the above songs. She's made lots of good songs, but also a huge number of mundane and boring ones.
As I said earlier, there will follow several articles with more music I consider worthwhile. If you have any suggestions, let me know!
Further reading
Why Teach Chinese through Song (Hong Zhang)
---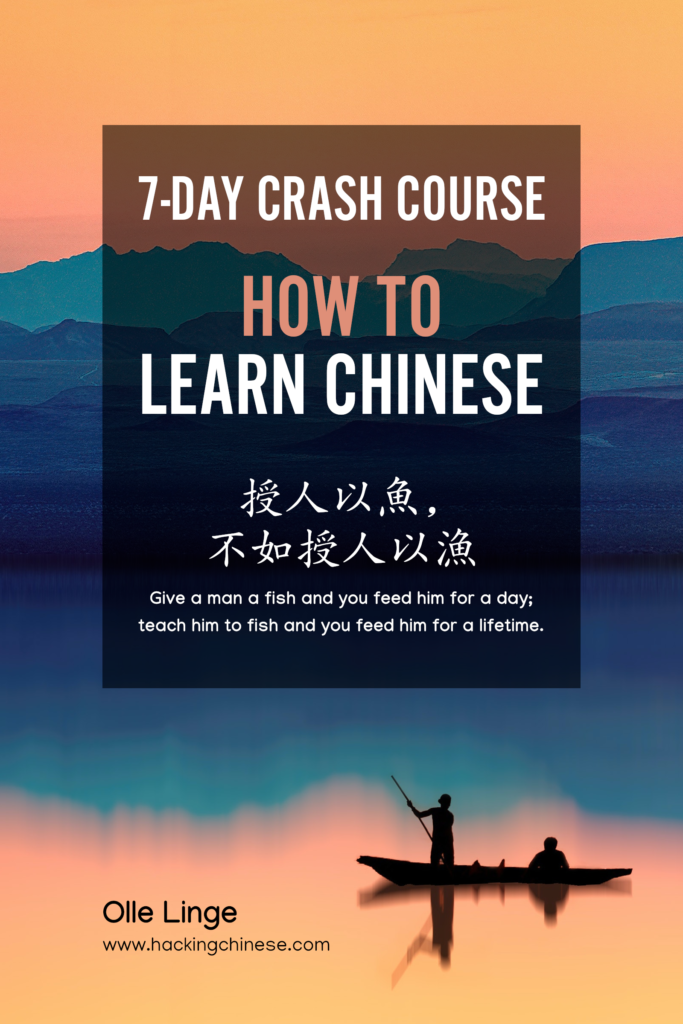 Tips and tricks for how to learn Chinese directly in your inbox
I've been learning and teaching Chinese for more than a decade. My goal is to help you find a way of learning that works for you. Sign up to my newsletter for a 7-day crash course in how to learn, as well as weekly ideas for how to improve your learning!