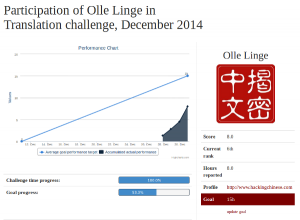 Last month's challenge on Hacking Chinese Challenges was about translation. I really like translation as a tool for learning, but since there already are two articles discussing this I won't bring it up again (one about Chinese-English translation and one about English-Chinese translation). In this article, I will share some thought about the challenge and I also hope some of those who participated are willing to share their thoughts.
My translation challenge
I planned to spend 15 hours practising translation, but ended up spending about half that time. I don't really blame having little time during the holidays (I actually had much more time than usual), but my planning was horrible. I had lots of time, but only for about a week and I simply wasn't motivated enough to spend more than an hour a day or average. I should either have started earlier or set a more modest goal.
Below are some things I thought about during the challenge, but please note that I published a separate article about writing in Chinese, which contains much more than what I mention here (5 tips to help you improve your Chinese writing ability):
Don't aim for perfection too quickly – This is something I make myself guilty of sometimes and makes translation really tedious and boring. I spend a lot of time on each individual sentence, wanting to find the right way of phrasing it immediately. In my opinion, it's better to get the gist first and then look for better translation the second time you go through the translation.
Translate something really interesting – My goal for this challenge was to translate a short story I wrote in Swedish a few years ago, which is very motivating. I want to write this in Chinese! Compared with other translations I've done (professional and otherwise), this was much more fun. Once I got started, I really enjoyed translating and stopped only when I felt tired.
Create the framework of a habit first – Before you have established a habit, you need to remind yourself what you're supposed to do. I plain forgot about the challenge several days. It wasn't that I thought about doing some translation and then found something more interesting to do, I just never thought about it at all. This is a sign of bad preparation. If you want to do something like this, set automatic reminders, make the document you're working with open automatically when you log in, ally yourself with others who strive towards the same goal.
I think this challenge was interesting for me personally and I have continued translating the short story even after the challenge ended. This means that I have achieved part of my goal, which was to start writing in Chinese again. Give me a few weeks to finish the translation and polish it a bit and I might publish it somewhere.
Your translation challenge
How did it go for you? Looking at the leader board, five participants spent more than ten hours. Well done! Of course, this is not the same as the two passive challenges we've had before (listening and reading), because that requires a different kind of time altogether. What did you learn from the challenge? What did you translate and in what direction? If there was another translation challenge later, do you have any advice for new participants?
Upcoming challenge: Character challenge, January 2015
The next challenge will be announced later this week and it will be about character learning. It will be similar to the character challenges I've arranged for a few years now, i.e. focusing on how to learn characters in a more sensible way. If you want to read a bit in advance, I suggest that you check out these articles from previous challenges:
Sign up to this month's character learning challenge by clicking here!
---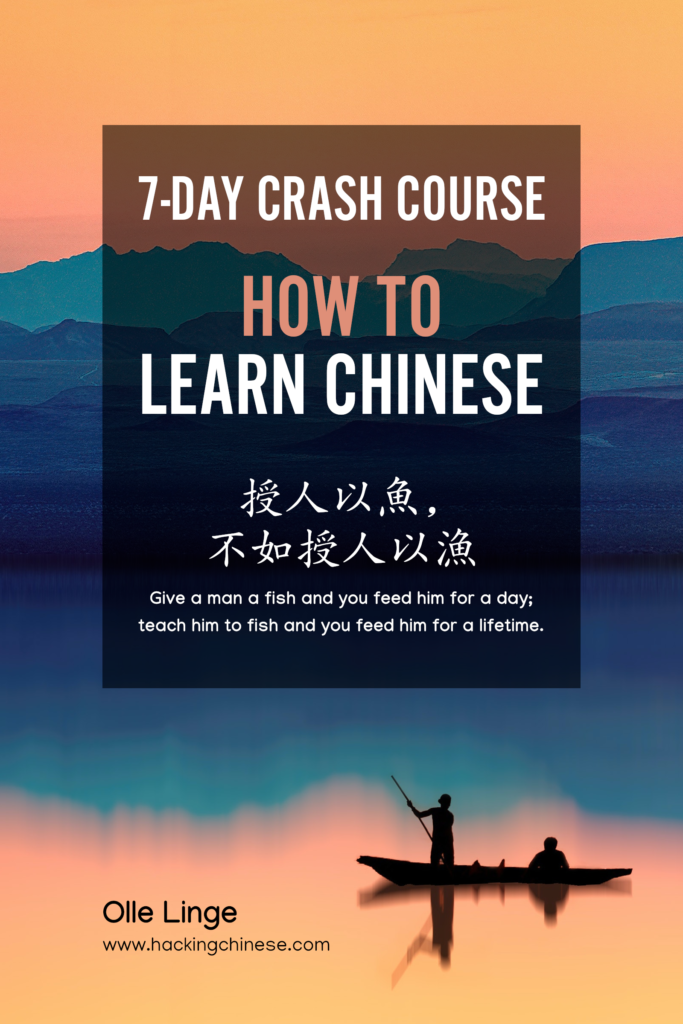 Tips and tricks for how to learn Chinese directly in your inbox
I've been learning and teaching Chinese for more than a decade. My goal is to help you find a way of learning that works for you. Sign up to my newsletter for a 7-day crash course in how to learn, as well as weekly ideas for how to improve your learning!