How important are tones, really? They are an integral part of Chinese, we all know that, but do you actually need them all the time? In this article, I will talk about tones, why they are important and some problems students encounter and how to solve them. There are of course much, much more to say about tones, but this week's article will focus on attitude rather than practical or theoretical matters directly related to tones.
Just how important are the tones anyway?
Occasionally, I hear people say something along the lines of "tones aren't important in Chinese, if I just achieve some fluency and talk really fast everything will be okay, the natives don't use tones in natural speech anyway". This is not only wrong, it's an extremely dangerous attitude to have as a beginner if you ever hope to learn Chinese properly.
It is true that you will be able to order a beer, say hello, I'm from America or apologise without worrying about tones, especially if you're talking with native speakers who are used to foreigners. This is because it doesn't really matter what you say, they see you, a foreigner, in a certain situation and they immediately know that the number of things you're likely to say is limited and it's only a matter of deciding which of the possible phrases you're trying to say. It doesn't matter how much you botch the tones, you'll get your beer.
However, if the person you're talking to can't guess what you want to say, communication will rapidly break down if your tones are off. Next time you take a cab somewhere, try to get to the correct destination with the wrong tones (here is a hint: it doesn't work very well). When you have left the beginner level you will also start expressing ideas which aren't immediately obvious to the listener and you may use words they don't expect. If you don't get the tones right, it is likely that people won't understand what you say.
Read more here: The importance of tones is inversely proportional to the predictability of what you say
That being said, it's true that native speakers don't enunciate every singe tone very clearly when they talk rapidly. Some tones are reduced and only stressed syllables retain their tones completely. However, this is not the same as saying that you can do the same thing. It means that it's even more important to get those key tones right. See this article on Sinosplice.com for more about this.
Tones aren't just marks added above a vowel
When we start learning Chinese, it's easy to think of tones as something that is added to an otherwise independent syllable. It's easier for us to remember and distinguish the between "mí" and "má" (same tone, different vowel) than between "mí" and "mì" (same vowel, different tone). This is natural because it's likely that our native language doesn't use tones in this way. We need to focus on this explicitly to understand that the tone is an integrated part of a word as much as the vowel is.
Research has shown that tones in Chinese are as important as vowels (i.e. they carry as much meaning as vowels do). This is easy to understand theoretically, but I personally still think it's hard to feel intuitively.
Don't cheat with tones
A lack of understanding leads to a situation where we tend to focus more on the sound of word (as opposed to the tone). It's easy to remember that it should be "zhen", but is it "zhén" or "zhèn"? If you're using spaced repetition software (which you should), have you ever answered that you know a word even though perhaps one tone is off? Would you do the same if you replaced "zh" with "z"? Or if you thought it should be "i" instead of "e"? I'm not saying everybody is doing this, but I think lots of people are and it's not good. If you don't know the tone, you simply don't know how to pronounce the word. Cheating with tones is easy, but the only loser in the long run is yourself.
How to learn tones
The main reason for not cheating with tones and focusing on them from the very start is that it's very hard to change incorrect tones later. The earlier you start correcting your mistakes, the easier it becomes. Of course, if you want to improve your tones, you first need to know what problems you have. One way of doing it is using the method I have suggested in another article, which works very well even if you don't have access to a qualified teacher (you just need any native speaker). If you're having problems with the third tone, you might also be interested in reading this article about learning the third tone.
How to remember tones
If we want to remember tones, the first thing we need to do is start treating them like they are integrated parts of the words we're learning, rather than something extra added on top. If you don't know the tone, you don't know the word and need to review it again; cheating here will only make it even harder next time. Here are some other things you can try:
Always read words aloud when you review
Always write tone marks (and read aloud)
Pay attention to tones you hear (repeat in your head)
Associate tones with other characters with the same tone (if you remember that

第二次世界大战

only consists of fourth tones, you can use this to remember that all individual characters are fourth tones; create new words or phrases for particularly tricky characters/words)
Use colours (automatic in many programs, i.e. blue for fourth tone, red for first etc.) then try creating mnemonics based on the colours (think of an egg painted blue for

蛋

or a red chicken for

鸡

); this approach will be tricky to use on thousands of words, but I use it for tones that just refuse to stick
Focusing on pronunciation as a beginner
I usually advocate not focusing too much on details in the beginning, simply because I think it's not very helpful to learn the exact definitions of words or the difference between two very similar grammar patterns until a more advanced level. Pronunciation, however, is an exception. It's fairly easy to adjust one's vocabulary, but it's a lot harder to change one's tones. If we hope to reach a I high level, pronunciation is something we should always practise diligently, from day one. Paying attention to tones is a good start.
---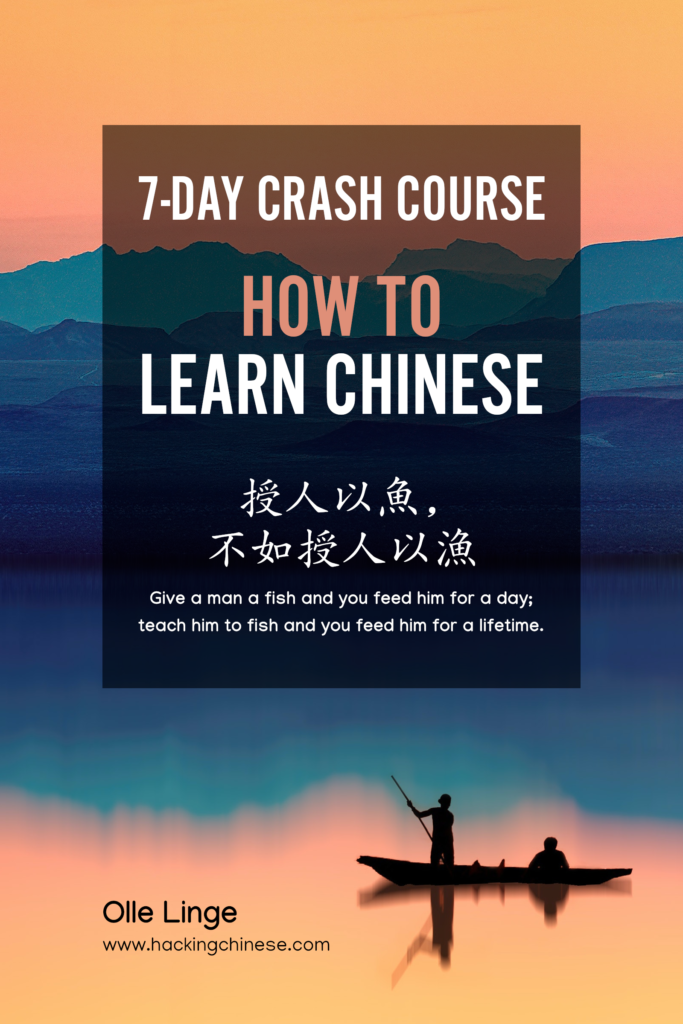 Tips and tricks for how to learn Chinese directly in your inbox
I've been learning and teaching Chinese for more than a decade. My goal is to help you find a way of learning that works for you. Sign up to my newsletter for a 7-day crash course in how to learn, as well as weekly ideas for how to improve your learning!