Two weeks have now passed since I announced the sensible character learning challenge. Since I wanted to try the rules of the challenge myself before telling everybody else to use them, I actually started a few weeks earlier than the rest of you. In this article, I'm going to share with you some really useful things I've learnt during the past month. This is also a good opportunity for you to share how things have been going so far. Here's what have been published about this challenge so far:
Challenge progress report
Before we do that, let's look at what we have actually achieved: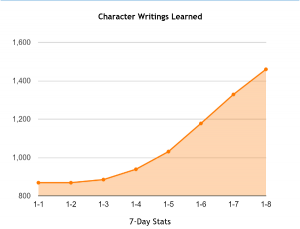 This is great! However, we all know that it's fairly easy to start something and be enthusiastic about it for a week or two, but then it becomes much harder. Actually, looking at the stats on Skritter I can see that collectively, we've learnt more characters during the first week of the challenge than during the second, even though the numbers of students kept increasing! This is in fact part of the reason why I'm posting this article now. That's also why I set up the accountability system where you're supposed to connect with the people directly above or below you on the list.
If you haven't connected with your neighbours, you should do so as soon as possible
If you've tried to connect but received no reply, let me know
Starting tomorrow, I will remove people who aren't following the rules
If I remove someone next to you, make contact with your new peer student
When you do connect, make a plan! When are you going to check on each other? I suggest at least once a week. I've been in contact with both Nick and Jacob and we send occasional e-mail more often than once a week, but it's up to you how you want to arrange this. If you encounter problems or think something is difficult, ask each other. If you need support or encouragement, ask your fellow students.
Commit publicly if you haven't already
If you want extra accountability, write a blog post about the challenge and ask readers to check how it's going later. If you want me to, I will tweet the post to 4600+ followers on Twitter. Here are people who have already committed publicly (most have been tweeted, others will appear later this week; if you're not on the list but have written a blog post, let me know):
Some advice on using Skritter
I've been using Skritter for this challenge and overall, things have been working out well. If you haven't tried Skritter yet, I suggest you sign up and try it out (the coupon code SENSIBLE is still valid and will give you both an extended trial and a substantial discount). I will write more about Skritter itself in another post, but the fact that I've spent around 30 minutes per day on average during the past month and actually enjoyed it says quite a lot.
The only  problem I know some students have encountered is that they can't view banned cards on their phones and tablets. There are two ways of handling this problem. First, you can ban the cards and deal with them later using your computer (or at least accessing the banned cards via the web interface rather than the app). Second, you can deal with cards you fail immediately so you don't need to ban them. Either of these work and which one you use is up to you, I can see merits with both methods.
Another thing to note is that you shouldn't be too quick to ban a cards. If you hit ban before you fail the card, perhaps because you can't even recall how to start writing it and decide you have failed anyway, Skritter will not treat this as a failed card. If you then study the banned card and unban it, it will have the same interval as before. If you repeat this, the spaced repetition algorithm won't work, because the interval will never decrease. This is easy to get around, though, just make sure the card turns red before you ban it. Most people do this when trying to write the character, so this shouldn't be much of a problem. As far as I know, hitting the question mark to reveal the character also counts as a failed review.
Furthermore, if you are reasonably familiar with characters, I also suggest you turn on the "raw squigs" function (just tick the box in your settings). This will allow you to finish writing all the strokes in the character before Skritter shows you the right strokes. This means that it becomes harder to cheat, because without this function enabled, Skritter will sometimes give you clues (you thought the character started with a dot, but in fact it doesn't, but since the dot was roughly in the right place, Skritter rewrites the stroke as it should have been written, thus helping you). Lastly, Skritter also offers reminders sent to your e-mail at intervals you decide yourself. If you want to be really accountable, you can, thus allowing everybody to see how it's going for you.
Some advice on using Anki
Anki has a really neat function for handling leeches. If you want to stick to the rules of the challenge 100% of the time, you could set the leech threshold to 1, which means it will be automatically suspended if you forget the card just a single time. You can access the settings via options > lapses > leech threshold.
Note that this might be overdoing it a bit, because you will end up suspending cards automatically even if you accidentally hit the wrong button or similar. Still, setting the leech threshold really low is a good idea. The default is 16, which is ridiculously high. This just encourages you to use brute force to learn words you actually don't know. If you fail a card 16 times, something is seriously wrong with your method.
Personal reflections and lessons learnt
Part of the reason I came up with this challenge in the first place was so that I could get my own character learning under control. Can you imagine a better way of making yourself accountable than being the guy who started the whole thing? I can't. It's worked very well so far. My goal is to work through the 5000 most common traditional characters on Skritter. Since I've already learnt most of these passively, my stats are somewhat skewed.
Lessons in mnemonics and Chinese characters
The best thing with this challenge for me personally is that I've spent some extra time dealing with some long-time leeches. It feels great to finally kill the beasts! My policy is to do some research, create a mnemonic and then, provided it isn't very personal or refers to things few people know, share the mnemonic online. This puts some extra pressure on me to create good mnemonics. I sharesSome on Skritter, some on Facebook, some on Twitter (#mnemonicmonth and #sensiblehanzi). Here are a couple I've shared so far (don't forget to read the discussion of each mnemonic):
Mnemonic for 纏 (wind up, wrap around): The people living in the house on the cliff (广) use eight miles (里 + 八) of silk (糹) WOUND UP to cover their dirt (土) floor.Discussion: This looks simple enough, but I want to point out one very important thing. Don't simply read "the house on the cliff". The words aren't important, the picture in your head is.  [Read more…]

Mnemonic for 犧 in 犧牲 (to sacrifice). The simplified form is 牺, so this shouldn't be a problem for those of you who learn only simplified. However, this might still give you some inspiration for how to work with mnemonics. To start with, this character is really mean, because the bottom right part isn't common at all (does it even exist in other characters, except in 羲?). Thus it's not a good idea to create specific mnemonic for this part and use that, but rather I would… [Read more…]
Reading questions from fellow participants in the challenge, I've also become more aware of what kind of problems students have when using mnemonics to learn characters. Thus, I have two articles planned for the coming weeks. The first will deal with mnemonics for abstract character parts (mentioned in the quote above). The second will deal with some problems related to overuse of mnemonics (in essence, if you don't need a mnemonic, don't create one).
In short, I'm very happy with how the challenge has been helping me to focus more on the meaning of characters. I feel that I'm actually learning something when I fail a review, it's not just a monotonous cycle of repetition. I also think mnemonics are quite fun!
How about you?
Now I'd like to hear how you have been doing! Leave a comment and tell me about your experience. If you don't know what to write, here are some suggestions:
What's the most positive thing with participating in the challenge?
What problems have you encountered?
What goals have you set for yourself and how's your progress so far?
How many characters have you learnt since the start of the challenge?
Do you have any advice for me or other participants?
(this article)
---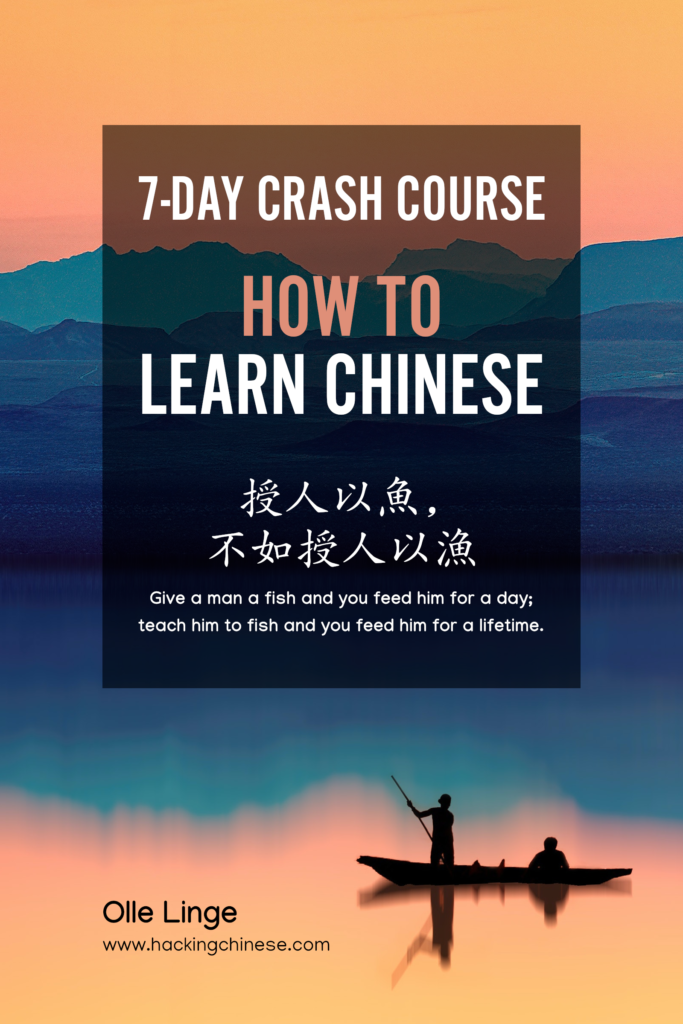 Tips and tricks for how to learn Chinese directly in your inbox
I've been learning and teaching Chinese for more than a decade. My goal is to help you find a way of learning that works for you. Sign up to my newsletter for a 7-day crash course in how to learn, as well as weekly ideas for how to improve your learning!