In other articles on Hacking Chinese, I discuss how you can learn characters, words or grammar patterns more efficiently. Since all these articles rely on a common theme, it seems reasonable to give an introduction to that theme along with some more detailed information and help. The general theory is that disassociated learning, i.e. learning things that aren't connected to something else, is bad, and that you should at all times try to associate what you learn with something you already know. This is the essence of holistic learning even though this post will deal more with details and memory aids in general.
Note that this post is not about the practical aspect of memory aids and mnemonics. There are two other articles of interest that describe how to apply these principles when learning characters and words:
What we're going to talk about here is the principle behind these posts and mnemonics in general, so if you want hands-on information on how to improve your learning, checking those two articles is probably better than reading this one. If you want to know more about tricks to boost your memory, read on!
What is mnemonics?

If given a list of random numbers or words, how many could you remember after studying the list for just a short time? The usual answer is 5-9 items, because that's what normal people can hold in the working memory at any given time. If you want to remember more than that, you have to use some kind of technique. With a very simple method, you can easily remember thirty items in order and without fault. It will take some practise getting good at it, but it's not hard. In the case of words, simply connect the words with each other in a unique way. If there are numbers, you typically have to convert them to something else that's easier to remember first (like letters). This requires preparation, but is worth it.
The most important thing that a good memory can be achieved through practice, it's a skill that can be trained.
The story method
The first example is an easy method where you simply connect the words to each other directly. If the words are limousine, paper and elephant, war, Paris and green (this is just an example), you connect these words by by picturing a well-dressed elephant sitting in the spacious back seat of a limo, reading some papers, while the car is moving through war-struck Paris (perhaps with the Eiffel Tower broken) and enemy aircraft dropping green paint over the entire city. A story like this takes seconds to create and with practise you don't even need to think. If I ask you tomorrow what the five words were, would you be able to recall them? I think you would. If not, the story was not good enough or didn't suit you, but more about that later.
The journey method
The journey method relies on similar principles (everything does, really) but instead of a story with things going on, you picture yourself on a journey, preferably through an environment you are familiar with. Along the way, you encounter the words, people or whatever you want to memorise. This is nice because you don't need any preparation and is thus easy to use on the fly. Using this method, you might picture yourself walking to school/work and along the way you will see lots of things happening, preferably interacting with the environment.
The loci method
The third and last example is perhaps very similar to the second one, but I want to bring it up anyway because it's so useful. The above technique used spatial memory to associate something meaningless with a well-known structure (i.e. the road on which you make your journey). The loci method is simply a general term for techniques that make use of this ability of the human mind to remember things (it's also called "memory palace").
It's important to realise that the environment doesn't have to be real! You can prepare certain rooms beforehand, which only exist in your mind and then later use these to store information. This is for instance very common for multiple blindfolded cubing, i.e. where people look at several Rubik's cubes and then solves them in succession without looking. It's actually a lot easier to do that most people think, but it would be hopeless without some memory aids like the loci method.
How to associate A with B
All these methods and all holistic learning is based on the principle that you can connect more or less random pieces of information with each other. Sometimes the connection is logical and it comes naturally without having to think too much about it. This is true for any kind of association which fits perfectly into our overall framework for a certain subject. If you encounter a word you haven't seen in Chinese, but which follows every single rule you know and just makes sense in general, you won't forget the word easily. However, languages are naturally evolved and there will naturally be lots of situations where you have to create the link yourself, using your imagination and previous knowledge.
You can base your links on many different kinds of associations which will probably work differently for different people, here I will simply share my own experience. This list of how links can be formed just contains some examples, it's not exhaustive and you will be able to add your own. I will use random words to associate here, simply because I talk specifically about Chinese everywhere else and because it will be a lot easier to find examples that anyone can follow, regardless of language ability.
Five characteristics of a good mnemonic
Absurd – Usually, the more exaggerated the picture you form for a certain connection is, the easier it will be to remember. Relying on logic is not very good here, so if you want to remember the word "Santa Claus" and "reindeer" it's not a very good idea to picture Santa sitting in a sledge pulled by reindeer, because this is reasonable and easy to forget. Do it the other way around! Think of Santa pulling a sledge full of reindeer. Make big things small, few things many, overturn any kind of logic you can find.
Shameful – Any kind of embarrassing link is good, especially if it deals with taboos. Sex is awesome (from a pure language-learning perspective, of course). I've heard this from almost everybody who uses this kind of associations, that the shameful and embarrassing associations are those that stick the longest. What is embarrassing for you might be different from what is for me, but I think you get the idea.
Disgusting – Any association which is revolting and very unpleasant is also likely to be stronger. Again, it differs greatly what people think is disgusting, but you can probably come up with connections that involve all three points I've mentioned so far, even though I'm not going to give you an example of that here!
Scary – What are you afraid of? Using the answer to that question is also likely to enable you to form stronger connections between words. I'm not afraid of many concrete things (such as snakes or spiders), so I don't really use this very often, but picturing scenes that are in some way scary is still possible.
Funny – Try to use humour as much as you can. Why? Because it's fun, of course! On a more serious note, funny things are also easier to remember. Typically, funny associations are also absurd, but they don't have to be. Note that it doesn't matter if anyone else thinks it's funny or not as long as you do.
The list can be made longer. Do you notice any common theme? Yeah, that's right, strong emotions and things that are unique.
Make your connections vivid
If you follow the above-mentioned principle of using strong emotions, make sure that you also make your associations as vivid as possible. A connection is often a mental picture of how two things interact with each other. It's very important that you don't simply say the two words together in a sentence. Saying "Santa pulling reindeer" is a connection that will probably fade over time. What you need to do is use all your senses and try to make the scene as vivid as possible. Smell the sweat running down Santa's back, hear the cracks as he's being whipped by the reindeer, see the haughty looks on their faces.
If you feel that this is difficult, don't worry! Most people require practise to become good at this, but fortunately it's both quite easy and occasionally also entertaining. Simply imagine yourself noticing details in the scene, making the impression of it stronger.
Here are some excellent examples from xkcd: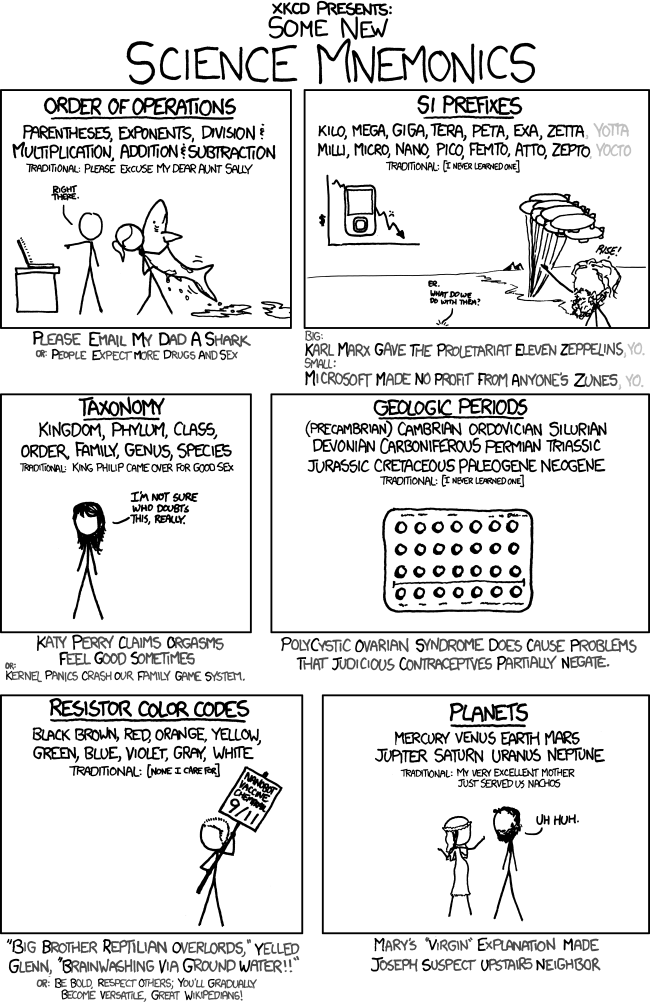 Connections are your own
If you have strong emotions combined with vivid pictures, you will quickly realise that some associations aren't suitable for publication. That is not a problem, because no one will force you to explain the associations you have made. Regardless of how taboo something is or how revolting or silly (or both) a specific connection is, it doesn't matter because you are the only one who will ever know. The only two categories that are really suitable for sharing are the absurd and funny ones, and it can be truly entertaining to read what bizarre associations other people make!
Maintaining connections
Even if you're an expert, there will be connections that fade quickly for some reason. Sometimes you can spot the problem and you understand why you can't remember it. In cases the solution is obvious, just make the connection stronger by changing the association a bit. At other times, though, you just can't remember something even though you think you should. Don't hesitate to recreate the connection in these cases, abandoning principles that don't work. After doing this for a while, you will know more about yourself, what works and what doesn't.
Good connections can last a very long time. For instance, if given the start of a story I've used for blindfolded (Rubik's) cubing, I can sometimes remember the complete story, even if I did the solve weeks or months ago, and I didn't even want to remember it for longer than five minutes! However, if left completely alone, most images fade, if not in days, weeks or months, then years. Therefore, you need to go through your web in various ways. Since we're talking about language learning on this website, it's quite easy to do that, but it's still important that you do it. Use the language a lot, listen and read as much as you can and use spaced repetition software to make sure you know what you need to know. These are all ways to use the words you have and after a while you don't even need the connections any more. Maintaining connections is also a central of spaced repetition software, such as Anki.
Further reading
There is a plethora of information on the internet about memory techniques and using any search engine will give you more information than you can possibly read. Look at what other people have said; trying it is the only way to know if it works or not. By way of concluding this article, I'd like to share a few of my favourites:
Questions for the reader
What memory methods do you use?
Do you use these methods for other things than Chinese?
Do you have any other tips, tricks or suggestions?
---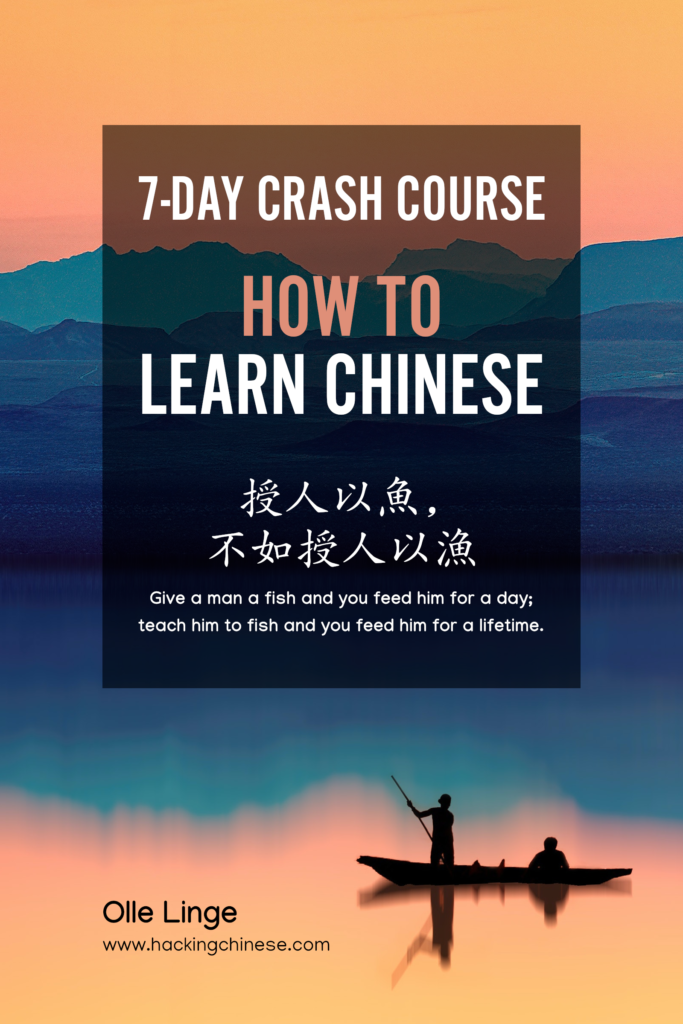 Tips and tricks for how to learn Chinese directly in your inbox
I've been learning and teaching Chinese for more than a decade. My goal is to help you find a way of learning that works for you. Sign up to my newsletter for a 7-day crash course in how to learn, as well as weekly ideas for how to improve your learning!