Now that I have cleared the main types of listening (background, passive and active listening), it's time to look at something which is common to all of them: listening speed. This is a concept I think is both simple and useful. I have talked about it briefly in the article about problem analysis, but apart from that I haven't found any references to "listening speed" in the sense I'm using the word here on the internet. I don't say I'm the first or the only one using the word like this, but I hope this article will increase awareness of the phenomenon and its importance for improving listening ability.
In short, listening speed is the speed at which you can understand spoken Chinese.
It's analogous to reading speed and works the same way. For instance, both listening and reading speed are influenced by the difficulty of the language you're presented with. While I've seen many articles and books about reading speed (I've even written one myself!), I've never seen anything about listening speed. That's what we're going to talk about today, but before we do that, let's look at the other articles in this series:
Introduction
Problem analysis
Background listening
Passive listening
Active listening
Listening speed (this article)
Deliberate practice and i+2
Diversify your listening practice
Listening resources
What is listening ability?
According to my article about analysing problems with listening ability, we need five things in order to be able to understand what we're listening to:
Phonological awareness
 Vocabulary and grammar
Listening speed
Motivation and a wish to understand
Understanding of language and culture
In this article, we will look closer at the first two in order to understand how we can achieve reading speed.
Phonological awareness
Phonological awareness is simply knowledge about the sounds of Standard Chinese. The sound inventory is relatively simple compared with some other languages, because Chinese doesn't have that many different syllables (about 10% of the number in English), but that doesn't mean it's easy to learn. Some sounds might not exist in your native language (zh/ch/sh, z/c/s for example) and many learners feel that these are difficult to distinguish and/or pronounce. The same is true for tones. Being able to distinguish all syllables from each other is the most basic skill we need in order to understand.
Vocabulary and grammar
Once you can distinguish the syllables and tones used in Chinese, you can map these sounds to meaning (vocabulary or grammar). I prefer doing this with a combination of exposure and spaced repetition software. However, it's not obvious what "mapping sounds to meaning" actually means. I think there are two ways we can understand a word:
Depth – We can understand a wide variety of usages and nuances, we can use the word in many different contexts accurately
Speed – We can map the sound to the meaning of the word quickly, which is the essence of listening speed
The first of these two is what people mean when they say "I know this word". However, as we shall see, I think how fast you know that word is of paramount importance for listening ability. This is what I call listening speed.
Listening speed
Let me use an example to illustrate what I mean when I say listening speed. The first time I see a word in Chinese and understand its meaning, either because I can guess it or because someone tells me what it means, a link is created between the sound and the meaning. For example:
tīng lì = listening ability
Next time I encounter this sound, tīng lì, I might or might not remember its meaning. If I do remember it, the recollection is probably not instantaneous; let's say it takes me five seconds to search my mind and come up with the correct meaning. (The figures I'm use here are wild guesses and are merely included to illustrate my thoughts.) Next time I hear this word, the recollection will be quicker, let's say it takes two seconds. Then one second. Gradually, as our brains get used to connecting the sound with the meaning, the process is completed more and more quickly.
Lack of listening speed
Assuming that we can distinguish the sounds used in Chinese and that our vocabulary is broad enough, we should be able to understand anything said to us in Chinese, and if we just know enough words we should be able to pass the listening test on the advanced HSK, right?
Wrong!
Even if you understand all the words, your parsing of the sentence and it's meaning might be too slow. If the speed at which you process the audio you hear is slower than the rate of speech, you will have a problem. By my own non-scientific estimate, news broadcasts are typically read at a pace of 3-4 syllables per second, which gives something like 2-3 words per second. Thus, if you require more than half a second to understand what these words mean, you will get lost very quickly. This is of course a crude example and the actual speed required is faster than that, because you not only need to understand all the words, you also need time to understand the sentence as a whole and how it related to the topic in general.
The solution is simple: Listen more

I think the solution is very simple indeed: Listen as much as you can. Each time you hear a word you understand, the time required to retrieve that word will decrease. If you've learnt thousands of words in Chinese, you need to listen a lot before you've heard all those words a significant number of times. Before you have, you will continuously run into problems with listening speed. Note that you have to understand what you hear for this to be effective. You're training your brain to link e.g. "tīng lì" to the meaning of "listening ability", but if your brain can't make the connection, it doesn't count (it might still be good for practising other things, though).
A very simple solution is to use an SRS which is capable of reading all the words for you (Anki, for instance). For the purpose of listening speed, it's of course better to have the audio on the front of the flashcard (as part of the question), but if that doesn't work with how you've set up your cards (let's say you're testing yourself on the pronunciation of characters), you can still add the audio to the back of the card (as part of the answer), which means you will still hear the sound each time you review the card and can associate it with its meaning. Listening to the words in context is of course even better, but SRS is a very good start and an excellent complement.
Quantity is king
The more you listen, the better. In this case, it doesn't need to be very advanced or hard, just listen as much as you can. Listening to the same audio more than once is fine, but don't overdo it, because the brain is very good at learning context, which means that you might understand words only in the context you've encountered them, but not in others.
Thus, the best way to improve listening speed is listening to audio you can understand and do it a lot. This is the main reason why I think passive listening is so important! Without it, our brains would simply not be able to parse audio quickly enough to allow us to understand the meaning behind the sounds.
---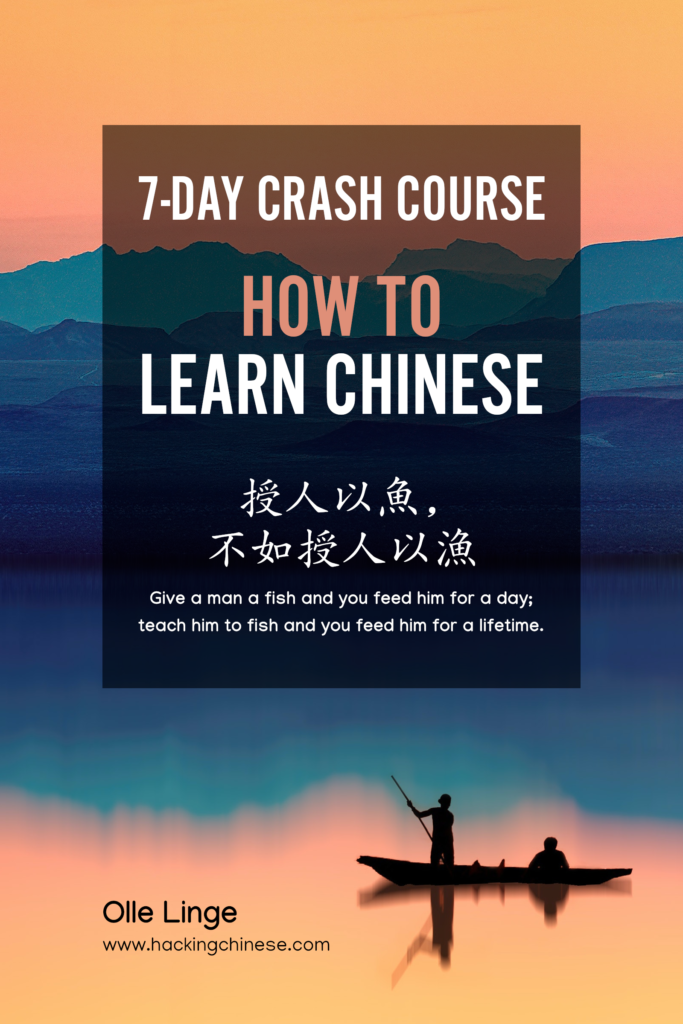 Tips and tricks for how to learn Chinese directly in your inbox
I've been learning and teaching Chinese for more than a decade. My goal is to help you find a way of learning that works for you. Sign up to my newsletter for a 7-day crash course in how to learn, as well as weekly ideas for how to improve your learning!