Some aspects of Chinese aren't particularly difficult (see this article for examples), but for most students, pronunciation can be very difficult. Various learners have difficulties in different areas; some think the tones are difficult, others find it hard to distinguish between the many sounds that simply don't exist in their native language.
I think good pronunciation is very important when learning any language and  Chinese is certainly no exception. In this post, I'm going to share with you some experiences and reflections about learning to pronounce Chinese properly from the beginning, rather than getting it wrong and then having to correct even some very basic things later on, like most students (including me) have done.
Mastering pronunciation takes blood, sweat and tears

First, you need to accept that learning to pronounce Chinese will take some time and effort. Reaching a level where you can communicate isn't that hard, but advancing beyond that is quite a different endeavour altogether (as it is in any language).
As a beginner, the most important thing is that you understand the sounds you're trying to learn; do not be fooled into thinking that you can learn pronunciation simply by repeating a word somebody else says! There are a few people who can do this accurately, but the likelihood is that you're not among them. You might think that you're saying the same thing as the target model, but it might very well be the case that you can't hear the errors you're making.
If you study Chinese in your home country, it's probable that you will have a teacher who can at least make him or herself understood in your language. This is good, because it means that you can learn the tones and the sounds, how they are made and what's the difference between them. If your teacher doesn't share a language with you, try to find somebody who knows how to explain it to you.
I haven't done much research, but New Concept Mandarin's page about pronunciation is extremely useful, and Patrick Zein's page about Mandarin Phonetics is also good. Regardless of what you do, make sure you're doing it right from the start. It's incredibly hard to change a pronunciation pattern you've learnt incorrectly.
Being taught pronunciation
Most teachers' default attitude isn't to try to teach every student perfect pronunciation, because they know that most people are not interested in that or feel that it's embarrassing to be corrected in class. Therefore, it's imperative that you tell your teacher(s) that you want to focus on pronunciation, and you might have to remind them again after a while so they don't forget.
I spent two years studying Chinese pronouncing some tone combinations incorrectly. Nobody told me. How are we supposed to learn if we don't even know we're making mistakes? Make sure the teacher tells you what you're doing wrong and what you can do to improve. Take responsibility for your own learning and adopt a healthy attitude towards being taught!
In general, do not trust native speakers who say your pronunciation is excellent. You need an impartial judge or a teacher who is really after teaching you Chinese rather than making you happy. In my experience, most natives will praise your pronunciation, regardless of how bad it is. This is encouraging, but it shouldn't be used as an assessment of your ability.
Practising pronunciation

There are many ways you can improve on your own. Read texts and read them slowly, making sure to pronounce everything correctly. Speed will come later. Listen to somebody else reading, preferably the audio recording that comes with most textbooks. Record yourself, compare, adjust, improve. Keep focusing on the areas you know you're having trouble with and if you find yourself saying something wrong, repeat it slower and make sure you get it right.
Better than this is of course if you can find a native speaker to practice with, but keep in mind that you probably need to remind them about what you want, because they are usually a little bit uneasy about correcting your pronunciation, especially if they can understand what you say anyway, even though you say it wrong. I strongly suggest this game to help you master tones, even though it's also useful for other things.
Speed is fairly important for pronunciation. If you speak very quickly, it's easy to cheat, which will probably be good enough for communication, but it's no good if your aim is perfect pronunciation. Speaking slower than you can allows you more time to think about what you're doing and it's also easier to spot mistakes. Speaking slowly is very difficult, but I'm convinced it's very good for a number of reasons, reaching far beyond the realm of learning pronunciation. Learn by exaggerating: Slow, then fast; big, then small.
A few words regarding the third tone
To be honest, it's only the third tone that caused real trouble for me, the others were fairly easy to handle. I think there are two reasons for this. The first is that the third tone changes according to what tone comes after it, so naturally it's harder than the others.
Secondly, I think the traditional way of teaching the third tone is deeply flawed, resulting in many students misunderstanding how it's supposed to be pronounced. In fact, many native speakers (including some teachers!)  cannot describe the third tone correctly in combination with other tones, even though they of course pronounce it correctly themselves. Some will actually tell you that you should go up on a third tone followed by a first, second or fourth  tone, which is wrong and in defiance both of their own pronunciation and the theory.
The third tone is almost never a falling-rising tone in flowing speech
The problem is that the third tone is usually pictured as being a v-shaped tone, first falling and then rising again. This is hardly ever the case in natural speech. Instead, only the first half of the third tone is used before a first, second or fourth tone, which means we end up with a tone starting low and going even lower, i.e. completely different from the long down-up v-shape of the textbook. Third tone plus another third tone naturally results in something similar to a second tone plus a third tone, but I think most people get that.
Please read this article for a suggested different way of picturing the third tone, along with some other thoughts on the teaching of the third tone.
If you think it's difficult to understand how the third tone changes depending on the following character, try to draw tone diagrams for sample sentences, i.e. draw a line representing the tone of each character as it is truly pronounced, not the way it's written in pinyin.
Using some sort of physical representation for tones can also be useful, such as letting a finger follow the tones as you read/speak. I've encountered people who use their heads for this, but I'd advice against that because it looks quite silly and it might be hard to get rid of the habit later.
Some final remarks

Learning to pronounce Mandarin requires conscious effort and diligent studying. You are at the beginning of a long, challenging and fascinating journey. It might be possible to reach your goal simply by immersing yourself in a Chinese-speaking environment, but that's definitely not the most effective way, and I doubt everybody can do it. If you want to improve your Chinese pronunciation, you need negative evidence (i.e. someone needs to point out your mistakes for you). There are many ways of learning good pronunciation in Chinese, but finding someone who can spot your errors and help you correcting them is perhaps the most important part.
---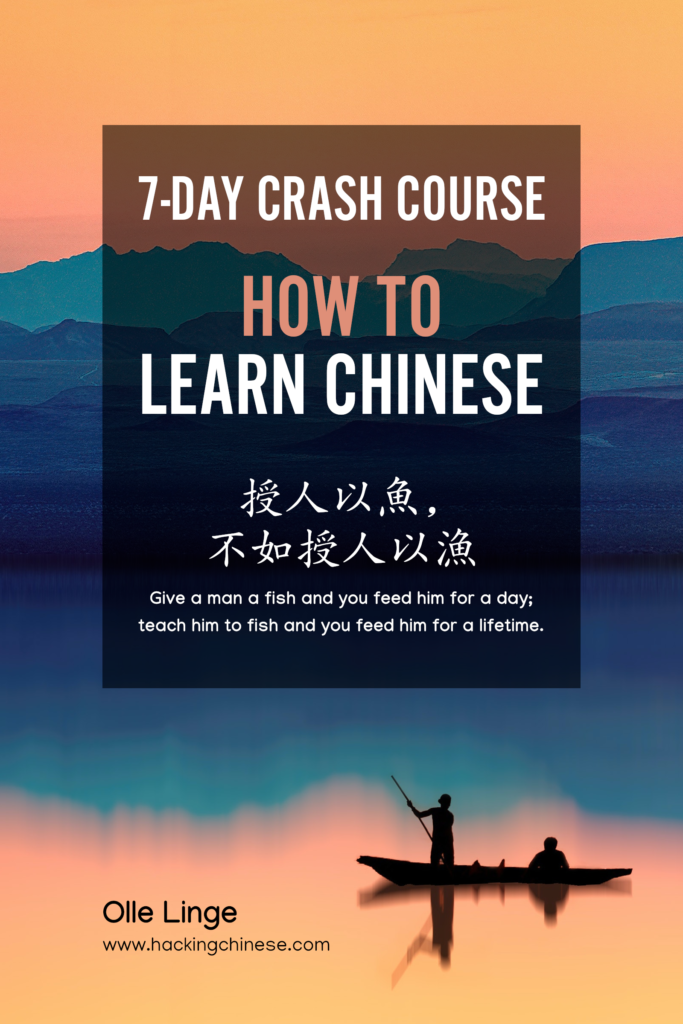 Tips and tricks for how to learn Chinese directly in your inbox
I've been learning and teaching Chinese for more than a decade. My goal is to help you find a way of learning that works for you. Sign up to my newsletter for a 7-day crash course in how to learn, as well as weekly ideas for how to improve your learning!