This is the last day of the extensive listening challenge that was started three weeks ago. It was the first official challenge on the new section of this site: Hacking Chinese Challenges. In total, 139 people joined the challenge and listened to a total of 924 hours of audio. That's amazing!
In this post, I want to to look at several things:
How did the challenge go for you?
What do you think about Hacking Chinese Challenges?
What interesting listening resources have you found?
Let's look at these questions one by one, but I want to mention now that there will be prizes offered for the third question!
How did the challenge go for you?
I can't answer this question for you, but I have read many comments where participants say that they have increased the amount of Chinese they listened to this month enormously because of the challenge. That's great!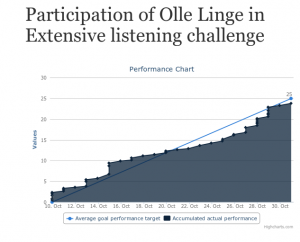 I set the goal of listening for 25 hours, and as you can see in the graph to the right, I was losing momentum after the initial stages of the challenge (which I also mentioned in my progress report). It took a while to sort things out, but by moving more audio to my phone, I manage to listen a lot this week.
What does your progress look like? Did you reach your goal? If not, what would you change to make it possible next time? Not reaching your goal isn't necessarily bad, you might just have set an unrealistic target. As long as you have listened to a lot of Chinese this month, you have reason to feel good about it!
What do you think about Hacking Chinese Challenges?
As I have mentioned several times, this is a work in progress. What can we do to make Hacking Chinese Challenges better? Here are some things that have come in so far, please add by posting a comment:
Possibility to view other participants' statistics and activities
Leader board stats shouldn't be rounded to whole hours
Leader board could (also) be sorted by % of goal accomplished
What interesting listening resources have you found?
Now over to the most important part of this article. I published an article with listening resources earlier (The 10 best free listening resource collections for learning Chinese), but I'm sure that you have some really cool resources that aren't listed on Hacking Chinese Resources. Therefore, I'd like you to do the following:
Write the name of a listening resource you like
Write who it is for (beginner, intermediate and/or advanced)
Write a short introduction (at least a few sentences)
Post this as a comment to this article
Two participants will win great posters from Hanzi Wallchart
To be eligible, I need your contribution before November 9th and you need to post a resource that hasn't already been shared either here or on Hacking Chinese Resources. I'm looking forward to hearing about your listening challenge and what material you used!
Upcoming: Extensive reading challenge, November 2014
The next challenge will start in early November and will be about extensive reading. I will of course write more about this later, but if you want to sign up now, you can do so here.
---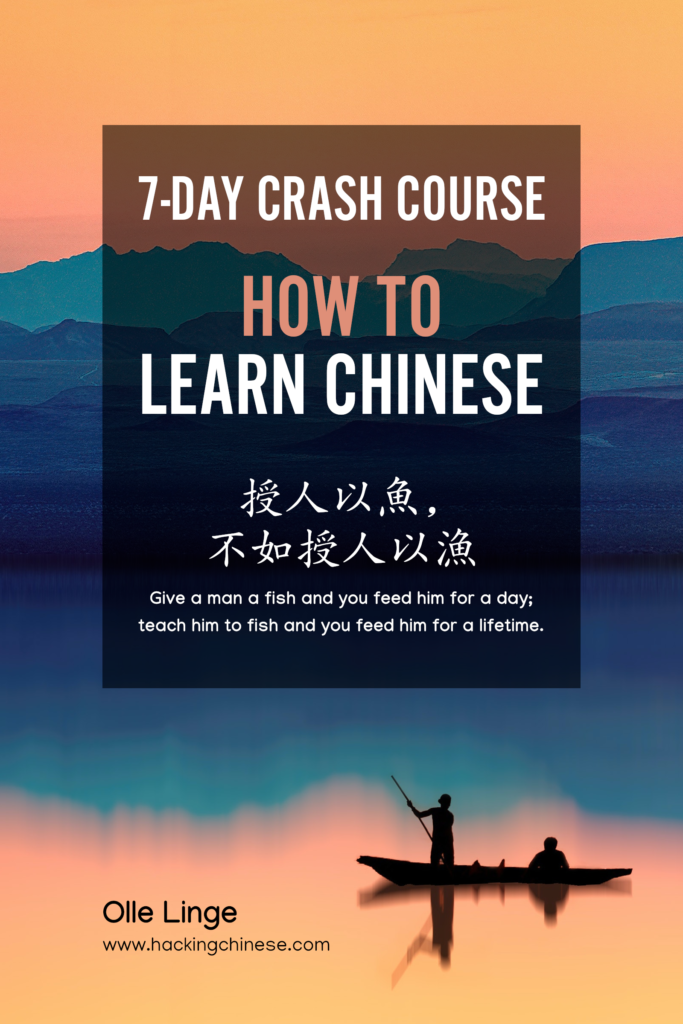 Tips and tricks for how to learn Chinese directly in your inbox
I've been learning and teaching Chinese for more than a decade. My goal is to help you find a way of learning that works for you. Sign up to my newsletter for a 7-day crash course in how to learn, as well as weekly ideas for how to improve your learning!