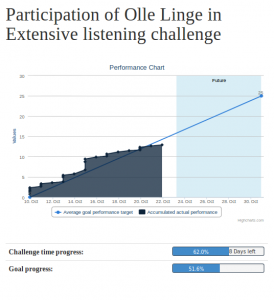 This month's extensive listening challenge has been going on for about two weeks now, but there are still nine days left. I'd like to take this opportunity to talk a little bit about my own challenge and ask you for suggestions, ideas and general feedback. I'd also like to hear about your challenge!
If you haven't joined the challenge yet, you can do so here. You can get a lot of listening done in nine days! So far, 133 people have signed up.
My progress so far
My progress so far is shown in the graph. As you can see, I started out strongly, but have slacked off a bit recently. I guess I'm not the only one? I can still reach my goal of listening to 25 hours of Chinese before the end of the month without killing myself, but as the graph shows, my current listening amount won't cut it.
Practical problems with extensive listening
I feel that practical problems often stop me from listening. I have written an article about this (Make sure listening isn't a practical problem), but I still fail to take proper action sometimes. I still listen, but not to as diverse material as I should.
For instance, my plan was to listen to 锵锵三人行, a linguistics lecture on YouTube and Skeptoid, but the result is that since I have all the episodes of Skeptoid available on my phone already, that's where I've spent most of my listening time.
The other two are easily available online, but the little extra effort required is enough to steer me away to more easily available sources, mostly things I have already downloaded to my phone. As a result, I have only listened to a handful of 锵锵三人行 episodes and the first lecture in the series about linguistics..
Control the environment, not yourself

The effort required to start doing something is important. As I have argued before (Preparing for rainy days and dealing with slumps), it's essential that we lower the effort for an activity while our energy levels are high. In other words, when you feel the most motivated to learn, you should prepare the listening material you know you're going to need when you just want to listen to something later.
As soon as I have finished writing this post, I'm going to go to Listen to YouTube and download all the lectures as mp3-files and then transfer them to my phone. I'm also going to put 锵锵三人行 to open every time I open my browser. If you don't listen enough, have you made sure to take the practical steps necessary to get started?
Hacking Chinese Challenges
This is the first official challenge we offer on Hacking Chinese Challenges and it would be great to hear what you think!
Have you encountered any problems?
Are there any bugs or glitches?
Have you thought of any features you think we should implement?
This is a work in progress and even if the challenge engine seems to be working for most people most of the time, there's definitely room for improvement!
Your challenge
How's your challenge been so far? Are you struggling with the same problems as I or do you have something else you want to discuss? Have you found any cool resources you want to share? Please leave a comment!
---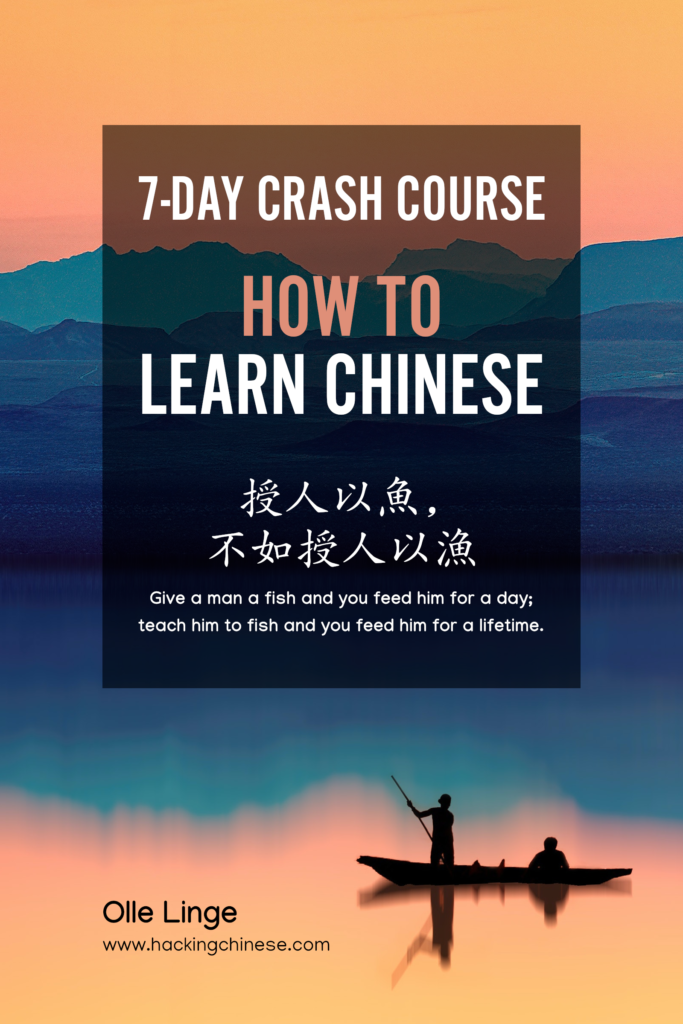 Tips and tricks for how to learn Chinese directly in your inbox
I've been learning and teaching Chinese for more than a decade. My goal is to help you find a way of learning that works for you. Sign up to my newsletter for a 7-day crash course in how to learn, as well as weekly ideas for how to improve your learning!