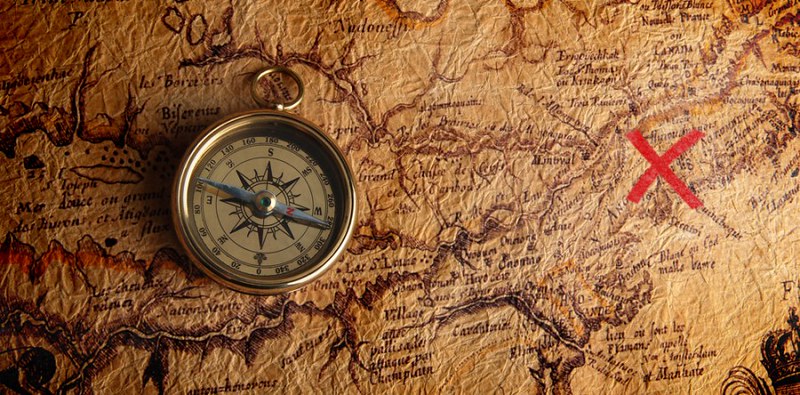 To be able to read and write Chinese, you need to learn several thousand characters. For beginners, this looks daunting, because learning the first handful of characters is hard. You might struggle with remembering how to write basic components, leading to situations where you simply don't know what to write at all.
This type of problem becomes rarer the more characters you learn, however. Advanced learners and native speakers will seldom have no clue about how to write a character they have learnt, although it does happen occasionally (how do you write the tì in dǎ pēntì for example?)
I've written about the real challenge when learning Chinese characters before, but in this article, I want to look at a method for dealing with the problem of an ever-increasing number of characters to keep distinct from each other.
Tune in to the Hacking Chinese Podcast to listen to this article:

Available on Apple Podcasts, Google Podcast, Overcast, Spotify and many more!
Dealing with Chinese characters you keep mixing up
While spaced repetition software, such as Skritter or Anki, can help you learn characters effectively, you need a more strategic approach to deal with mixed up pairs, triplets or groups of characters.
Hammering away at your flashcard app will only give you temporary reprieve if you don't also pair it with a deeper insight into what caused the error in the first place. With enough flashcards, this can keep you occupied forever.
Since this article deals with the problem of confusing and mixing up characters with each other, it's most useful for intermediate and advanced learners. If you're a beginner, I suggest you head over to my introduction for learning Chinese characters instead:
Trace your errors to the source
To figure out confusing groups of characters, you need to see them all at once, or make some concentrated effort comparing them to each other. If you only study them individually, you risk perpetuating the error by failing to notice key differences.
Please note that the method I recommend should only be used to sort out characters you have already learnt, not to learn new characters. Learning words that are closely related in meaning or sound at the same time makes them much more likely to be confused later. Learn characters organically based on what you read, not by artificially trying to find similar characters.
You can use the below method at any point where you fail to write a character. It might be overkill to use it every time, so save it for those times when you have a feeling you're confusing two or more characters. On the other hand, tracing your error might sometimes only take a few seconds, even if the process might look elaborate here:
Note the correct character, or what you should have written but failed to recall. For example, maybe the character you were supposed to write is 摸 (mō) "to stroke; to touch".
Also note the character you wrote instead. This relies on using pen and paper, or an app that allows you to write characters uninterrupted (so you can finish writing the whole character and only then reveal the answer; check out "rawest squigs" if you're using Skritter). For example, you forgot how to write 摸 and wrote 模 instead.
Look up the character you wrote instead. The easiest way to do this is to use the handwriting input in apps like Pleco or Hanping, which will allow you to write anything you want. You will then find that 模 is pronounced mú or mó and means "pattern; to copy" and not "to stroke; to touch" as you thought. Once you see this, you'll probably sigh and say to yourself "how stupid of me, of course the character that means touch has a hand in it".
Save your notes somewhere where you can easily access them later when you're in front of a computer or have some time to spare to dig into the problem properly. I actually just take screenshots in Pleco to do this (see the picture on the right).
When you look up the character you incorrectly wrote (模 in the example above), you might encounter one of several situations:
The character is very rare or does not exist. This means that you're probably not confusing the characters, you just remember how to write the character incorrectly or guessed. You added a component that shouldn't be there or or maybe combined components that aren't combined in that way. Note that since there are so many variants of characters, most combinations exist somewhere, but if they are beyond your target vocabulary range, there's no practical difference between "very rare" and "does not exist". Real example from my studying: When trying to write 讧, I accidentally wrote 䜤, which is a decent guess, but which is so rare that most dictionaries do not list it at all. So, this was not a case of my mixing up these two characters; I just forgot how to write 讧.
The character exists and is used in modern Chinese, but you haven't learnt it yet. This is the situation I warned about above: don't learn this character just because it's there. You're likely to make the confusion worse. Ignore it for now and learn it later. It might also be hard to figure out if the character is common enough to warrant learning right now, so don't habitually create flashcards just because you can. It matters which characters you learn! 
The character exists and overlaps with the other character. This means that even though you're wrong, you are also at least partly right. For example, if you write 工做 instead of 工作, you are kind of right, because 做 and 作 have overlapping meanings. Of course, in this particular case, you're still wrong, but in other cases, it might be hard to know this for sure. One recent example for me is 借此 (see relevant tweet for context). Should it be 借此 or maybe 籍此? This is not obvious and requires some research. (In simplified Chinese, it should probably be 借此, but both would be okay, whereas in traditional Chinese, 籍此 is preferred.) You might need help to figure these things out.
The characters don't overlap, but you have learnt both. This is the case where tracing your errors makes the most sense and the whole reason for using this method. The example from above with 模 and 摸 might serve as a good example here. Both characters exist and are in common use. You need to be able to remember which one is which. They don't overlap in meaning, so this a clear case when you confused two characters that share some components, but don't mean the same thing. Seeing them next to each other will help you never make that mistake again!
You have now successfully identified a pair of characters that you get mixed up. Sometimes, there are more than two characters involved. For example, I found it tricky to keep track of all the characters pronounced fu with the same phonetic component (甫): 敷、缚、辅、傅 and so on. If you have your own pairs or groups of tricky characters, why don't you share them in a comment below?
Bringing order to chaos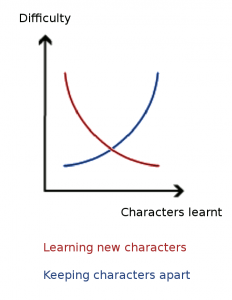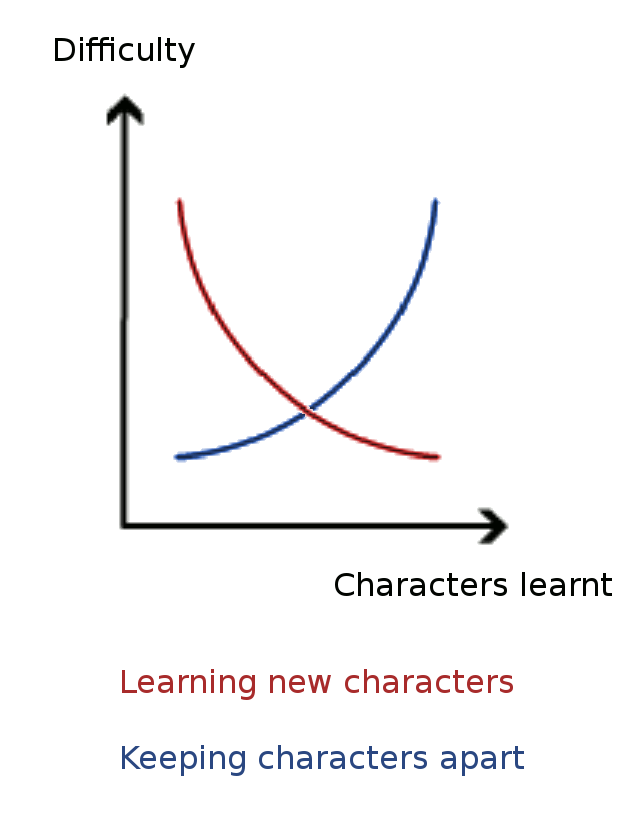 Now that you have identified two or more characters that you frequently get mixed up, you need to do something about the problem.
This is essentially the same thing as killing leeches, i.e. dealing with any tricky vocabulary you keep getting wrong over and over, but this time you also need to care about the relationship (differences and similarities between the characters).
Here are a couple of things you can try (the links lead to separate articles with suggested resources for that very activity):
This is probably one of the best usages for mnemonics and memory techniques. You need to remember something specific and it could be something you don't have to be able to recall often or quickly, but you still need to know it. Mnemonics for character learning goes beyond the scope of this article, so I'll merely point you in the right direction if you want to know more:
Conclusion
Learning characters at an intermediate and advanced level is different from learning characters as a beginner. Keeping similar characters distinct becomes a real problem, and if you're not careful, a pair or group of characters can generate a lot of extra work and frustration. The solution is to trace your errors to figure out why you get the characters wrong and then deal decisively with them!
I'm doing this for several groups of characters at the moment, some of which have been mentioned in the article already. What characters are you confusing? Why are you confusing them? Post a comment below! By doing so, you're also more likely to do your research, collect your thoughts and commit them to memory.
See more examples of how I deal with error tracing in my own learning here:
https://www.hackingchinese.com/7-mistakes-i-made-when-writing-chinese-characters-and-what-i-learnt-from-them/
---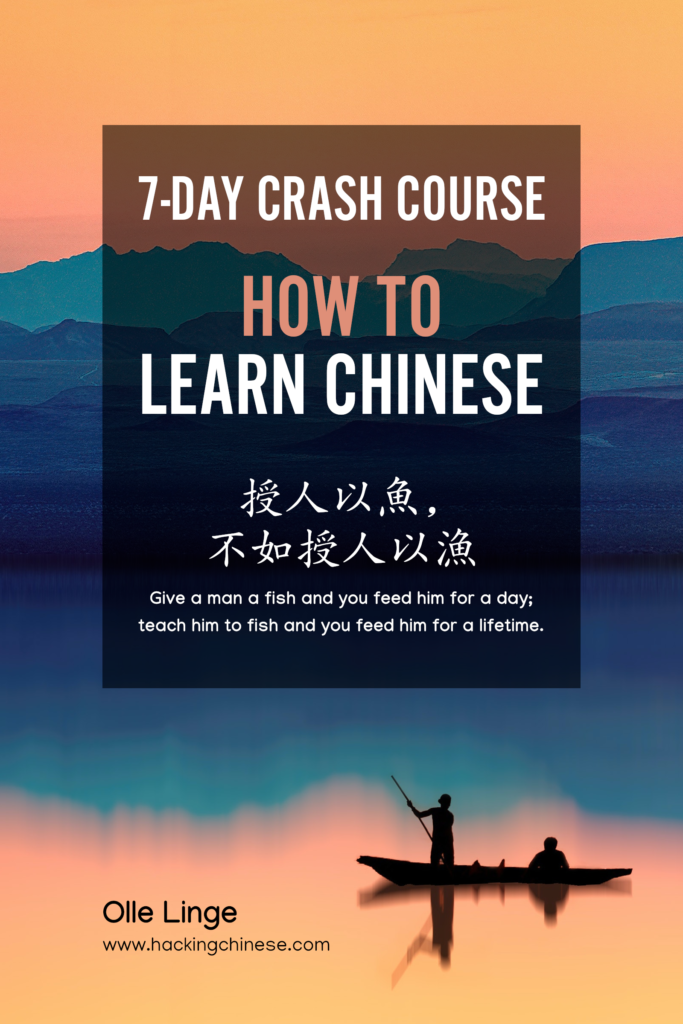 Tips and tricks for how to learn Chinese directly in your inbox
I've been learning and teaching Chinese for more than a decade. My goal is to help you find a way of learning that works for you. Sign up to my newsletter for a 7-day crash course in how to learn, as well as weekly ideas for how to improve your learning!