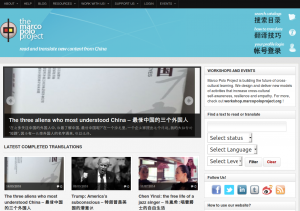 It's time for the final Hacking Chinese Challenge of the year! It's about translation, which was the topic two months ago as well, but this time the focus is on translating from Chinese to your native language.
This kind of practice used to dominate foreign language teaching, but has a bad reputation nowadays. While it's not a good method to use all the time, it's definitely a useful activity to engage in from time to time. Let's do it this month, together!
Building language skills through daily practice and friendly competition
I like language challenges because they give me a clear focus and make me more accountable. When there's a reading challenge on, I read more than I normally do; when there's a writing challenge, I write more. And so on. I also study more in general than I would without the challenges.
Enrolling is easy (and free):
Sign-up (using your e-mail, Facebook or Twitter)
View current and upcoming challenges on the front page
Find suitable source material and start translating

Report your progress on your computer or mobile device
Once you're enrolled, you can also:
Check the graph to see if you're on track to reaching your goal
Check what other people are doing for inspiration
Check the leader board to see how you compare to others
Share progress, tips and resources with fellow students
Please note:  The challenge starts on December 10th (Saturday), so even if you join now, you won't be able to report progress until then. I post this article today so you have a few days to prepare!
Chinese translation challenge: December 10th to 31st, 2016
This month's challenge is presented in cooperation with
Marco Polo Project
with the goal of providing a more interesting way to practice translation. Marco Polo Project is an online platform that proposes a diverse selection of new writing from China – mostly targeted at high intermediate or advanced learners. Their interface allows you to translate directly online, and share your translation with their readers.
Marco Polo Project has been running collaborative translation events since 2013 . If you're looking for a social way to practice, get together with a Chinese language buddy – pick a text to work on – and follow this four-step language fitness routine.
Read out the text, and invite your language buddy to correct your pronunciation, or give the Pinyin of words you don't know.
Invite your language buddy to make an approximate translation of the text into English.
Review the translation, with particular attention to syntax, and write it down on paper.
Discuss the places where you made changes from the initial version proposed by your language buddy, reflecting particularly on differences in time, aspect, person, intention, and word order.
You can do this in person – or use this as an opportunity to reconnect with an old Chinese friend through Skype or WeChat. And if you run a language exchange event, or have a community of learners around you, you might be interested in organising a collaborative translation event on this model.
Setting a reasonable goal
Challenges on Hacking Chinese are measured in time spent, so how many hours should you aim for? I usually calculate this by removing two days every week where I'm simply not doing any studying at all (perhaps because I'm busy with work, family or other social activities). I then set an average which is slightly above what I think I would have spent practising anyway.
So, the challenge lasts three weeks, or 21 days in this case. Removing two days per week leaves us with 15 days. I'm rather busy at this time of the year, so I will aim for 20 minutes per day, so 5 hours in total. If you study full time, you can easily double this, especially if you're not new to doing challenges like this!

Preliminary challenge schedule for 2017
I will experiment a little bit more with the challenges in 2017. I have personally felt that there has been too many challenges, probably because I try to participate in all of them. Therefore, the first thing I will experiment with is the duration and spacing of the challenges. Up till now, the challenges have been three weeks long and they have run for three weeks each.
Starting from 2017, I'll try running challenges every second month and make them one month each. This gives more breathing room and more time to prepare between challenges. I will announce the challenge schedule later. In the meantime, if you have any suggestions, please let me know in the comments!
---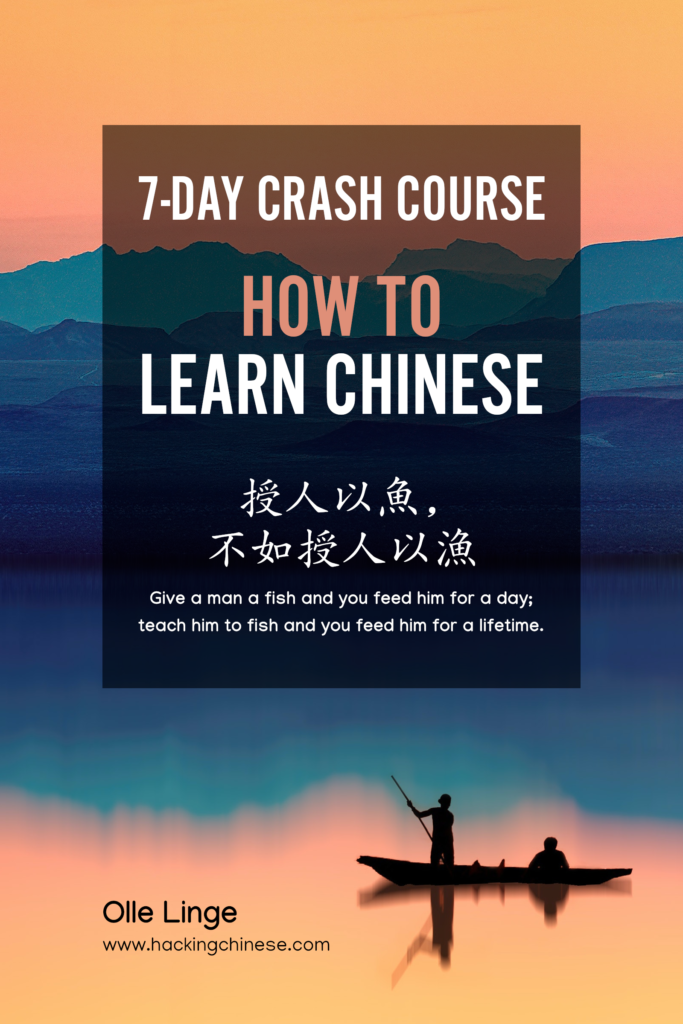 Tips and tricks for how to learn Chinese directly in your inbox
I've been learning and teaching Chinese for more than a decade. My goal is to help you find a way of learning that works for you. Sign up to my newsletter for a 7-day crash course in how to learn, as well as weekly ideas for how to improve your learning!