Since returning to Sweden this summer, I have started writing a lot more than I used to, but as you might have noticed, this hasn't yet affected Hacking Chinese much.
I did publish two articles last week (How long have you studied Chinese? 290 years or 58 992 hours! and 250+ resources for learning Chinese) and the article you're reading now is the second this week (check Change your attitude to enjoy life and learn more Chinese if you haven't already). but two more articles in several months isn't really a big increase. So where has all the text gone?
Upcoming Hacking Chinese book
I have spent my writing time in two different areas. First, I have started writing my book again. It's going to be an introduction to language hacking and studying Chinese, and it's meant for long-term readers and new visitors alike. In the book I will offer all the essential information and advice I have to offer about learning Chinese, but it will be a lot more accessible. If you want to read all the articles, they're all here for free, but if you want to read a structured introduction, this book is for you. There will also be a lot of topics that I haven't discussed on the website at all.
The book will probably span around 150 pages when completed, and will be sold as an e-book and perhaps through print on demand as well. Think of it as a summary of Hacking Chinese; it's great if you're new to the site, but it's also useful if you've been here for a while but want the bigger picture. If you want to be notified when the book is out, you can sign up here. It's not binding or anything, it just means that I might send you some e-mails about the book later. If you want to help me with the book or offer feedback, you're always welcome to sign up to my feedback mailing list (completely separate from the newsletter).
Articles by me published elsewhere
Apart from writing the book, I've been writing articles for other websites and this is the real reason I post this article (being a round-up of articles published elsewhere). Since most of what I write should be relevant for you, it would be a pity if you missed these articles simply because they weren't published here on Hacking Chinese.
Therefore, I thought that each month, I'll do a round-up of articles I have published elsewhere during the previous month. Since I'm lagging a bit behind, this article ought to have been published in August and collects everything up to the end of July, but hey, better late than never?
I now write for About.com and Skritter, but I have also written several articles for FluentU. If you like these articles, please help me spread the word; sharing is caring! Apart from providing links to the articles, I will also summarise them briefly. Some of the content will be familiar from other articles here on Hacking Chinese, but since the target audience is different and I might have developed my thinking in a certain area, I still think you'll find these articles interesting.
Enough talking, let's look at what I've written elsewhere up to the start of August. If you want a complete list, you can always check my new bibliography page. Again, if you like what I write, the best way you can show that is by sharing the articles. If you really like them, donations are of course more than welcome!
Published on About.com
Published on Skritter
Improve your character writing by enabling raw squigs
Raw squigs is a function in Skritter which gives less support while writing characters and therefore closes the distance between writing characters in Skritter and in the real world. In this article I discuss why you should use raw squigs in Skritter and how the function works in general.
How Skritter Helped Me Stop Worrying and Love Writing Characters
I have tried various methods of learning Chinese characters and this article provides an overview with the ultimate goal of explaining why I think a program like Skritter is by far the most efficient way of learning Chinese characters. I also write about an experiment I conducted where I only used Skritter to maintain handwriting ability.
Skritter's New Team Member: Olle Linge
I joined the Skritter team around this time and this is the first official post where I introduce myself and what I do (including Hacking Chinese). It's a basic introduction with information about study background, current projects and what I've been up to until this point in general.
Published on FluentU
An Easier Way to Learn Chinese: Comprehensible Input
My third freelance article written for the FluentU Chinese language learning blog. This time I talk about comprehensible input, scaffolding and offer some concrete guidelines for how to make immersion in Chinese a lot easier by making incomprehensible input more comprehensible.

How to Learn Chinese Faster: Capacity Management
This is the second article I've written for FluentU and it's focused on the topic of capacity management. The main ideas here are not limited to language learning, actually, but is part of the much bigger approach I have to doing almost anything. The key concept discussed here is your current capacity for learning and how you should structure your learning around this, neither overextending nor under performing.
Published elsewhere
Interview with Olle Linge, Hacking Chinese's founder
Sapore di Cina
This is an in-depth interview with me where I don't talk a lot about language learning, but rather about Hacking Chinese, teaching Chinese as a second language and life in Taipei. The interview has also been translated into Spanish and Italian, take your pick!
How to Keep Learning a Language when You No Longer Have to
Smart Language Learner
An expert panel article about motivation after you reach your initial goal of being able to communicate in the language. I think the answer is heavily dependent on why you started learning the language in the first place. If your goal is to reach a near-native ability, you should be able to keep yourself busy for decades.
How Should I Learn Foreign Grammar? 20 Experts Show You How
Smart Language Learner
This is an expert panel article with twenty different takes on how to learn grammar. My reply is somewhat lengthy, making me think that I should probably expand it to a proper article here on Hacking Chinese. If you're curious about my general approach to grammar, this is a good place to start. There are of course also other interesting replies here as well.
Improving Foreign Language Pronunciation: Audio interview on Language is Culture
Language is Culture
This is a 70-minute interview with me done by David Mansaray of Language is Culture. In the interview, we talk mainly about learning how to pronounce a foreign language as an adult. I share some of my own knowledge, thoughts and opinions and there's probably something for everyone in this interview. Listen to it directly or download it to your phone for later listening! You can read my thoughts about the interview here.
Olle Linge on learning Chinese (radio interview)
  ICRT
In this radio interview that was aired on the Taiwanese radio station ICRT I talk a little bit about Hacking Chinese and learning Chinese. The interview is relatively short, but this is the first time I appear in mainstream media talking about learning Chinese. The interview can be listened to on ICRT's website.
—
That's it for now! I will be back in a week or two with the article that ought to have been published in September. Sorry for the delay!
---
Stuck at home? Want to learn Chinese or improve your learning? The code "jia1you2" will give you 50% off all courses!
Learn more about courses for beginners and more advanced students here.
---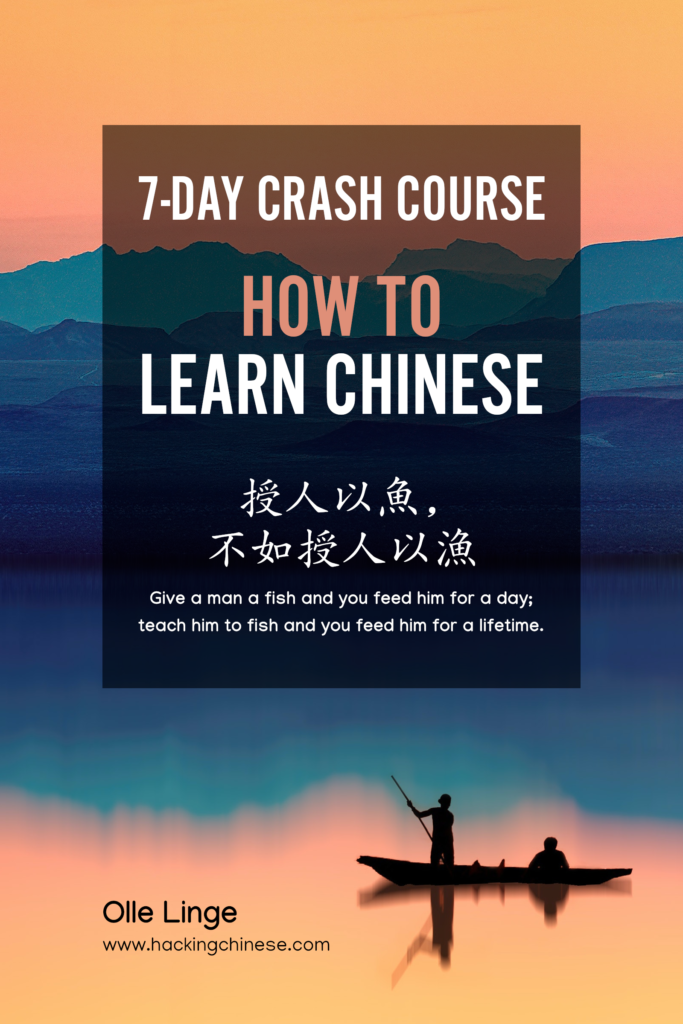 Tips and tricks for how to learn Chinese directly in your inbox
I've been learning and teaching Chinese for more than a decade. My goal is to help you find a way of learning that works for you. Sign up to my newsletter for a 7-day crash course in how to learn, as well as weekly ideas for how to improve your learning!