Currently viewing the tag: "Stroke order"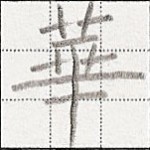 This is a guide to handwriting Chinese characters. It's not about writing beautifully, but writing correctly, including things like stroke placement, length and direction. There are numerous examples of handwritten characters (real examples, not typed characters) along with practical exercises to see if you have grasped the core ideas. The article goes somewhat beyond the bare minimum for beginners, but is certainly a must for anyone who cares about handwriting Chinese characters.
Continue Reading

→
Writing Chinese characters for the first time can be very hard, mostly because it's so different from writing letters. It feels more like drawing a picture than writing! This article is aimed at beginners and provides some essential tips, tricks and hacks for writing your first Chinese characters, making sure you avoid the worst mistakes.
Continue Reading

→