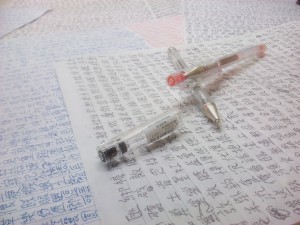 This month's challenge is about learning characters. In fact, my desire to launch Hacking Chinese Challenges came partly from wanting to arrange challenges more smoothly and with more participants without collapsing under the load of manually dealing with everything. Last week, I published an article with a brief summary of the challenge as well as some useful tips for how to improve character learning.
In this article, I'm going to go into more detail. I have already written about many of these topics before, though, so this is meant to be a summary and an overview rather than a comprehensive discussion, which would be way too long. Therefore, I will try to include the essence here and then link to other articles for those who want to read on.
Understanding Chinese characters
Learning something meaningful is easier than learning something that seems to be random, even if there is a pattern you don't see. This is because we can associate meaningful things with each other, something that is much harder for meaningless things (but it can be done, of course). This means that understanding how Chinese characters are constructed and how they work can help enormously when learning them. I would go so far as to say that it's almost impossible to learn thousands of characters without understanding how they work. You can either gain this understanding through learning a lot of character or you can take a shortcut by avoiding some problems second language learners typically have.
Here are some important articles you should check out:
How to learn Chinese characters
Now that we have some basic understanding of how Chinese characters work, it's time to look at how to learn them. When I say "how", I mean it in a very practical way. You have a list of characters that you want to learn. What should you do?
How to review Chinese characters

Let's say that you have already learnt a few (tens, hundreds, thousands) of characters. In order to be able to use Chinese properly, you need to remember the words you have learnt. But how? There are many ways of reviewing and many tools you can use. Again, I'm not going to go into details here, but I am going to give links to the best advice I can offer and a brief summary of said advice:
Remembering Chinese characters (and other things)
Last but not least, I have published a range of articles about memory and memory techniques, mostly in relation to learning Chinese. Here are some of them:
Conclusion
This is the information I wanted to include in last week's article about the challenge, but which took up too much space. It also took longer than I thought to compile, but I hope it will prove helpful to anyone who has joined the challenge! If you haven't already, it just started a few days ago, so it's not too late to join! Read more about the challenge and how to join here.