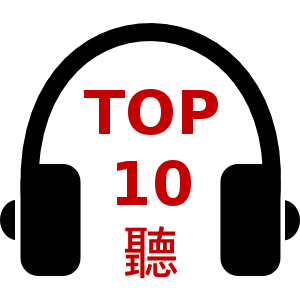 I think listening ability is the most important skill. Good listening ability accelerates your learning and will have a positive effect on other areas in a way that isn't true for any of any of the other skills.
This is why I'm currently running a listening challenge that will last until October 31st, read more here!
As I have argued elsewhere, improving listening ability is mostly a matter of practice; you need to listen a lot. In this article, I want to suggest some resources to make that easier.
What should you listen to? If you're new to studying Chinese or don't spend most of your time dealing with online learning resources, it might be hard to know where to look and you might just choose something at random.
What should you listen to?
I have now collected more than 260 resources for learning Chinese, all sorted and tagged for your convenience. In this article, I'm going to introduce the best free listening resource collections available. Here, "resource collection" means a site that offers a large number of episodes or shows, so each of these potentially offer hundreds or even thousands of hours of material!
This is what I did to generate this list (you can generate a similar list or get the full list by heading over to Hacking Chinese Resources yourself):
10 best free listening resource collections
Below, I have listed the best ranked resource collections, along with a direct link to the collection, a short introduction written by the person who submitted it and a link to the resource so you can vote/comment on it if you want to. If you have other resource collections, please submit them! If you need an invite, let me know!
Please note that some of these resources may have paid subscriptions, but I have made sure that a substantial and useful part of them is free. For instance, many of the podcasts have paid content, but they have to have free audio to be listed here. Also note that the ranking here only partly reflects my own opinion, most of the votes come from other members.
1. 锵锵三人行 (advanced, submitted by Zoe, vote/comment)
锵锵三人行 is my favourite TV program. It's also one of the best ones for language learners, mostly because of its focus on talking, availability of transcripts and variety of both guests and topics. This should be a key component of any immersion effort, but you probably need to be upper intermediate or above to benefit. This show has been aired every weekday for decades! 我爱窦文涛!
2. Viooz (advanced, submitted by Julien Leyre, vote/comment)
What funner way to practice listening than watch a good movie? Ok, I can think of a few, but admit it's right there towards the top of the list. This link has a wide range of movies, from Chinese classics to recent releases, available through free streaming, in Mandarin, and with subtitles. Enjoy!
3. 慢速中文 Slow Chinese (intermediate/advanced, submitted by me, vote/comment)
A great resource collections with over 100 episodes, all with transcripts. The audio is, as the name implies, rather slow, which makes it more accessible than more rapid, native content. The episodes themselves are quite interesting since they deal with cultural topics and you will learn more than just language from listening to Slow Chinese. I haven't used this podcast a lot myself, but what I have seen is pretty good.
4. Popup Chinese (beginner/intermediate/advanced, submitted by me, vote/comment)
Popup Chinese has a huge library of lessons for different levels and most of it is available for free (although you need to sign up). There are also vocabulary notes and so on, but I consider the actual audio the main point. Overall a very good podcast!
5. CSLPOD (beginner/intermediate/advanced), submitted by me, vote/comment)
CSLPOD offers a large library of audio for all levels and the audio is available for free (you can subscribe for some other services, such as vocabulary explanations, sentence drilling and some exercises, but I consider the free audio the most important resource. One important feature is that when the audio is played, the appropriate portion of the text is highlighted, making it a lot easier to follow. There's also a translation freely available for each podcast. Overall a good listening resource!
6. 悦读FM – 倾听文字的声音 (advanced, submitted by me, vote/comment)
I just found this site and it looks great. It offers a large collection of articles read aloud, with subtitles. They are all pretty short, meaning that they are suitable for intensive study as well as extensive learning (just keep a bunch on your phone).
7. PPS TV player (intermediate/advanced, submitted by kdgbalmer, vote/comment)
PPS.tv is an online source of Chinese TV episodes and films. Great for finding input content to improve comprehension and listening ability.
Nearly all of the Chinese shows have Chinese subs as standard. There are also a large number of Western shows/films so if you want to watch something you already know the story of but with Chinese subs/dubs this might be helpful.
On the front page there's a link to download the PPS Player. This desktop application makes it much easier to navigate their huge library of content. Apps are also available for Android and iOS.
If looking for more basic content check out the animations in the 我的小儿卡通 section。喜羊羊与灰太狼 is one of the more accessible shows – it's also one of the relatively few homegrown Chinese shows (rather than Japanese).
Important: PPS is region locked to China so if you are outside China you'll need to VPN into China! There are also unlocking apps available on Android.
8. Melnyks Podcast/Audio Course (beginner/intermediate, submitted by me, vote/comment)
This website offers theme-based, progressive and easy online lessons. Audio course with full PDF transcripts, worksheets, mobile apps, videos and more. From what I can see, the first 100 lessons are for free, but you need a subscription after that. I tried two episodes (1 and 100) and they are pretty good. The major benefit with this podcast compared with others is that it's progressive, meaning that each lesson build on the other, it's not just random lessons put on the same page.
9. Skeptoid: 民间神话背后的科学根據 (advanced, submitted by me, vote/comment)
This is the Chinese version of the popular Skeptoid.com podcast that deals with urban legends and myths from a scientific perspective. The Chinese version is well-produced and the content is translated and presented in a praiseworthy manner. The content is fairly difficult and will be too hard for anyone below an advanced level. Skeptoid Chinese combines interesting material with good language, a very rare combination indeed!
10. Chinese online short story collection (intermediate/advanced, submitted by me, comment/vote)
This is a great repository of short stories for beginner and intermediate learners. Some of them also have audio and all have translations to English and word lists! I would be a bit careful with trusting their difficulty ratings, though, I checked some stories that were meant to be beginner-intermediate that were definitely too hard form most students in this range. Still very good resource, though.
More resources
I intend to keep posting summaries like this one to highlight the great resources we have collected on Hacking Chinese Resources. Don't forget that you can make more specific searches on your own! If you don't want advanced resources, try checking listening resource collections suitable for beginners!